US Homebuilder Confidence Collapses In October, Future Sales Hope Hits Decade-Lows

Tyler Durden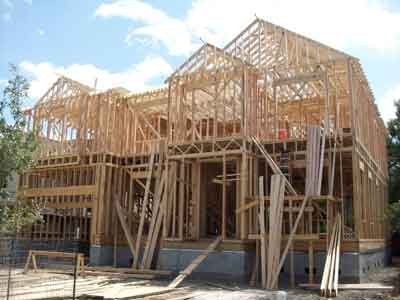 It appears delusion and hope can only last so long - even when one's salary depends on it - as US homebuilder confidence crashed to COVID lockdown lows in November after refusing to see what everyone else was seeing more months.. and what homebuyers were clearly feeling as prices soared along with mortgage rates and devastated affordability for most Americans. Against expectations of a small drop from 38 in October to 36 in October, the headline confidence index tumbled to 33 - the lowest in a decade outside of the nadir of the COVID crisis...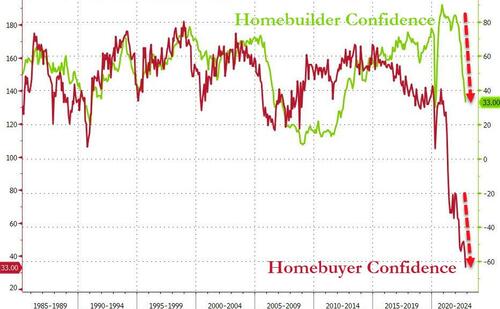 Source: Bloomberg
This the 11th straight monthly decline in homebuilder confidence - the longest losing streak since data began in 1985.
"Higher interest rates have significantly weakened demand for new homes as buyer traffic is becoming increasingly scarce," NAHB Chairman Jerry Konter said in a statement.
All three sentiment components posted declines this month.
A measure of future sales slid 4 points to 31, the lowest in a decade, while indexes of current sales and prospective buyer traffic weakened to the softest levels since April 2020.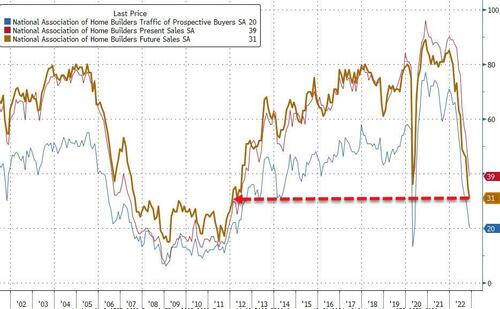 Source: Bloomberg
Meanwhile, circling back to the first chart above Americans are seeing the worst home buying conditions in a generation, with a majority of consumers not planning on moving in the coming year... which suggests homebuilders will see housing starts collapse in the coming months...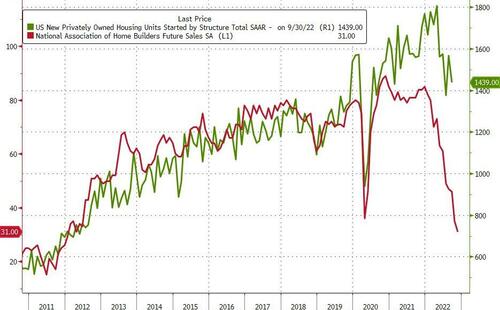 This could be a very serious problem... as even less supply will do nothing to help prices...and crush the hope of the lagged input in CPI's OER...
Don't bet on the peak in inflation quite yet.


our mission:

to widen the scope of financial, economic and political information available to the professional investing public.
to skeptically examine and, where necessary, attack the flaccid institution that financial journalism has become.
to liberate oppressed knowledge.
to provide analysis uninhibited by political constraint.
to facilitate information's unending quest for freedom.
our method: pseudonymous speech...
Anonymity is a shield from the tyranny of the majority. it thus exemplifies the purpose behind the bill of rights, and of the first amendment in particular: to protect unpopular individuals from retaliation-- and their ideas from suppression-- at the hand of an intolerant society.

...responsibly used.

The right to remain anonymous may be abused when it shields fraudulent conduct. but political speech by its nature will sometimes have unpalatable consequences, and, in general, our society accords greater weight to the value of free speech than to the dangers of its misuse.

Though often maligned (typically by those frustrated by an inability to engage in ad hominem attacks) anonymous speech has a long and storied history in the united states. used by the likes of mark twain (aka samuel langhorne clemens) to criticize common ignorance, and perhaps most famously by alexander hamilton, james madison and john jay (aka publius) to write the federalist papers, we think ourselves in good company in using one or another nom de plume. particularly in light of an emerging trend against vocalizing public dissent in the united states, we believe in the critical importance of anonymity and its role in dissident speech. like the economist magazine, we also believe that keeping authorship anonymous moves the focus of discussion to the content of speech and away from the speaker- as it should be. we believe not only that you should be comfortable with anonymous speech in such an environment, but that you should be suspicious of any speech that isn't.