Federal Reserve set to introduce privacy-crushing digital currency that can be 'controlled' and 'programmed' by government bureaucrats
JD Heyes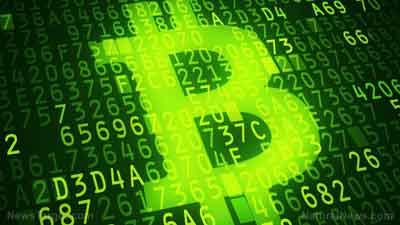 When Barack Obama was in the White House and Democrats controlled Congress for his first two years in office, they passed a bill dubbed "Obamacare" that was the first step toward giving federal government bureaucrats complete control over Americans' health care.
Since all Americans require medical care during their lives, the move was seen by critics as the ultimate authoritarian move; after all, if the government controls all healthcare decisions, tyrannical government bureaucrats could then begin to dictate behaviors and reward or punish people based on behavior.
Now, the government is attempting yet another major authoritarian move: The creation of a "digital currency" with the endgame objective being to control behaviors through "programmable" money that can influence and/or block certain spending habits.
"The Federal Reserve Bank of New York's Innovation Center, or NYIC, announced that it would be launching a 12-week proof-of-concept pilot for a central bank digital currency, or CBDC," Coin Telegraph reported this week.
The outlet continued: "In a Nov. 15 announcement, the New York Fed said the program would explore the feasibility of an 'interoperable network of central bank wholesale digital money and commercial bank digital money operating on a shared multi-entity distributed ledger' on a regulated liability network. Banking giants including BNY Mellon, Citi, HSBC, Mastercard, PNC Bank, TD Bank, Truist, U.S. Bank and Wells Fargo will be participating in the pilot by issuing tokens and settling transactions through simulated central bank reserves."
Mind you, the participating banks are advertising this simply as a concept to make interoperability more feasible, but make no mistake, this 'test' is research: The Fed wants to develop and then hone this technology so that a 'programmable' digital currency can be introduced to the general public for the express purpose of controlling spending habits by favoring or disfavoring products (think 'yes' for electric cars, solar panels, and fake 'meat' but 'no' for cigarettes, alcohol, gasoline, and anything deemed 'harmful to the planet').
"The NYIC looks forward to collaborating with members of the banking community to advance research on asset tokenization and the future of financial market infrastructures in the U.S. as money and banking evolve," NYIC Director Per von Zelowitz said in announcing the pilot program.

"Kansas City Federal Reserve Bank President Esther George said in an interview that inflation is at risk of growing entrenched in the economy, making it difficult for the Federal Reserve to fight inflation without a recession. George said that labor is the driver of inflation now, rather than supply chain or production shortages, and the real challenge for policymakers is prematurely ending rate increases," private intelligence firm Forward Observer reported in a note to subscribers earlier this month.
An accompanying analyst comment noted: "Fed officials have previously waved off the risk of recession, so this admission is significant. George is now saying the proverbial quiet part out loud, as [Federal Reserve Chairman Jerome] Powell has been engineering a deliberate recession since last year."
Now, as an engineered recession is upon us, the same Fed will be introducing a digital currency that it can manipulate on behalf of the wishes of the deep state permanent government.
The N.Y. Fed said in a statement: "This U.S. proof-of-concept project is experimenting with the concept of a regulated liability network. It will test the technical feasibility, legal viability, and business applicability of distributed ledger technology to settle the liabilities of regulated financial institutions through the transfer of central bank liabilities."
"The NYIC looks forward to collaborating with members of the banking community to advance research on asset tokenization and the future of financial market infrastructures in the U.S. as money and banking evolve," said Per von Zelowitz, Director of the New York Innovation Center.

…'as money and banking evolve.'
Why do either of these have to "evolve" in the first place?
Sources include:
About the author: Mike Adams (aka the "Health Ranger") is a best selling author (#1 best selling science book on Amazon.com called "Food Forensics"), an environmental scientist, a patent holder for a cesium radioactive isotope elimination invention, a multiple award winner for outstanding journalism, a science news publisher and influential commentator on topics ranging from science and medicine to culture and politics. Follow his videos, podcasts, websites and science projects at the links below.

Mike Adams serves as the founding editor of NaturalNews.com and the lab science director of an internationally accredited (ISO 17025) analytical laboratory known as CWC Labs. There, he was awarded a Certificate of Excellence for achieving extremely high accuracy in the analysis of toxic elements in unknown water samples using ICP-MS instrumentation. Adams is also highly proficient in running liquid chromatography, ion chromatography and mass spectrometry time-of-flight analytical instrumentation. He has also achieved numerous laboratory breakthroughs in the programming of automated liquid handling robots for sample preparation and external standards prep.

The U.S. patent office has awarded Mike Adams patent NO. US 9526751 B2for the invention of "Cesium Eliminator," a lifesaving invention that removes up to 95% of radioactive cesium from the human digestive tract. Adams has pledged to donate full patent licensing rights to any state or national government that needs to manufacture the product to save human lives in the aftermath of a nuclear accident, disaster, act of war or act of terrorism. He has also stockpiled 10,000 kg of raw material to manufacture Cesium Eliminator in a Texas warehouse, and plans to donate the finished product to help save lives in Texas when the next nuclear event occurs. No independent scientist in the world has done more research on the removal of radioactive elements from the human digestive tract.

Adams is a person of color whose ancestors include Africans and American Indians. He is of Native American heritage, which he credits as inspiring his "Health Ranger" passion for protecting life and nature against the destruction caused by chemicals, heavy metals and other forms of pollution.

Adams is the founder and publisher of the open source science journal Natural Science Journal, the author of numerous peer-reviewed science papers published by the journal, and the author of the world's first book that published ICP-MS heavy metals analysis results for foods, dietary supplements, pet food, spices and fast food. The book is entitled Food Forensics and is published by BenBella Books.

In his laboratory research, Adams has made numerous food safety breakthroughs such as revealing rice protein products imported from Asia to be contaminated with toxic heavy metals like lead, cadmium and tungsten. Adams was the first food science researcher to document high levels of tungsten in superfoods. He also discovered over 11 ppm lead in imported mangosteen powder, and led an industry-wide voluntary agreement to limit heavy metals in rice protein products.

In addition to his lab work, Adams is also the (non-paid) executive director of the non-profit Consumer Wellness Center(CWC), an organization that redirects 100% of its donations receipts to grant programs that teach children and women how to grow their own food or vastly improve their nutrition. Through the non-profit CWC, Adams also launched Nutrition Rescue, a program that donates essential vitamins to people in need. Click here to see some of the CWC success stories.

With a background in science and software technology, Adams is the original founder of the email newsletter technology company known as Arial Software. Using his technical experience combined with his love for natural health, Adams developed and deployed the content management system currently driving NaturalNews.com. He also engineered the high-level statistical algorithms that power SCIENCE.naturalnews.com, a massive research resource featuring over 10 million scientific studies.

Adams is well known for his incredibly popular consumer activism video blowing the lid on fake blueberries used throughout the food supply. He has also exposed "strange fibers" found in Chicken McNuggets, fake academic credentials of so-called health "gurus," dangerous "detox" products imported as battery acid and sold for oral consumption, fake acai berry scams, the California raw milk raids, the vaccine research fraud revealed by industry whistleblowers and many other topics.

Adams has also helped defend the rights of home gardeners and protect the medical freedom rights of parents. Adams is widely recognized to have made a remarkable global impact on issues like GMOs, vaccines, nutrition therapies, human consciousness.

In addition to his activism, Adams is an accomplished musician who has released over fifteen popular songs covering a variety of activism topics.

Click here to read a more detailed bio on Mike Adams, the Health Ranger, at HealthRanger.com.