Retirement Security Month Missing Its Most Important Ingredient
Peter Reagan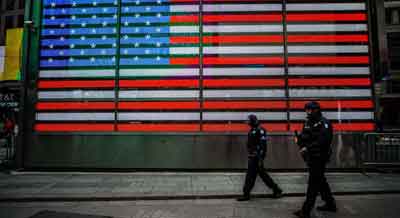 When you think about the idea of a secure retirement, one key ingredient would be security. If that's missing, all you're left with is a retirement full of anxiety.
And it doesn't matter which politicians take office, both sides of the aisle often meddle with Social Security and other retirement safety nets, but neither seem to produce tangible results that actually make retirement more secure. (At least, not very often).
October is National Retirement Security Month
This means the government is devoting resources to promote the idea that retirement savers can enjoy their "golden years" without worrying about their expenses.
This sounds like a great idea when taken at face value. No retiree wakes up and hopes their day-to-day expenses and emergencies will overtake their retirement income (which is usually fixed to some degree).
It's also easy to take for granted the elements that make up a secure retirement, like these highlighted in an article in Capital Journal:
Saving in tax-advantaged accounts like IRAs or an employee-sponsored 401(k)
Looking for ways to boost retirement income
Being prepared for unexpected costs like health care emergencies
Creating a comprehensive estate plan that might include a durable power of attorney, a will and a living trust, along with a review of your insurance coverages in case you die early
And on, and on…
The way it's written, it sounds like all of these things are easy to do, but what if the real-world picture is much more complex than a few nice sounding bullet points?
40% say "It will take a miracle" to boost retirement security
There is a lot more to enjoying a secure retirement than just estate planning and tax advantages.
According to the Natixis Global Retirement Index (GRI), there are also "four critical concerns for retirement savers, including inflation, interest rates, public debt, and a world of worries."
Natixis ranks countries according to its GRI, and by their methodology, the United States isn't doing quite as well as you might think. In fact, it doesn't even crack the top 10: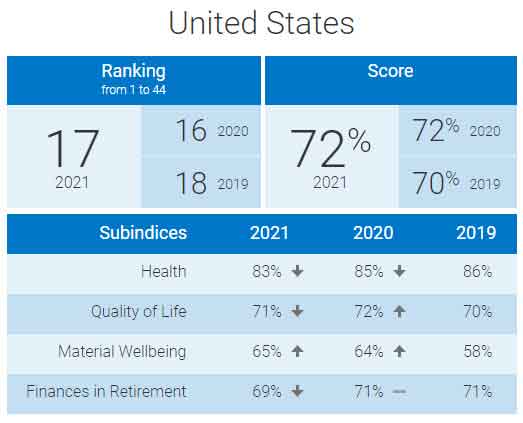 The same ranking system puts the U.S. public debt near the top, at #3 out of the top 25 countries in the world, with Japan and Greece leading the way.
But worse than all of that, according to this Naxis report, even wealthier retirement savers think "it will take a miracle" to retire securely:
Even affluent individuals worry about retirement. They should be more confident than most individuals. The survey panel is composed of individuals with at least $100,000 in investable assets. Overall, they report a median asset level of $450,000, which includes $250,000 in retirement savings, suggesting they have worked to address their personal retirement security. But dig deeper, and many will tell you that a secure retirement is no sure thing.

In fact, 40% of investors say "it will take a miracle" to retire securely. Having saved only $250,000 toward their goal to date, 42% worry retirement won't even be an option.
A miracle isn't something we should count on to happen. Which leaves the question: What can retirement savers do to boost the security of their retirement?
The same report finished with a similar conclusion that we've reached a number of times:
The risks presented by inflation, interest rates, and public debt, and the financial challenges of employment and healthcare are great. And they come at a time when many retirement systems are shifting from traditional pensions to defined contribution solutions. As a result, eight in ten individuals know it is increasingly their responsibility to fund retirement. [emphasis added]
We have to look out for ourselves. We just can't count on anyone else to do it for us – not Congress, or the Social Security Administration or our parents. We must each overcome this challenge for ourselves.
The good news is, this means you do have options. But it also means you might have to consider solutions that fall outside of the traditional way of saving for retirement.
Secure your own retirement by thinking outside the box
To help increase retirement security, savers can consider diversifying beyond stocks and bonds. That means thinking outside of the box, which can help increase the chances you'll enjoy a stress-free lifestyle well into your golden years.
And that's where a self-directed IRA shines.
A self-directed IRA focuses on the benefit of providing more flexibility with your investments. For example, you're not restricted to choosing from one broker's menu of mutual funds and other paper-based assets. It's like taking the training wheels off your retirement savings. After all, it's your hard-earned money. Why should you let a stranger tell you what you should and shouldn't invest in?
This flexibility also allows you to diversify your retirement savings with often-overlooked assets. Adding physical precious metals like gold, silver or platinum to your savings helps provide the benefits of diversification in a form that can't be hacked, crashed or simply inflated away. Many Americans feel a sense of stability and security based on their ownership of physical precious metals. There's a reason gold is called "portfolio insurance."
********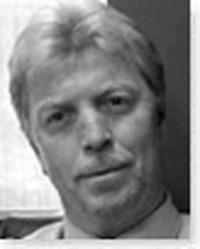 Originally trained during the inflationary 1970s, Michael Ballanger is a graduate of Saint Louis University where he earned a Bachelor of Science in finance and a Bachelor of Art in marketing before completing post-graduate work at the Wharton School of Finance. With more than 30 years of experience as a junior mining and exploration specialist, as well as a solid background in corporate finance, Ballanger's adherence to the concept of "Hard Assets" allows him to focus the practice on selecting opportunities in the global resource sector with emphasis on the precious metals exploration and development sector. Ballanger takes great pleasure in visiting mineral properties around the globe in the never-ending hunt for early-stage opportunities.
www.streetwisereports.com