Gold, Silver Trend Higher Ahead Of Latest Fed Meeting
Chris Marcus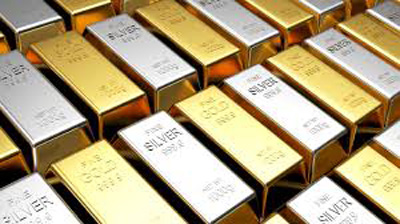 Once again it's time for another Federal Reserve policy meeting, where they provide their latest update on their balancing act between keeping up their fight against inflation, and avoiding a recession/banking collapse in response to the higher interest rates.
As many forecasted over the past 10 years during the 0% interest rate decade, it's become a tricky dynamic to maneuver. We've already seen bank failures earlier this year that forced the Fed to launch a new funding facility to take assets that were losing value off of the banks' balance sheet. And as we will cover in today's show, the pressure in the banking system still appears to be far from over.
Yet the higher rates for longer has left gold and silver in a holding pattern throughout the year, with silver slightly down on the year, while gold is slightly above where it began 2023. Both precious metals are rising this morning ahead of the Fed's announcement, where in particular the market will be looking for the updated Summary of Economic Projections. Which in June continued to suggest that the Fed voting board was still expecting interest rate cuts in 2024 and beyond.
Will the rising energy prices and CPI readings impact what the Fed will do going forward? It's not an easy position they're in at this point, which we discuss in today's show, as well as some recent silver data.
To find out more, click to watch the video now!





I  believe we're on the verge of a spectacular period of financial history.

Governments and central banks have inflated historic bubbles in the stock, bond, and real estate markets, and when they burst, it's likely the crash will be even more severe than what we all lived through in 2008.

Although that doesn't mean you can't be positioned to protect or even grow your wealth during this coming period of change.

Since leaving Wall Street I've dedicated my financial career towards studying this situation and helping people understand what's actually happening. How to protect and grow your money. And how to turn what will be a crisis on Wall Street into an incredible source of opportunity for you and the people you care about.