Who Will Buy Baby Boomers' McMansions?
Rick Ackerman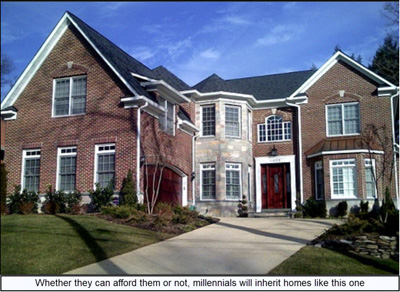 Can the Wall Street Journal's headline writers save America's juiced-up economy from going bust?  They are certainly trying. Check out their lede in Friday's editions: The Fall in Home Prices May Already Be Over.  Fancy that!  With mortgage rates headed toward 8%, many readers must have done a double-take when they read this seeming howler. Your editor wondered why the copy desk had not punctuated the headline with three or four exclamation points, lest the story fail to goad potential buyers who have been sitting on the sidelines into action.
However, the actual story, written by one Nicole Friedman, had a somewhat more nuanced take on the housing market. Although she gave Realtors an opportunity to do some boisterous cheerleading for the industry, she did not allow them to claim that residential sales are strengthening. For how could they? It turns out that prices are no longer falling because transactions have all but dried up. Few homeowners are listing these days because the price of any home or apartment they might move into would be just as pumped up. Although there are probably millions of Baby Boomers who would love to downsize in order to free up more money for retirement travel and other pleasures, it seems increasingly unlikely there will ever be buyers for their homes at today's insane prices. Millennials and Gen-xers are already so tapped out that they can't even pay back student loans, let alone buy their parents' 4,000-square-foot McMansions in the suburbs. Our kids will eventually inherit the homes, even if they are unable to afford the upkeep and taxes. It is predictable that lawns will go to seed and that the amenities of suburban towns will wither for lack of property-tax revenues.
What AAPL Is Saying
Here's another 'Ray-rah-sis-boom-bah!' headline from WSJ weekend editions: Earnings Estimates Are Rising, a Welcome Sign for the 2023 Market Rally. Considering that share prices have been rising for the last six months on lousy earnings, one could almost imagine S&P valuations inflating by half again if earnings were to turn strong for a few quarters. Even so, investors would be wise to hedge their bets with Treasury paper, since this latest, extreme yield-curve inversion has already signaled the strong likelihood of an equally extreme recession. AAPL shares, which plummeted 14% last week, have already figured this out, even if the pundits who purported to explain it have yet to stumble on the simple reason.




 

 

 

His professional background includes 12 years as a market maker on the floor of the Pacific Coast Exchange, three as an investigator with renowned San Francisco private eye Hal Lipset, seven as a reporter and newspaper editor, three as a columnist for the Sunday San Francisco Examiner, and two decades as a contributor to publications ranging from Barron's to The Antiquarian Bookman to Fleet Street Letter and Utne Reader. His detailed strategies for stocks, options, and indexes have appeared since the early 1990s in Black Box Forecasts, a newsletter he founded that originally was geared to professional option traders.

Rick Ackerman is the editor and publisher of Rick's Picks, an online service for traders from novice to expert. He has been trading himself for more than 40 years, a dozen of them as an options market-maker on the floor of Pacific Stock Exchange. CNBC and Bloomberg have featured his work, and he has written on the markets and the economy for numerous publications, including Technical Analysis of Stocks & Commodities;Stocks, Futures & Options; Barron's and The San Francisco Examiner. A headline in Barron's labeled him an "intrepid trader" after he helped the FBI solve a notorious pill-tampering case. He received a $200,000 reward and a guest appearance on FBI: The Untold Story. An epic party on San Francisco Bay celebrated the event.