Biden's executive order a direct threat to the dollar
Matt Insley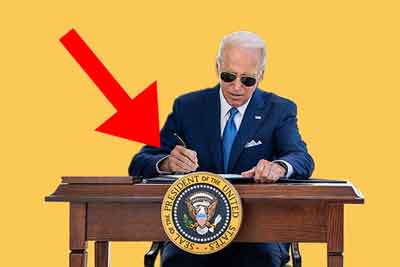 On March 9, 2022, President Biden quietly signed Executive Order 14067.
Buried inside this order is a sinister provision that could give the government unprecedented control over your money and freedom.
In fact, this provision sets the stage for:

Legal government surveillance of all US citizens
Total control over your bank accounts and purchases
And the ability to silence all dissenting voices for good
It's no wonder Fox News recently called this "a deeply troubling development."
Still, most Americans have never even heard of Executive Order 14067.
That's why today, Jim Rickards – a world-renowned economist and former advisor to both the CIA and the Pentagon – has just sounded the alarm on this troubling new development.
In his critical new presentation, he reveals the shocking truth about Biden's Executive Order…
And why it's a direct threat to the freedom of every single American citizen.
In fact, according to Mr. Rickards, this order could mean the end of the U.S. dollar as we know it.
"We're in for a major upheaval of the U.S. dollar," he says.

"In fact, I predict the 3rd Great Dollar Earthquake has already started…

"The first was Roosevelt confiscating private gold in 1934…

"The second was Nixon abandoning the gold standard in 1971…

"Now," he says, "Biden's plan could pave the way for 'retiring' the U.S. dollar – and replacing it with this disturbing new alternative."
And this is NOT some far-off pipe dream.
This is happening right now.
"Executive Order 14067 already gives President Biden unprecedented power over the future of the U.S. dollar," he says. "And sadly most Americans will be completely caught off guard by it."
That's why Mr. Rickards just released this new must-see presentation, which explains – in detail – how you can prepare for this critical event NOW…
Including 4 simple steps you can take TODAY to actually profit from the fallout.
Click here to watch this urgent new presentation from Jim Rickards now.
Sincerely,
Matt Insley,
Executive Publisher, Paradigm Press
Matt Insley is the managing editor of The Daily Edge and now the co-editor of  Outstanding Investments. Matt is the Agora Financial in-house specialist on commodities and natural resources. He holds a degree from the University of Maryland with a double major in Business and Environmental Economics. Although always familiar with the financial markets, his main area of expertise stems from his background in the Agricultural and Natural Resources (AGNR) department. Over the past years he's stayed well ahead of the curve with forward thinking ideas in both resource stocks and hard commodities. Insley's commentary has been featured by MarketWatch.

Paradigm Press LLC, provides independent economic commentary, analysis and education through print and online publications, videos, online seminars, conference calls and more.

Through the publication of free and paid publications, we are able to provide unbiased market commentary and market news. Paradigm Press is 100% independent and our editors never accept money from companies or investors in exchange for coverage.