COVID-19 Detention Camps: Are Government Round-Ups of Resistors in Our Future?
John W. Whitehead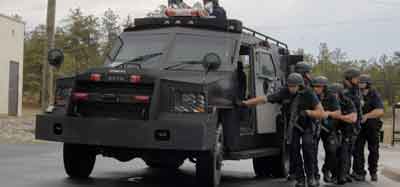 It's no longer a question of whether the government will lock up Americans for defying its mandates but when.
This is what we know: the government has the means, the muscle and the motivation to detain individuals who resist its orders and do not comply with its mandates in a vast array of prisons, detention centers, and FEMA concentration camps paid for with taxpayer dollars.
It's just a matter of time.
It no longer matters what the hot-button issue might be (vaccine mandates, immigration, gun rights, abortion, same-sex marriage, healthcare, criticizing the government, protesting election results, etc.) or which party is wielding its power like a hammer.
The groundwork has already been laid.
Under the indefinite detention provision of the National Defense Authorization Act (NDAA), the President and the military can detain and imprison American citizens with no access to friends, family or the courts if the government believes them to be a terrorist.
So it should come as no surprise that merely criticizing the government or objecting to a COVID-19 vaccine could get you labeled as a terrorist.
After all, it doesn't take much to be considered a terrorist anymore, especially given that the government likes to use the words "anti-government," "extremist" and "terrorist" interchangeably.
Indeed, if you believe in and exercise your rights under the Constitution (namely, your right to speak freely, worship freely, associate with like-minded individuals who share your political views, criticize the government, own a weapon, demand a warrant before being questioned or searched, or any other activity viewed as potentially anti-government, racist, bigoted, anarchic or sovereign), you could be at the top of the government's terrorism watch list.
This is what happens when you not only put the power to determine who is a potential danger in the hands of government agencies, the courts and the police but also give those agencies liberal authority to lock individuals up for perceived wrongs.
It's a system just begging to be abused by power-hungry bureaucrats desperate to retain their power at all costs.
As history shows, the U.S. government is not averse to locking up its own citizens for its own purposes.
One need only go back to the 1940s, when the federal government proclaimed that Japanese-Americans, labeled potential dissidents, could be put in concentration (a.k.a. internment) camps based only upon their ethnic origin, to see the lengths the federal government will go to in order to maintain "order" in the homeland.
The U.S. Supreme Court validated the detention program in Korematsu v. US (1944), concluding that the government's need to ensure the safety of the country trumped personal liberties. Pointing out that such blatantly illegal detentions could happen again—with the blessing of the courts—Justice Scalia once warned, "In times of war, the laws fall silent."
In fact, the creation of detention camps domestically has long been part of the government's budget and operations, falling under the jurisdiction of FEMA, the Federal Emergency Management Agency.
Now if you're going to have internment camps on American soil, someone has to build them.
Thus, in 2006, it was announced that a subsidiary of Halliburton had been awarded a $385 million contract to build American detention facilities.
Of course, these detention camps will have to be used for anyone viewed as a threat to the government, and that includes political dissidents. So it's no coincidence that the U.S. government has, since the 1980s, acquired and maintained, without warrant or court order, a database of names and information on Americans considered to be threats to the nation.
Fast forward to 2009, when the Department of Homeland Security (DHS) released several reports suggesting that anyone seen as opposing the government—whether they're Left, Right or somewhere in between—is a target.
This brings us back, full circle, to the question of whether the government will exercise the power it claims to possess to detain anyone perceived as a threat, i.e., anyone critical of the government.
The short answer is: yes.
The courts and the police have meshed in their thinking to such an extent that anything goes when it's done in the name of national security, crime fighting and terrorism.
Consequently, we seem to be coming full circle on many fronts.
Consider that two decades ago we were debating whether non-citizens were entitled to protections under the Constitution, specifically as they relate to indefinite detention. Americans weren't overly concerned about the rights of non-citizens then, and now we're the ones in the unenviable position of being targeted for indefinite detention by our own government.
Similarly, most Americans weren't unduly concerned when the U.S. Supreme Court gave Arizona police officers the green light to stop, search and question anyone—ostensibly those fitting a particular racial profile—they suspect might be an illegal immigrant. A decade later, the cops largely have carte blanche authority to stop any individual, citizen and non-citizen alike, they suspect might be doing something illegal (mind you, in this age of overcriminalization, that could be anything from feeding the birds to growing exotic orchids).
Likewise, you still have a sizeable portion of the population today unconcerned about the government's practice of spying on Americans, having been brainwashed into believing that if you're not doing anything wrong, you have nothing to worry about.
As I make clear in my book Battlefield America: The War on the American People and in its fictional counterpart The Erik Blair Diaries, it will only be a matter of time before they learn the hard way that in a police state, it doesn't matter who you are or how righteous you claim to be, because eventually, you will be lumped in with everyone else and everything you do will be "wrong" and suspect.
Indeed, it's happening already, with police relying on surveillance software such as ShadowDragon to watch people's social media and other website activity, whether or not they suspected of a crime, and potentially use it against them when the need arises.
Without constitutional protections in place to guard against encroachments on our rights when power, technology and militaristic governance converge, it won't be long before we find ourselves looking back on the past with longing, back to an age where we could speak to whom we wanted, buy what we wanted, think what we wanted, and go where we wanted without those thoughts, words and movements being tracked, processed and stored by corporate giants such as Google, sold to government agencies such as the NSA and CIA, and used against us by militarized police with their army of futuristic technologies.
That moment of reckoning is getting closer by the minute.
John W. Whitehead is an attorney and author who has written, debated and practiced widely in the area of constitutional law and human rights. Whitehead's concern for the persecuted and oppressed led him, in 1982, to establish The Rutherford Institute, a nonprofit civil liberties and human rights organization whose international headquarters are located in Charlottesville, Virginia. Whitehead serves as the Institute's president and spokesperson, in addition to writing a weekly commentary that is posted on The Rutherford Institute's website (www.rutherford.org), as well being distributed to several hundred newspapers, and hosting a national public service radio campaign. Whitehead's aggressive, pioneering approach to civil liberties issues has earned him numerous accolades, including the Hungarian Medal of Freedom.

Whitehead has been the subject of numerous newspaper, magazine and television profiles, ranging from Gentleman's Quarterly to CBS' 60 Minutes. Articles by Whitehead have been printed in the New York Times, Los Angeles Times, the Washington Post and USA Today, among others.

Whitehead gained international renown as a result of his role as co-counsel in Paula Jones' sexual harassment lawsuit against President Clinton. Whitehead continues to speak out in defense of a woman's right to be free from sexual harassment and frequently comments on a variety of legal issues in the national media. He has been interviewed by the following national and international media (partial list): Crossfire, O'Reilly Factor, CNN Headline News, Larry King Live, Nightline, Dateline, The Today Show, Good Morning America, CBS Evening News, CBS This Morning, This Week with Sam and Cokie, Rivera Live, Burden of Proof, Late Edition with Wolf Blitzer, FOX News Sunday, Hardball, the New York Times, the Washington Post, the Wall Street Journal, USA Today, National Public Radio, BBC Newsnight, BBC Radio, British Sky "Tonight" and "Sunday," TF1 (French TV) and Greek national television.

The author of numerous books on a variety of legal and social issues, as well as pamphlets and brochures providing legal information to the general public, Whitehead has also written numerous magazine and journal articles. Whitehead's most recent books include Battlefield America: The War on the American People and A Government of Wolves: The Emerging American Police State. In addition, he wrote and directed the documentary video series Grasping for the Wind, as well as its companion book, which focus on key cultural events of the 20th Century. The series received two Silver World Medals at the New York Film and Video Festival and is now available on DVD.

Whitehead has filed numerous amicus briefs before the U.S. Supreme Court. He has also been co-counsel in several landmark Supreme Court cases as well. His law reviews have been published in Emory Law Journal, Pepperdine Law Review, Harvard Journal on Legislation, Washington and Lee Law Review, Cumberland Law Review, Tulsa Law Journal and the Temple University Civil Rights Law Review.

Born in 1946 in Tennessee, John W. Whitehead earned a Bachelor of Arts degree from the University of Arkansas in 1969 and a Juris Doctorate degree from the University of Arkansas School of Law in 1974. He served as an officer in the United States Army from 1969 to 1971.