"The Entire World Is Nothing But A Racket"
Jim Quinn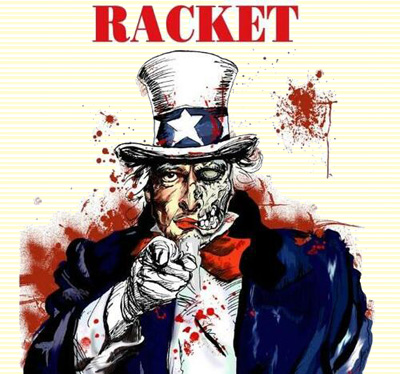 The Burning Platform's Jim Quinn unloads a truck-full of uncomfortable realities in this brief comment:
The entire world is nothing but a racket. 
Just call it a war and the funding is never ending.
Why would any politician or general ever want peace? 
Their funding would stop.
Why would Big Pharma and their media co-conspirators ever want to cure cancer or any disease created by other mega-corporations? 
Their riches would evaporate.
The war on terror must never be won, because the Department of Homeland Security and all the parasites that live off that bloated cow need your money.
Joe Rogan points out the same narrative when it comes to homelessness. 
Bureaucrats and departments in all these Democrat shitholes don't want to solve the homelessness problem. They would be out of jobs. 
Everything is a racket.

It is my sincere desire to provide readers of this site with the best unbiased information available, and a forum where it can be discussed openly, as our Founders intended. But it is not easy nor inexpensive to do so, especially when those who wish to prevent us from making the truth known, attack us without mercy on all fronts on a daily basis. So each time you visit the site, I would ask that you consider the value that you receive and have received from The Burning Platform and the community of which you are a vital part. I can't do it all alone, and I need your help and support to keep it alive. Please consider contributing an amount commensurate to the value that you receive from this site and community, or even by becoming a sustaining supporter through periodic contributions. [Burning Platform LLC - PO Box 1520 Kulpsville, PA 19443] or Paypal
 

James Quinn has held financial positions with a retailer, homebuilder and university in his 29 year career. Those positions included treasurer, controller, and head of strategic planning. He is married with three boys and is writing these articles because he cares about their future. He earned a BS in accounting from Drexel University and an MBA from Villanova University. He is a certified public accountant and a certified cash manager. These articles reflect the personal views of James Quinn. They do not necessarily represent the views of his employer, and are not sponsored or endorsed by his employer.