De-dollarization "Irreversible" - Putin Tells BRICS Summit In Remote Address
Tyler Durden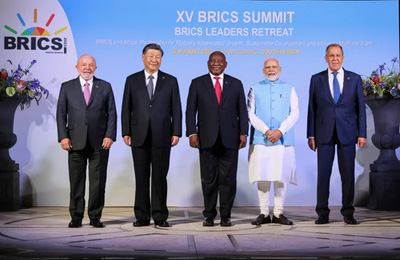 In their inaugural day 'family photo', BRICS leaders posed without Russia's President Putin, as FM Lavrov took his place given the ICC arrest warrant and Rome Statute would require the South African government to seek his arrest. 
Putin addressed the summit remotely, and emphasized in the Russian-language speech that de-dollarization is "gaining momentum". He said the dollar's receding global centrality is an "objective and irreversible" process. As expected he struck an optimistic tone about the bloc's future, also at a moment China's XI is urging BRICS to become a geopolitical rival to the G7:
The Russian leader claimed the five BRICS members – Russia, China, India, Brazil and South Africa – are becoming the new world economic leaders, adding that their cumulative share of global GDP has reached 26%.

He noted that if measured by purchasing power parity, BRICS has already surpassed the Group of Seven leading industrialized nations – accounting for 31% of the global economy, compared to 30% for the G7.

Over the past 10 years, mutual investment between the BRICS member states has increased by six times. Their total investments in the world economy have doubled, while cumulative exports account for 20% of the global total, Putin said.
Putin also took a swipe at the US and West's "Illegitimate sanctions… seriously weigh on the international economic situation," and the "unlawful freezing of sovereign states' assets" - in a message sure to be greeted positively among many aspiring Brics applicants. "We are consistently increasing fuel, food and fertilizer supplies to the states of the Global South," he added, while also blaming international food shortages on the West's "unlawful" sanctions.
As for Xi, international press reports took note of his already skipping an important meeting on day one, leading to speculation...
* * *
Chinese President Xi Jinping has arrived in South Africa for the 15th BRICS summit, running from August 22-24, where he was greeted in Johannesburg by President Cyril Ramaphosa, who is hosting the summit in the executive capital of Pretoria.
It is merely the Chinese leader's second trip abroad this year, after in March he met his "dear friend" President Vladimir Putin in Moscow. Putin will be absent for the BRICS meeting after South Africa signaled it was being pressured to enforce the Rome Statute of the International Criminal Court (ICC) which would require the government to arrest the Russian leader.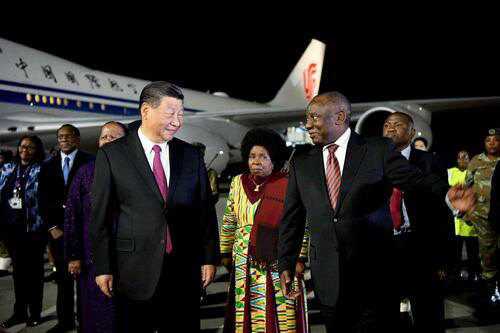 President Xi arrived at OR Tambo International Airport in Johannesburg at midnight on Monday, greeted by a military parade and President Ramaphosa.
Over 60 heads of state are expected in South Africa, with Foreign Minister Lavrov representing Russia in place of Putin, among other leading countries of Brazil, India, China and South Africa.
"I believe that this summit of the leaders of the member countries of the association will be an important milestone in the history of the development of the BRICS mechanism, that it will strengthen cohesion and cooperation among developing countries to an even higher level," the website of the Chinese Foreign Ministry cited Xi Jinping as saying just ahead of the summit's first day.
According to the FT, "China will push the Brics bloc of emerging markets to become a full-scale rival to the G7 this week, as leaders from across the developing world gather to debate the forum's biggest expansion in more than a decade."
However, there's reportedly fierce disagreement over whether to continue pursuing non-alignment for the economic interests of developing countries or to transform BRICS into a rival to the West.
Xi's pre-summit statement also laid out that the members of the association have become "a constructive force that optimizes global governance and promotes the democratization of international relations."
Illustrating the divide over the broader mission and scope of BRICS, FT cites further:
"If we expand Brics to account for a similar portion of world GDP as the G7, then our collective voice in the world will grow stronger," said one Chinese official, who declined to be identified. 
Naledi Pandor, South Africa's foreign minister, said this month it was "extremely wrong" to see a potential Brics expansion as an anti-western move. However, western capitals are likely to regard the possible additions of Iran, Belarus and Venezuela as a move to embrace allies of Russia and China.
But some influential countries like Brazil under left-wing President Luiz Inácio Lula da Silva are likely to be in Beijing's corner on this, given Lula has come out in favor of admitting for membership neighbors like Argentina and Venezuela - the latter a longtime enemy of Washington.
Some leaders also want to sea Saudi Arabia and the UAE admitted, which will trigger debate over conditions and criteria for expansion. Currently Saudi Arabia is the closest to becoming the newest member, given talks are ongoing. Over 20 more countries have sought and applied to join.
Shortly after Russian Foreign Minister's arrival at the airport tarmac in Johannesburg...
Despite rumblings that some countries, Russia among them, are pushing for the end of the dollar's dominance, the FT has cited diplomatic sources to note that a common currency is not on the agenda.



our mission:

to widen the scope of financial, economic and political information available to the professional investing public.
to skeptically examine and, where necessary, attack the flaccid institution that financial journalism has become.
to liberate oppressed knowledge.
to provide analysis uninhibited by political constraint.
to facilitate information's unending quest for freedom.
our method: pseudonymous speech...
Anonymity is a shield from the tyranny of the majority. it thus exemplifies the purpose behind the bill of rights, and of the first amendment in particular: to protect unpopular individuals from retaliation-- and their ideas from suppression-- at the hand of an intolerant society.

...responsibly used.

The right to remain anonymous may be abused when it shields fraudulent conduct. but political speech by its nature will sometimes have unpalatable consequences, and, in general, our society accords greater weight to the value of free speech than to the dangers of its misuse.

Though often maligned (typically by those frustrated by an inability to engage in ad hominem attacks) anonymous speech has a long and storied history in the united states. used by the likes of mark twain (aka samuel langhorne clemens) to criticize common ignorance, and perhaps most famously by alexander hamilton, james madison and john jay (aka publius) to write the federalist papers, we think ourselves in good company in using one or another nom de plume. particularly in light of an emerging trend against vocalizing public dissent in the united states, we believe in the critical importance of anonymity and its role in dissident speech. like the economist magazine, we also believe that keeping authorship anonymous moves the focus of discussion to the content of speech and away from the speaker- as it should be. we believe not only that you should be comfortable with anonymous speech in such an environment, but that you should be suspicious of any speech that isn't.