"Everything Appears To Be A Cover Up": Capitol Police Chief Challenged J6 Narrative In Never-Aired Tucker Carlson Interview
Tyler Durden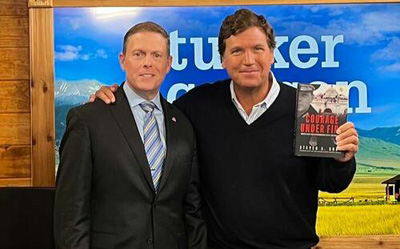 In never-before-seen footage that was withheld by Fox News, former Capitol Police Chief Steven Sund told former Fox News host Tucker Carlson that January 6th was a complete debacle and a "cover up."
"Everything appears to be a cover up," Sund tells Carlson in footage obtained by the National Pulse. "Like I said, I'm not a conspiracy theorist," he continued. "…but when you look at the information and intelligence they had, the military had, it's all watered down. I'm not getting intelligence, I'm denied any support from National Guard in advance. I'm denied National Guard while we're under attack, for 71 minutes…"
Beginning around 19 minutes into the conversation, Sund tells Tucker: "If I was allowed to do my job as the chief we wouldn't be here, this didn't have to happen," adding that he's "pissed off" about being "lambasted in public" over what happened that day.
The full interview has thus far been hidden from the public at the behest of Rupert Murdoch's increasingly left-wing Fox News channel, which unceremoniously fired its prime time host Tucker Carlson allegedly as part of a private settlement with Dominion Voting Systems. -National Pulse
"It sounds like they were hiding the intelligence," Carlson said, to which Sund responds: "Could there possibly be actually… they kind of wanted something to happen? It's not a far stretch to begin to think that. It's sad when you start putting everything together and thinking about the way this played out… what was their end goal?"
Last month Carlson told Russell Brand that Sund said the crowd on January 6th was 'filled with federal agents.'
"I interviewed the chief of the Capitol Police, Steven Sund, in an interview that was never aired on Fox, by the way — I was fired before it could air, I'm gonna interview him again," Carlson said. 

"But Steven Sund was the totally non-political, worked for Nancy Pelosi, I mean, this was not some right-wing activist. He was the chief of Capitol Police on January 6, and he said, 'Oh yeah, yeah, yeah, that crowd was filled with federal agents.' What? 'Yes.' Well he would know, of course, because he was in charge of security at the site."
"So, the more time has passed... it becomes really obvious that core claims they made about January 6 were lies,"Carlson explained.
"The amount of lying around January 6, and it was obvious in the tapes that I showed, is really distressing."
Watch:

 

our mission:

to widen the scope of financial, economic and political information available to the professional investing public.
to skeptically examine and, where necessary, attack the flaccid institution that financial journalism has become.
to liberate oppressed knowledge.
to provide analysis uninhibited by political constraint.
to facilitate information's unending quest for freedom.
our method: pseudonymous speech...
Anonymity is a shield from the tyranny of the majority. it thus exemplifies the purpose behind the bill of rights, and of the first amendment in particular: to protect unpopular individuals from retaliation-- and their ideas from suppression-- at the hand of an intolerant society.

...responsibly used.

The right to remain anonymous may be abused when it shields fraudulent conduct. but political speech by its nature will sometimes have unpalatable consequences, and, in general, our society accords greater weight to the value of free speech than to the dangers of its misuse.

Though often maligned (typically by those frustrated by an inability to engage in ad hominem attacks) anonymous speech has a long and storied history in the united states. used by the likes of mark twain (aka samuel langhorne clemens) to criticize common ignorance, and perhaps most famously by alexander hamilton, james madison and john jay (aka publius) to write the federalist papers, we think ourselves in good company in using one or another nom de plume. particularly in light of an emerging trend against vocalizing public dissent in the united states, we believe in the critical importance of anonymity and its role in dissident speech. like the economist magazine, we also believe that keeping authorship anonymous moves the focus of discussion to the content of speech and away from the speaker- as it should be. we believe not only that you should be comfortable with anonymous speech in such an environment, but that you should be suspicious of any speech that isn't.