Spoiler: "Bidenomics" Is Failing
Sean Ring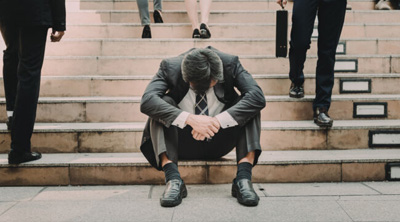 Happy Thursday!
The family and I are a few days into our Grand Tour, today we're in Paris.
I try not to wade into the mess of American politics… especially on vacation.
But flicking through my Twitter feed — or X feed, rather — a bit of trading news caught my attention.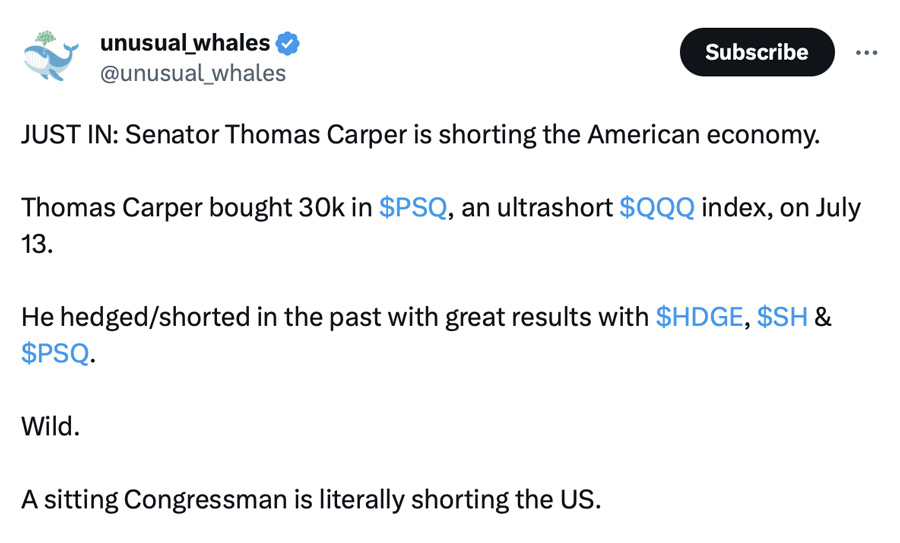 If you don't know who Tom Carper is off the top of your head, join the club.
But digging a little deeper, Tom is buddy-buddy with good ole' Joe Biden… and is a HUGE supporter of the president's so-called "Bidenomics".
I can't help but laugh.
The man touts the resilience and strength of the U.S. economy — while actively betting against it.
How is this even allowed?
It's so ridiculous, I have to take a break from relaxation to call this guy out. Because it's not the first time he's made money on something like this.
Let's dive in…
Conflict of Interest
Thomas Carper hails from the state of Delaware (no wonder he's best friends with Biden).
The democratic senator is also a senior member of the Senate Finance Committee.
So of course, in public, this man praises the U.S. economy. Just in May, he attributed the apparent glowing economy to the president…
"Thanks to POTUS, our economy is resilient and growing stronger every day. With over 250,000 jobs added to the market in April and our lowest unemployment rate in over 50 years, we are continuing to support working families across Delaware and the country," said Carper.
Lucky for us, senator's stock filings are full public knowledge… caught you Tommy.
His short bet was placed on July 13th. So it should come as no surprise that a senator like this praised the economy both the day BEFORE and the day AFTER his bearish bet.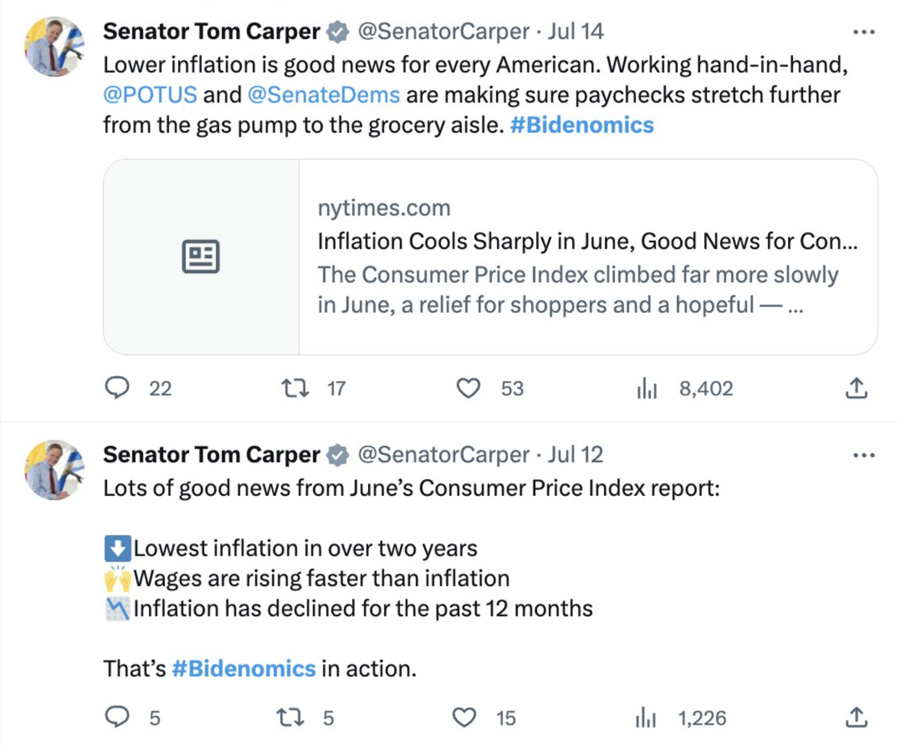 "Bidenomics in action," says the man whose portfolio paints a completely different story.
The trade in question was in the ProShares Short QQQ ETF (NYSE:PSQ), which is an ETF that moves opposite to the Nasdaq 100 Index. It's a good investment for those that want to profit from a decline in the index.
I mean, I can't help but ask: when his own personal money is on the line, wouldn't he be more incentivized for the American economy to fall? Especially considering Carper announced in May that he plans on retiring… so reelection isn't a big issue for him.
Even if he doesn't directly pass any laws that would hurt the economy, being on the Finance Committee while betting on major indices falling? That feels a little too close to insider trading for comfort.
And it's not even the first time he's done this. 
In March 2022, the US Senator invested around $100,000 in the same ETF and locked in a 30% gain after he sold it in October 2022.
Then, in November, he purchased $110,000 of the Ranger Equity Bear ETF (NYSE: HDGE), which is a fund that shorts stocks — often used by investors to protect themselves against economic downturns.
Of course, at the same time of these purchases, Biden's buddy talked about how the commander in chief's leadership was the reason for the "huge" increase in the economy… give me a break.
Tommy is clearly full of it and willing to profit while the rest of America suffers.
But this isn't just a Democrat problem…
Red and Blue Can Agree… on Their Wallets
Senator Carper is easy pickings.
It's not just him that has a huge problem with a conflict of interest, though.
The New York Times put together a good analysis on Congress' trading habits. They found that at least 97 — 47 Dems and 49 Reps — current members of Congress bought or sold (or had immediate family buying and selling) stock, bonds or other financial assets that had to do with the work they do in Washington.
Just look at this picture…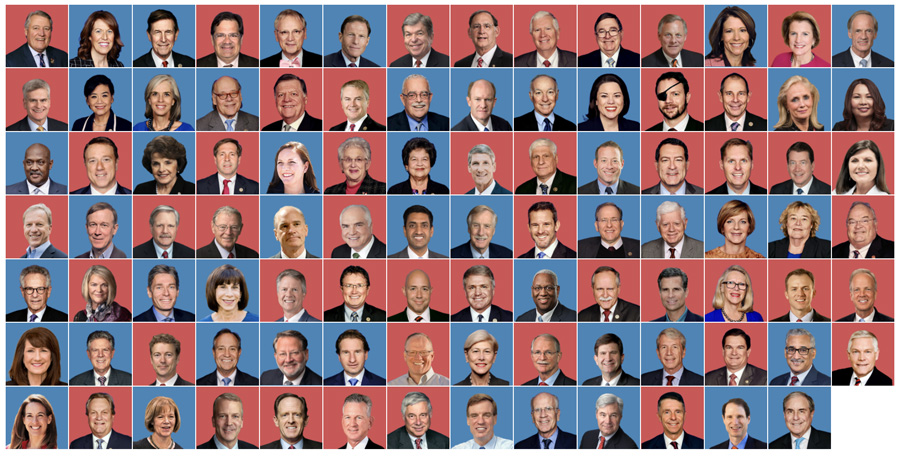 The corruption is so balanced between Republicans and Democrats the picture is practically purple! (Take a peep at Mr. Carper up on the top right.)
American lawmakers do not have to refrain from investing in companies whose stocks could be directly affected by the decisions they make in office. But it does leave a bad taste in your mouth.
I mean, who can forget that after closed-door meetings about the pandemic back in 2020 (before the public had knowledge), many of their first instincts were not to try and protect the economy but to buy and sell stocks weeks before the market crashed.
And despite 2022 being the worst market since 2008, politicians — on both sides of the aisle — beat the market.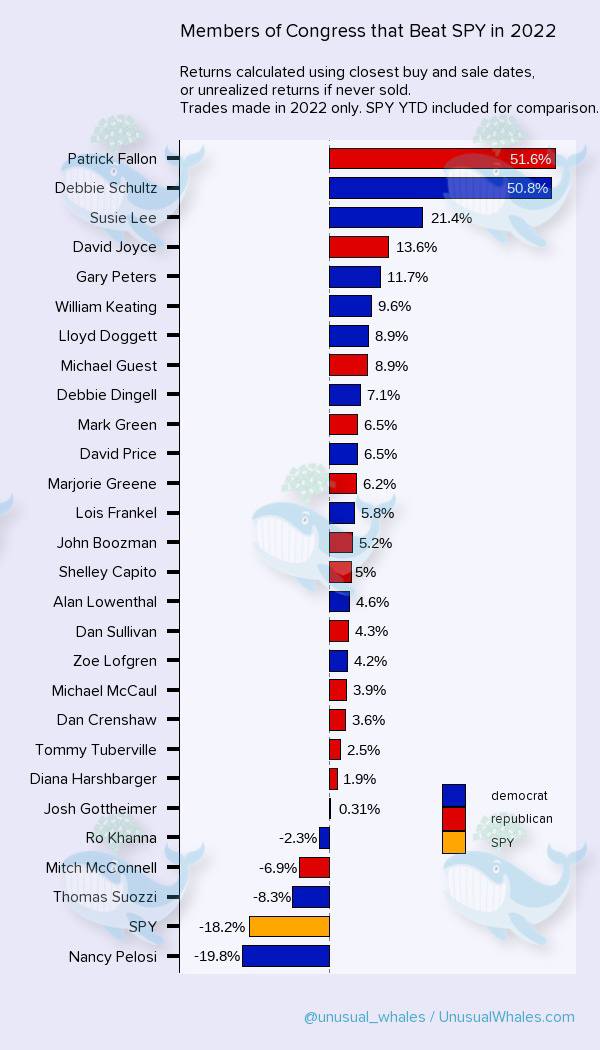 These politicians sure know how to trade!
Pay Close Attention
We don't get real-time updates on congressional stock trading. So trading alongside them is a bit of an uphill battle.
But politicians — not just in America, but all over — can't help but show their cards eventually. Because if these people care about one thing over all… it's making themselves more money.
And those like our aforementioned Delaware senator give us some great insight: despite what he may be posting on social media about the strength of the U.S. economy, his heart (and his wallet) seem to be elsewhere.
If someone on the Finance Committee is actively betting against America's finances, I'm definitely paying attention and it doesn't hurt to brace for impact.
Take what they say in public with a grain of salt, their portfolios are where the real action takes place.
Thanks for the peek behind the curtain Tommy!
Let me know if you want any more information on this topic, or any topic that's top of mind by emailing me here.
See you next week.


 
My story starts in Hasbrouck Heights, New Jersey, where I grew up. My childhood was idyllic. I never thought I'd leave the Heights. Well, maybe just for college. When I was searching for colleges, I only looked within a hundred miles or so. I wound up going to Villanova. I stayed there for four years and earned — their word, not mine — a finance degree with a minor in political science. After that, I went to work on Wall Street. I had a menial job at Paine Webber to start, but then I got my first real Wall Street job at Lehman Bros. (before its collapse, of course). I worked there in Global Corporate Equity Derivatives as an accountant, believe it or not. Honestly, I hated the job back then. I didn't know how spreadsheets worked — yes, even with a finance degree. (Now I'm a Microsoft Excel nut. I think it's one of the most extraordinary things ever invented.) After that, I moved to Credit Suisse, who sent me to London — the center of global operations for banking. I was young. Not only did I love the city for being a Candyland for alcoholics, but I also needed the international experience to cancel out my mediocre grade point average to get into a top 25 U.S. business school. Somehow, though, I stayed for a decade, until I discovered London Business School. There I earned a master's (HA!) degree in finance. My next job was as a futures broker, which I utterly loathed. When I had enough, I took a year off — pub crawling around London and pissing away my bonus money. Then I figured out that I needed a new job. So I went to work for a company called 7city Learning, where all of the best finance trainers were working. I had no idea about any of that, but imagine walking into the 1927 Yankees locker room and being taught how to hit. I spent my time teaching all the traders exams, the graduate programs of the various big banks and then the CFA Level 1 review courses. Yes, that's the only level I've passed. I hate that exam. I never really wanted to run money anyway. In 2009, my boss asked me to move to Singapore to help build the business in Asia. Then I went to work for another financial training company where all of my friends had migrated. Around the time I was getting bored of Singapore, my old bank asked me to work at talent development for them in Hong Kong. Nearly three years later, I moved to the Philippines, where I started an EdTech startup called Finlingo. Along the way, I've racked up a ton of qualifications — I am a CAIA, FRM and CMT, amongst a few other things — but they don't mean anything. All that matters are my experience, my connections and my takes on things. So every day I'm going to do my snarky best to inform and entertain you.