Nuclear And Hydropower Falter As Droughts Grip Europe
Tyler Durden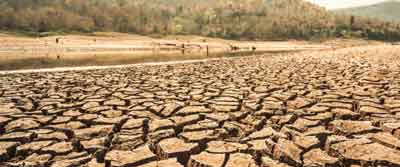 As Europe looks to secure alternative energy sources to Russian gas in light of the war in Ukraine, Statista's Anna Fleck warns, a new threat to energy security is stirring, this time from droughts.
The droughts hitting Europe are impacting everything from food to transportation to the environment.
In Italy, the River Po has fallen two meters below its normal levels, seeing rice paddy fields dry out. Meanwhile, Germany's River Rhine has become so shallow that cargo vessels can't pass through it fully loaded, pushing up shipping costs, and France's Tille River, in the Burgundy region, is now a dried up bed covered in thousands of dead fish.
But Europe's energy production has also been impacted. As Statista's chart below shows, hydroelectric power has fallen some 20 percent since 2021. This partly comes down to the fact reservoirs have been drying up in countries such as Italy, Serbia, Montenegro and Norway. The latter, according to Bloomberg, usually a major hydroproducer, is even taking the steps to reduce exports in order to prioritize refilling its reservoir's low water levels so the country can maintain domestic production.
You will find more infographics at Statista
Nuclear power too has fallen since 2021. One reason for this is that France has had to shut down several of its nuclear power plants because the rivers Rhone and the Garonne have been too warm to be able to cool down its reactors. France is 70 percent dependent on nuclear energy and is a key exporter of electricity, usually supplying Italy, Germany and the UK. It's important to note here however, that other problems are troubling France's nuclear fleet too. A significant number of the country's power plants have had to be powered down recently due to malfunctions and maintenance issues, which had been delayed because of the pandemic. These combined reasons mean, according to Wired, that the country's hydropower output is down nearly 50 percent.


our mission:

to widen the scope of financial, economic and political information available to the professional investing public.
to skeptically examine and, where necessary, attack the flaccid institution that financial journalism has become.
to liberate oppressed knowledge.
to provide analysis uninhibited by political constraint.
to facilitate information's unending quest for freedom.
our method: pseudonymous speech...
Anonymity is a shield from the tyranny of the majority. it thus exemplifies the purpose behind the bill of rights, and of the first amendment in particular: to protect unpopular individuals from retaliation-- and their ideas from suppression-- at the hand of an intolerant society.

...responsibly used.

The right to remain anonymous may be abused when it shields fraudulent conduct. but political speech by its nature will sometimes have unpalatable consequences, and, in general, our society accords greater weight to the value of free speech than to the dangers of its misuse.

Though often maligned (typically by those frustrated by an inability to engage in ad hominem attacks) anonymous speech has a long and storied history in the united states. used by the likes of mark twain (aka samuel langhorne clemens) to criticize common ignorance, and perhaps most famously by alexander hamilton, james madison and john jay (aka publius) to write the federalist papers, we think ourselves in good company in using one or another nom de plume. particularly in light of an emerging trend against vocalizing public dissent in the united states, we believe in the critical importance of anonymity and its role in dissident speech. like the economist magazine, we also believe that keeping authorship anonymous moves the focus of discussion to the content of speech and away from the speaker- as it should be. we believe not only that you should be comfortable with anonymous speech in such an environment, but that you should be suspicious of any speech that isn't.