Fed Hikes by 25 Basis Points, to 5.5% Top of Range, Highest since 2001, More Rate Hikes on the Table. QT Continues
Wolf Richter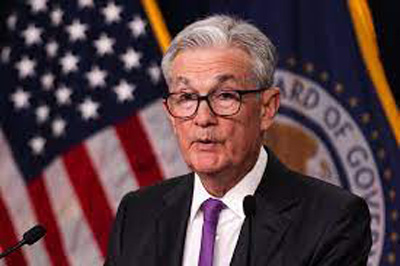 "In determining the extent of additional policy firming that may be appropriate to return inflation to 2 percent over time…"
The Fed's FOMC raised its five policy rates by 25 basis points today, which pushed the upper limit of its policy rates to 5.5%, the highest since January 2001. The Fed had broadly telegraphed this move after the "very hawkish skip" meeting in June, when it projected two more rate hikes this year. The Fed has hiked by 525 basis points in 16 months, the fastest rate-hike cycle since 1980, to deal with the worst inflation in 40 years. The vote was unanimous.
And the Fed also put another rate hike on the table for this year. Today it hiked:
Federal funds rate target to a range between 5.25% and 5.5%.
Interest it pays the banks on reserves to 5.4%.
Interest it charges on overnight Repos to 5.5%.
Interest it pays on overnight Reverse Repos (RRPs) to 5.3%.
Primary credit rate to 5.5% (what banks pay to borrow at the "Discount Window").
And amid all the hype about insta-rate-cuts that has been bubbling over for a year, we note that plateaus after a series of rate hikes are the rule: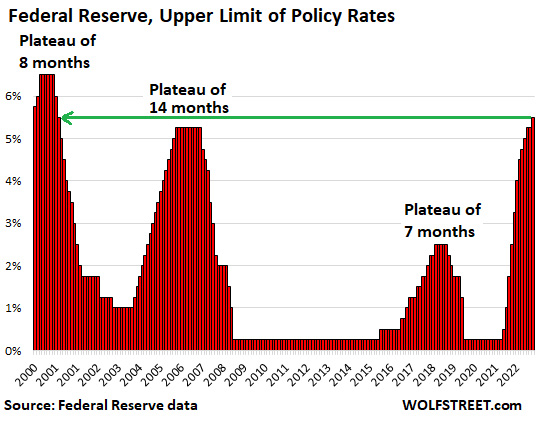 Leaves the door open for additional rate hikes. The statement repeated the language of the June statement, which leaves the door open for more rate hikes:
"In determining the extent of additional policy firming that may be appropriate to return inflation to 2 percent over time, the Committee will take into account the cumulative tightening of monetary policy, the lags with which monetary policy affects economic activity and inflation, and economic and financial developments."
QT marches on at the normal pace, with the Treasury roll-off capped at $60 billion per month, and the MBS roll-off capped at $35 billion a month, same as in the prior months.
Dot plot, not now. The Fed releases its updated "Summary of Economic Projections" (SEP), which includes the "dot plot," four times per year, near the end of each quarter. Today was one of the four in-between meetings when the Fed doesn't release a SEP.
In the SEP from its "very hawkish skip" June meeting, the median projection for the federal funds rate at the end of 2023 was raised by two rate hikes, to 5.625%, meaning an upper limit of the target range of 5.75%. The Fed now has the first of those two rate hikes in the can.
And in that SEP's projections, there was no rate cut for 2023; not a single member projected a rate cut this year. There was nothing in the statement today that changes that.
In response to the banking crisis in March, the Fed's statement on May 3 had discussed its impact on inflation; today's statement repeats the same language for the second meeting in a row: That the "tighter credit conditions for households and businesses are likely to weigh on economic activity, hiring, and inflation." And it repeats that "the extent of these effects remains uncertain."
At the press conference, Powell managed to pull the rug out from under some widely held assumptions. Read… Without Actually Pronouncing "6%," Powell Said 6% Several Times. Inflation Not Vanquished in June. Even if the Fed Cuts Rates Next Year, QT Could Continue
Enjoy reading WOLF STREET and want to support it? You can donate. I appreciate it immensely. Click on the beer and iced-tea mug to find out how:

Would you like to be notified via email when WOLF STREET publishes a new article? Sign up here.



Founder, Wolf Street Corp, publisher of WOLF STREET.

In his cynical, tongue-in-cheek manner, he muses on WOLF STREET about economic, business, and financial issues, Wall Street shenanigans, complex entanglements, and other things, debacles, and opportunities that catch his eye in the US, Europe, Japan, and occasionally China.

Wolf lives in San Francisco. He has over twenty years of C-level operations experience, including turnarounds and a VC-funded startup. He has a BA, MA, and MBA (UT at Austin).

In his prior life, he worked in Texas and Oklahoma, including a decade as General Manager and COO of a large Ford dealership and its subsidiaries. But one day, he quit and went to France for seven weeks to open himself up to new possibilities, which degenerated into a life-altering three-year journey across 100 countries on all continents, much of it overland, that almost swallowed him up.