Why Are We Seeing More Transgender Killers? The Push To Normalize Transgenderism Is Creating Mass Shooters And Murderers  As Study Shows Trans People Are Far More Likely To Have A Mental Disorder
Susan Duclos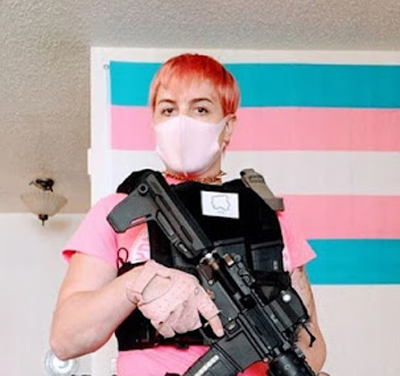 Has anyone noticed that with the push to "normalize" transgenderism we have also seen an uptick in transgender mass shooters?
There is a reason for that. Before this attempt to force people to accept men/women pretending to be the opposite sex, the majority of mass shooters were mentally disturbed, and medicated young men.
Now we have schools guiding staff to help children "transition" behind their parents back, without permission and the knowledge of this happening withheld from the parents, with some teachers even bragging about doing so. Deliberately creating gender confusion is deliberately creating mental illnesses.
We have the liberal MSM claiming anyone that speaks out against this deadly phenomena is "transphobic," and while I had a response ready for that, this morning I saw a response from Allie Beth Stuckey, and frankly it is a far better response than what I had planned.
I see conservatives object to being called things like "transphobe." They'll defend themselves saying, "transphobia means fear, and I'm not scared of trans people! I just don't believe men should go in women's bathrooms etc" 

Well, one: Defending yourself against their accusations and name-calling is wasted time. The proper response isn't "No, I'm not." It's "I don't care."

Two: We actually should feel fear. We should fear men going into women's bathrooms. We should fear for the female prisoners forced to be incarcerated with men, many of whom have raped women. We should fear for the rape victims forced to share space in abuse shelters with men. We should fear a world in which girls are forced to suppress their instincts and smile as males infiltrate their sororities, teams, and locker rooms. And, yes, aversion too. We should have a strong aversion toward men trying to "breastfeed" babies. We should be averse to the idea that "female" is a costume to be donned or an identity to declare. These fears and aversions are healthy and logical.

What they aren't is irrational. This is why "transphobe" isn't accurate, because "phobia" is an *irrational* fear or aversion. But the fear and aversion felt in this case are extremely rational. 
There is more, but that is the key portion, and a good response. Not a denial but a willingness to tell the truth, stand up and speak out, and when they screech "transphobe" at you, say "I don't care."
The bottom line for this segment of this article is that with the rise of the normalization of men pretending to be women and women pretending to be men, we see a rise in transgender killers.
TRANSGENDER KILLERS…..
Before detailing the list of transgender killers, let us first take on the misleading argument of "there are more straight mass shooters."
Yes, there are, because transgenders only represent less than 1% of the population. The misleading part of that argument is that those making it forget, neglect, or deliberately hide the fact that transgender (pretending to be the opposite sex) represent less than one percent of the population.
Their arguments don't fly when the population statistics are added to the equation.
Also when we factor in the normalization push over the past 8 years, we see that the percentage of transgenders has jumped from .02% to .03% in 2015, to 1.4% in 2023.
2015 numbers:
The most frequently cited estimate is that 700,000 people in the United States, or about 0.2 to 0.3 percent of the population, are transgender, though some experts say the true number is probably greater than that.
2023 numbers:
According to this 2022 report from UCLA's School of Law Williams Institute, 1.6 million people ages 13 years and up identify as transgender in the United States.
We are also going to detail a couple of transgender killers from 25 to 30 years ago, when they weren't even listed as part of the population percentage.
We'll start with the reported mass shooters.
Over the past five years, there have been four transgender mass shooters. 
We'll start with 2018 and work our way to 2023.
Aberdeen, Maryland—September 20, 2018
Four people were shot and killed at a pharmaceuticals distribution center in the city, located 26 miles north east of Baltimore. The suspect had opened fire after entering the facility shortly after 9 a.m. ET, before shooting themselves in the head. They later died of their wounds.

Police said the shooter was Snochia Moseley, a 26 year old who they identified as female. A friend told the Washington Post that Moseley had suffered from bipolar disorder and depression, which they linked to feelings of rejection when Moseley had first come out as gay and later transgender.
Denver, Colorado—May 7, 2019
One student was killed and a further eight were injured during a shooting at STEM School Highlands Ranch, south of Denver.

Devon Erickson, who was 18 at the time, and then-16-year-old Alec McKinney entered the school with several concealed weapons before carrying out the attack.

[...]

McKinney was born female, but asked to be referred to as male as they were transitioning at the time of the shooting.
Colorado Springs, Colorado—November 19-20, 2022
A mass shooting that began just before midnight at an LGBTQ nightclub left five people dead and 25 injured. Lee Aldrich, 22, was identified as the shooter, and has since been charged with more than 300 criminal indictments. He remains in custody while awaiting trial.

Aldrich's lawyers have written in court documents that their client identified as non-binary......
Nashville, Tennessee—March 27, 2023
In a statement on Monday, the Metropolitan Nashville Police Department said officers had been called to the Covenant School, a private Christian institution, to the southwest of the city, at around 10:13 a.m. local time (11:13 a.m. ET) following reports of shots being fired in the building.

Children Evelyn Dieckhaus, William Kinney and Hallie Scruggs were killed along with school head Katherine Koonce, 60, Mike Hill, 61, and Cynthia Peak, 61. Police identified Hill as a janitor and Peak as a substitute teacher, according to the Associated Press.

Officers encountered the suspect, later identified as 28-year-old Audrey Elizabeth Hale, on the second floor of the school, where they fatally shot the assailant. Hale, who had previously attended the school, had arrived that day with three guns, including two assault weapons.

Chief of Police John Drake told reporters that Hale identified as transgender and said officers were investigating whether Hale's gender identity was related to the crime, but could not comment yet on an exact motive.
The latest one is a transgender the media refers to as a cross-dressing man, (they appear to be trying to protect transgenders by using that phrase), killed five people and injured two children in Philadelphia PA.
The amount of transgender serial killers and/or murderers I didn't know about until I started doing my research for this piece, and I was shocked to see some of the people accused and/or convicted of these crimes were transgender, because this was 25 to 30 years ago. I cannot even provide a percentage statistic because there were so few transgender at that time, there were no studies, surveys, polls or research into the number of transgenders.
• Don't call her Harvey: Chilling jailhouse interview with trans serial killer
• 2017: Accused transgender serial killer's trial set to begin this week
A note on this one: The "female" transgender is blaming the "male" that it was before transitioning. A novel defense, eh?
• 'Transgender' Serial Killer Who Hates Women Will Soon be Eligible for Parole
With the media and LGBT groups claiming they have suffered for violence, it is interesting t see a list, a very, very long list of transgender murderers.
These names and descriptions of their crimes comes from Infogalactic, which is like Wikipedia, but they cover issues Wiki refuses to deal with honestly.
Philip Tarver 2020
Philip Tarver, 47, a cross-dressing man in Surrey England, murdered his 86-year-old mother by stabbing her in the heart with a sword and then decapitating her. Tarver, dressed in a see-through negligee, sliced off his mother's wedding ring finger and put it in the kettle, then put her head in the freezer. [8]
Joseph Cambron 2019
Joseph Cambron, 26, of Kentucky, who previously stood trial for the first-degree sexual abuse of a 6-year-old girl, pleaded guilty to killing a 12-year-old boy. On June 21, 2019 he appeared in court charged with murder and told the judge that he identifies as a transgender woman. He demanded to be addressed with female pronouns. He is 6ft 3" and weighs 185 lb. The court concluded that he had stabbed Ray Allen Etheridge, a complete stranger to him, for no reason, in Cherokee Park in 2014. He was sentenced to 13 years. [9]
Gerald Matovu, England 2019
Matovu, a homosexual drug dealer aged 26, started a relationship with actor Eric Michels, 54, via Grindr in August 2018. Matovu gave Michels a fatal dose of the drug GHB at his home in Bolton Road, Chessington, Surrey, and then stole his bank card details and other belongings. Michels was one of 12 men targeted by Matovu and his homosexual lover, Brandon Dunbar, 24, over a 19-month period. Matovu supplied drugs to homosexual serial killer Stephen Port [see below]. Matovu was found guilty of murder and 38 other offences, and given a 31-year sentence, although his defence pleaded that he suffered from dysphoria, wanted to become a woman, and referred to him as "she". [10][11]
Toko Shane Winter 2019
Toko Shane "Ashley" Winter, a man posing as a woman, was one of a duo convicted of the murder of a 17-year-old girl Dimetrius Pairama, in Auckland, New Zealand. Before her death the victim had been kidnapped and tortured. She was beaten, tied to a chair, gagged, taunted and her naked body burned with an aerosol can and cigarette lighter. Ashley Winter stamped on her head, cracking her skull and she was finally hanged. Her corpse was found later inside a rusty steel drum. Winter was the one in charge, the witness said. "Everyone listens to Ashley." He was photographed several times during the trial smiling. [12] [13] [14]
Andrew "Andrea" Balcer 2019
Transgender born male, passing as female, fatally stabbed both his parents in Maine, and also killed the family pet dog, for barking too loudly. His lawyer tried to excuse the crime by arguing that Balcer was "dealing with her transition from male to female in isolation and without family support at the time of the killings" on 31 October 2016. He claimed that there had been "years of abuse" from his parents who did not understand his problems. But his elder brother denied that his parents, Alice and Antonio Balcer, had ever been harsh to Andrew, said his excuses were "flimsy", and urged the judge to be firm. "In my view, all leniency does is put a remorseless murderer back on the street." And the murdered woman's brother said the parents had not been intolerant about gender ID change. "There was no hatred. There was no malice. There was no ill will. There was resignation to be sure but ultimately there was acceptance," he said. Balcer was sentenced to 40 years imprisonment. [16] [17]
Glenn Dibley alias "Caressa Jill Hardy"
Dibley is charged in Missoula, Montana, with the murder of his two flatmates, Thomas Korjack and Robert Orozco in 2013 in Frenchtown. He is also under investigation for the suspected murder of several key witnesses who have disappeared. The prosecution postponed the trial so that forensic tests could be carried out on human bones found in a fire pit and dumpsite in 2017 and 2018. It went ahead in 2019 and Dibley was found guilty of both murders and of incitement to murder the witness. He was sentenced to four life terms. [18] [19]
Alex Stewart, previously Alan Baker
Stewart killed John Weir, 36, a father of two children, after inviting him to his home in 2018. The two men had met just hours earlier on a "gay" dating site. Stewart stabbed Weir at least 16 times. He is currently held in HM Prison Greenock, Scotland, where he identifies as transgender and is being treated as a woman. [20]
Karl "Evie" Amati 2017
Karl Amati, 25, a transgender who had adopted the female name of "Evie" carried out a premeditated violent axe-attack on three strangers in a convenience store in Sydney, Australia in January 2017. He struck his victims in the head and was heard laughing as he did so. Previously he had written on his Facebook page, "humans are only able to destroy or hate so that is what I shall do", and at 1.13am on January 7, also sent a Facebook message saying "one day I am going to kill a lot of people". [21] He got nine years but will be eligible for parole after only two. [22]
Beate Schmidt
Serial killer, born Wolfgang Schmidt, 1966. Germany. See Beate Schmidt
Paul/Paula Denyer
Serial killer, born Paul Charles Denyer, 14 April 1972. Australia. See Paul Denyer
Noel/Maddison Crompton Hall
He was sentenced to 22 years for the 1987 murder of a hitchhiker in Australia. Once in prison, Hall began claiming to be a woman. The authorities moved him to a women's prison in August 1999. After three months Hall was charged with raping his cellmate. Numerous other female prisoners accused him of sexual assaults. He may even have impregnated one of the women prisoners.[23]
Shawn Vincent Boniello 2018
Shawn Vincent Boniello alias Shayla Angeline Boniello, a man passing as a woman, was convicted of killing a baby girl aged 20 months in Rockdale, Texas. The child was left in his care and later found beaten to death. [24]
Snochia Moseley 2018
Shot dead three people at the Rite Aid warehouse in a business park in Aberdeen, Harford County, Maryland on 20 September 2018. He injured three others before turning the 9 mm Glock handgun, which he had registered and legally purchased, on himself. Authorities and court records identified Moseley as female, as did a Facebook profile in his name. But in Facebook messages Moseley described himself as transgender. [25] [26]
Nasim Aghdam 2018
In April 2018 Nasim Najafi Agdam, an Iranian-born male who identified as a woman, stormed into the YouTube offices in California and shot one man and two women. Aghdam, 39, then killed himself. The motive was rage about the way that his videos had been taken down or restricted. "Nasim" is a man's name. He was six feet tall and his thyroid can be clearly seen in photographs. [27]
Kyle Lockwood
Kyle Lockwood, a.k.a."Kayleigh-Louise Woods", born male 1996. Jailed in Warwickshire UK in 2017 for the brutal torture and murder of a 20-year-old woman. The victim Bethany Hill was his flatmate. She was found with her hands bound with tape and multiple stab wounds to her neck, and the prosecution presented evidence that Lockwood and his accomplice Jack Williams had planned and carried out the prolonged sadistic killing for their perverted pleasure. A Barbie doll owned by Woods with hair dyed a similar colour to the victim and hands bound with tape was found hidden at his grandmother's house. Lockwood was listed as 'male' on court documentation, yet referred to with female pronouns on the same court documents and as Williams' 'girlfriend' in BBC coverage. Lockwood had been having a homosexual relationship with Williams for some time. The Guardian leftwing newspaper refered to him throughout as a "woman" merely slipping in that he was "assigned male at birth". Even the Daily Mail called Lockwood a "transwoman" and "she" despite the fact that he has never had re-assignment surgery and does not hold a Gender Recognition Certificate.[28] [29] [30] [31]
Dana Rivers 2016
Dana Lee Rivers (formerly David Warfield) a noted U.S.A. transgender activist, murdered a lesbian couple Patricia Wright & Charlotte Reed, and their adult son Benny Diambu-Wright in Oakland, California in November 2016. His motive for murdering them was revenge because they organized women-only events from which he was excluded. [32]
Rivers rose to national prominence in 1999 when he was removed from his tenured teaching position as an IT instructor at Center High School in Sacramento following allegations that he inappropriately shared sex-related material with students following his on-the-job gender transition. He told them among other things that he had been molested by a male homosexual when he was a boy, and that this had made him wonder if he was a woman.
Rivers was subsequently featured on the Oprah Winfrey Show, Good Morning America, among other national media. He planned on writing a book and selling a movie version of his life story. With the help of an ACLU attorney Rivers negotiated a $150,000 buy-out of his tenured position and resigned. He discussed his decision in an interview with GenderPAC here: [33] As an LGBT activist, he used the Twitter name @latitude3749
In 2022 he was finally convicted of the triple murder of Reed and Wright together with Wright's son. He went to their house, shot them both multiple times, and shot Benny dead too. He then set fire to the building. In court, he pleaded insanity. [34]
Zachary McClimans 2016
Zachary T. McClimans, 22, a man identifying as a woman, shot his co-worker in a Walmart store in Mercer, Arizona. He shot Jayson Hall four times then went to his car in the parking lot where police found him with a .38 caliber pistol. In June 2018 he was sentenced to a term of minimum 18 years in jail. Although he had only recently decided to adopt a female identity and chosen the name Claire Wolfever, the newspapers described him as a "Sharon woman". [35] [36] [37]
Curtis "Moka" Dawkins 2015
Curtis "Moka" Dawkins, a man identifying as a woman, fatally stabbed a man in a Toronto apartment in 2015. Dawkins, 27, was using a website called "ShemaleCanada.com" in the summer of 2015 to advertise sexual services. Through this website, he met Jamie Foster, 27, in early July 2015. Roughly four weeks later, Dawkins fatally stabbed Foster in his Rose Ave. apartment. [38]
Claire/Christopher Darbyshire 2015
Convicted of murdering his father by suffocation at their home in Wykeham Green, Dagenham, London UK. Christopher aged 36 had complained to friends of the burden of caring for his father, 67, who suffered from multiple sclerosis. He changed his name to Claire by deed poll in 2008, but had no GRC so remained legally male. [39]
Alhan Khan 2015
Male who identified as female, confessed to murdering a man, Rashid Balloch, in Karachi. Khan and an accomplice tied the victim up with ropes and beat him to death, then put his body in a suitcase and dumped it in a park. Khan confessed to previously blackmailing Balloch.[40]
Mikaelly Zanotto a.k.a. da Costa Martinez
Drag Queen and prostitute, convicted for 17 crimes including the murder of another transvestite male, Douglas dos Santos Pinheiro, in 2015. Winner of Miss Transgender Brazil in 2019. Since then has been arrested again on charges of drugging and stealing from sex clients he lured on Instagram. [41] [42]
Hector "Stefani" Gutierrez
Sentenced to a minimum 20 years for the murder of his brother-in-law, Enrique Hernandez, in Las Vegas on May 25, 2015. He hacked the victim to death with an axe and nearly decapitated him. Before the murder he had already started to plan to transition to identify as a woman and when in prison he adopted the name "Stefani" and claims to be victimized by other prisoners. [43]
Graham Cleary-Senior 2015
Graham Cleary-Senior, an alcoholic and transvestite, murdered his wife Frances, a nurse aged 49, in Oldham Manchester. Returning home after an all-day brandy binge, he stabbed her in the chest. She was hospitalized and died a month later. Frances had discovered his transvestite habits six weeks after marrying him, but being a devout Catholic had hesitated to divorce him. [44]
Colin Coats 2013
Colin Coats, 43, was jailed for a minimum of 33 years for the murder of businesswoman Lynda Spence. Ms Spence aged 27 was last seen in Glasgow in 2011. Coats and his accomplice Philip Wade forced Ms Spence into a car and drove her to a flat in West Kilbride in Ayrshire. She was taped to a chair and tortured for two weeks during which she was burned with an iron, struck with a golf club and had her thumb cut off. Her kneecaps were smashed. She was then murdered and her body disposed of. Coats boasted to a cellmate in prison that he smothered her, cut off her head and burnt her remains in a furnace. The jury was shown a video in which Coates was dressed as a woman and said: "New gangster in town seeks young men for extortion, abduction and tying up...funerals and bar mitzvahs. Call 1-800 Supertranny." His appeal against the verdict was rejected. [45] [46]
Peter Laing alias "Paris" Green 2013
Peter Laing alias "Paris" Green was one of three homosexuals in Scotland who murdered an innocent man, Robert Shankland over a quarrel about a bag of chips. They lured him to their home, where was tied up with torn bedding, battered, kicked and attacked with a rolling pin. A ligature was tied around his neck and a plastic bag pulled over his head. Mr Shankland, who suffered from a heart disease, died either by suffocation or blunt force injuries. As he lay dying, the killers ate ham sandwiches which they paid for by selling their victim's mobile phone. Because Laing identified as a woman he was sent to Cornton Vale women's prison. [47]
Kristoffer Johansson 2013
Kristoffer "Kim Marie" Johansson b.1990 was convicted for killing & dismembering his former girlfriend in Sweden. Johannssen stabbed to death 20-year-old civil engineering student Vatchareeya Bangsuan in May 2013. He chopped up her body, and scattered the parts throughout a forest and desert farm near Boden. He also slaughtered and chopped up his dog. During the police search, he feigned concern for her welfare. Johannson was originally sentenced to 14 years, then on appeal this reduced to 10 years. He has now "identified" as a woman and in 2019 was transferred to a women's prison. [48]
Douglas alias "Donna" Perry 2012
Donna Perry, 62, has been identified as a serial killer using DNA evidence to solve three murders committed in Washington State in 1990. He told police in 2012 in an affidavit filed in Spokane Superior Court that the crimes were committed by "Douglas" not "Donna". Perry had gender reassignment surgery in Thailand in 2000. In 1998, Perry served 18 months in an Oregon prison. His cell mate told Washington detectives that Perry confessed to killing nine people.[49]
Senthooran Kanagasingham 2010
Senthooran Kanagasingham, alias "Nina" a man identifying as a female, was convicted of the manslaughter of lawyer David "Sonia" Burgess in London in 2010. Kanagasingham aged 35, was in a relationship with Burgess, 63, who lived a double life, using male and female identities. Though married with children, Burgess advertised himself as a female prostitute on websites. He was pushed under a tube train at Kings Cross Station by Kanagasingham, who was convicted of manslaughter with diminished responsibility because he told the court he was undergoing sex "transition". Burgess who was acting as his lawyer had done considerable favors for Kanagasingham. [50]
Mark Jones alias "Karen" Jones alias "Karen Louise" Lawson
Convicted in Manchester, England for killing his first, male partner, Michael Cutler in 2000. The motive was that Cutler had refused to pay for sex change treatment. Jones admitted killing Cutler but claimed "loss of control", served only half his five-year sentence for manslaughter and within days of release had carried out a violent rape on a young woman in a shop. He claimed it was so he could return to prison and get sex-change treatment at the tax-payer's expense. He succeeded in both aims, was transferred to a women's prison, and then released using a female identity. [51] [52]
Tyler Holder 2013
Tyler Holder, a cross-dressing teenage male, abducted, raped, and murdered a six year old girl in Dallas, Texas, in July 2013. After he raped little Alanna Gallagher, of Saginaw, he wrapped her head in plastic bags and smothered her, then threw her body away with the trash. Holder also shot an Arlington police officer on the day of his arrest. He pleaded guilty and got a life sentence plus 40 years. [53][54]
Khaled Farhan 1999
Known as the "butcher of Gatineau", Canada, Khaled alias "Zahra" Farhan murdered his girlfriend, Karina Janveau, by stabbing her multiple times. When neighbors complained of the smell coming from the basement flat where the body was decomposing, he chopped her up with a kitchen knife and dumped the parts in a rubbish heap and a field. When the remains were discovered, he feigned concern and appeared on TV appealing for help to find her killer. Karina's elder sister Guylaine was one of the police who discovered the body parts. After sitting through the 6-week trial, she committed suicide. Khaled got a life sentence, and was sent to a men's prison where he was put in solitary confinement in 2010 after sending sexually inappropriate letters to guards. At some point, Farhan, who is an immigrant from Kuwait, began identifying as a woman, and was subsequently sent to a women's prison, after expressing concerns about HIMSELF being at risk in the men's prison. In March 2019 he was released on parole, and has legally changed his name to Zahra Farhan.[55][56] [57]
Reginald Arthurell, Australia 1995
Reginald Arthurell, a serial killer, was sentenced to 24 years in jail in 1997 for the murder of Venet Mulhall his former fiancée. After bludgeoning her to death he put on her clothes and took photographs of himself wearing them. He had previously been jailed for killing his stepfather Thomas Thornton and naval officer Ross Browning. In prison he started to identify as a woman and after serving his 23 year sentence was released in 2020. [58]
Luis Morales a.k.a. Synthia China Blast
TIM who raped, tortured, and murdered a 13-year-old black girl from Harlem N.Y. named Ebony Nicole Williams in 1993. Morales was a member of a gang called the Latin Kings. Dressed in a skirt he raped her then stabbed her multiple times. His male partner Carlos Franco who was his accomplice then stamped on Ebony's throat until the girl was almost decapitated. They then took the body to an underpass and set it on fire. In court they laughed and smirked in front of the victim's family. Both were sentenced to 25 years. In jail Morales started calling himself a woman and demanding cross-sex surgery at the taxpayers' expense. He got sympathetic coverage in the magazine "Jezebel" and has been the subject of a sentimental campaign by TV transgender "Laverne" Cox, portraying him as a victim. Morales has publicly boasted about how he has sexual relationships with a number of serial killers in jail, and wants to become a woman so that he can give birth to more serial killers. [59]
BOTTOM LINE TRANSGEDERISM IS A MENTAL DISORDER
In 2019 the largest investigation of mental health diagnoses (3 page PDF) and substance use prevalence in transgender individuals was conducted and the findings are something we don't see referred to by the MSM or the LGBT community, unless they are using the victimhood mentality and claiming these issues shown below are because they are not "accepted," or are "discriminated against.
Abstract:
We performed a cross-sectional analysis of the prevalence of psychiatric diagnoses among transgender patients in clinical care using an all-payer electronic health record database. Of 10,270 transgender patients identified, 58% (n = 5940) had at least one psychiatric diagnosis compared with 13.6% (n = 7,311,780) in the control patient population ( p < 0.0005). Transgender patients had a statistically significant increase in prevalence for all psychiatric diagnoses queried, with major depressive disorder and generalized anxiety disorder being the most common diagnoses (31% and 12%, respectively). Utilizing an all-payer database, although not without limitations, enables assessment of mental health and substance use diagnoses in this otherwise small population.
The chart below comparing the general population to transgenders needs no explaining:
So all these parents and/or teachers, that claim their 4 year old, or their 10 year old is "transgender" because they like to play with toys generally used by the opposite sex, or dress in clothes not usually worn by their gender, instead of realizing it is just a phase, are quite literally causing these mental disorders. 
Gender confusion also leads to a very high suicide rate.
Data indicate that 82% of transgender individuals have considered killing themselves and 40% have attempted suicide, with suicidality highest among transgender youth.
Transgenderism is a mental disorder and rather than encouraging the irrationality is a boy claiming to be a girl or a girl claiming to be a boy.
It is very simple. Biology 101 - If born with a penis, it is a male and if born with a vagina, it is a female.
Period. End of.




 

 

 

 

Susan Duclos is Co-Owner at All News PiipeLine