RFK Jr. Maintains Highest Favorability Rating
Among Presidential Candidates in New Poll
Jeff Louderback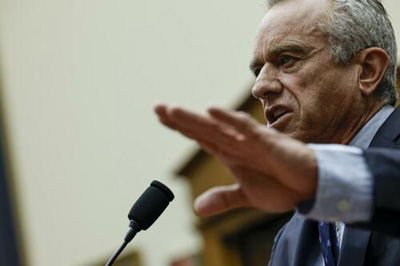 Days after a House hearing on censorship that saw Democrats attempt to prevent Robert F. Kennedy Jr. from testifying, a new Harvard-Harris poll showed that he has a higher favorability rating than any other presidential candidate.
Mr. Kennedy has a net favorable rating of 47 percent and a net unfavorable mark of 26 percent according to the survey, which was released on July 23 and conducted from July 19 to July 20 among 2,068 registered voters (pdf).
Poll respondents said that former President Donald Trump has a favorability rating of 45 percent compared to a 49 percent unfavorability number. Florida Gov. Ron DeSantis has a 40 percent favorable rating and 37 percent unfavorable, and President Joe Biden has 39 percent favorable and 53 percent unfavorable rating, also lagging behind Mr. Kennedy.
Mr. Trump would win the Republican primary and defeat Mr. Biden in a general election, according to the survey, with a 45 percent to 40 percent margin.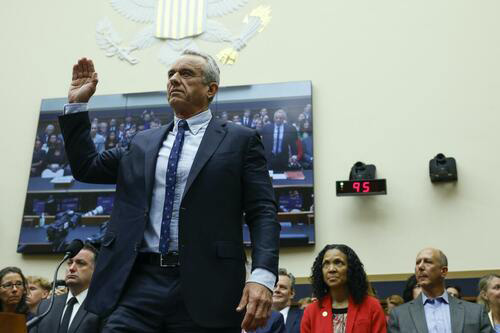 Democratic presidential candidate Robert F. Kennedy Jr. is sworn in for a hearing with the House Judiciary Subcommittee on the Weaponization of the Federal Government on Capitol Hill on July 20, 2023. (Anna Moneymaker/Getty Images)
The former president would top vice president Kamala Harris 47 percent to 38 percent, the poll showed.
The survey did not indicate what would happen in a head-to-head matchup between Mr. Kennedy and Mr. Trump.
Dismissed as a longshot candidate by many political pundits, Mr. Kennedy also had the highest net favorability of all 2024 presidential candidates in a June poll from The Economist/YouGov.
Mr. Kennedy was viewed favorably by 49 percent of the respondents, which translates to a net favorability rating of 19 points. He was seen as unfavorable by 30 percent.
Mr. Biden and Mr. Trump had 45 percent and 43 percent of the respondents view them in a favorable way.
Mr. Biden's net favorability rating was minus 7 while Mr. Trump had a minus 10 net favorability rating.
Bipartisan Support
Mr. Kennedy continues to draw bipartisan support in his campaign.
A July 20 House Judiciary Committee hearing examining the federal government's role in censoring Americans was marked by explosive exchanges between Democrats and Republicans about Mr. Kennedy's comments on vaccines and the COVID-19 pandemic.
Mr. Kennedy was a star witness at the hearing on the weaponization of the federal government.
Republicans defended Mr. Kennedy and said the Democrats' outcry over his presence at the hearing amounted to censorship. Democrats criticized Republicans for giving Mr. Kennedy a "megaphone" to talk about his views on vaccines.
Mr. Kennedy also defended himself against claims that he made antisemitic remarks at a recent event.
In a secretly recorded video leaked to the media, Mr. Kennedy was heard describing how some research reported that the COVID-19 virus disproportionately affected Caucasian and black people while being comparably mild for Ashkenazi Jews and Chinese people, who Mr. Kennedy suggested had a stronger immune response to the virus. Mr. Kennedy also mentioned how bioweapons could potentially be designed to harm certain ethnic groups over others.
Democrats and other critics of Mr. Kennedy condemned the comments as "racist" and "antisemitic."
Mr. Kennedy has vehemently denied the allegations. On Twitter, he said he "never, ever suggested that the COVID-19 virus was targeted to spare Jews" and called for a newspaper article on the video, which he said was "false, underhanded, and inflammatory," to be retracted.
Discarding his prepared statement and speaking extemporaneously at the congressional hearing, Mr. Kennedy addressed charges of racism and antisemitism in his opening remarks.
"In my entire life, I have never uttered a phrase that was racist or antisemitic," he said, citing his record of support for Israel.
"I have fought more ferociously for Israel than anybody, but I am being censored here through this target, through smears, through misinterpretations of what I've said, through lies, through association, which is a tactic that we thought had all been dispensed with since … the McCarthy hearings of the 1950s," Mr. Kennedy added.
Attempt to Close Hearing From the Public
Following Mr. Kennedy's opening remarks, Rep. Debbie Wasserman Schultz (D-Fla.) introduced a motion to move the hearing into executive session, which would have closed the hearing from public view.
"Mr. Kennedy has repeatedly made despicable antisemitic and anti-Asian remarks as recently as last week," Ms. Wasserman Schultz said, citing a section of House rules that she said Mr. Kennedy's comments violated.
According to the rules, a committee can move into executive session if public airing of the testimony "would tend to defame, degrade, or incriminate any person, or otherwise would violate a law or rule of the House."
Mr. Kennedy's comments about COVID-19 violated these rules, Ms. Wasserman Schultz said.
In a recorded vote, all 10 Republicans present at the hearing voted to shelve Ms. Wasserman Schultz's motion. All eight Democrats present voted against it.
On the Sunday morning news circuit, Mr. Kennedy continued to defend himself against accusations of antisemitic remarks.
"The charges that I made these statements that were antisemitic, all of those statements are taken out of context," he told Fox News. "I have never made a single antisemitic statement in my life or racist statement in my life. And the statements that are being twisted and distorted to make them seem like I said these controversial things are—is simply another way that I'm being, that the DNC, etc., and its allies are using to silence me, to marginalize me, to make me look crazy, to make me look like a bad person.
"The censorship continues today," he said. "When I made my campaign, my announcement speech on April 19 in Boston, YouTube took it down after five minutes. I never mentioned vaccines. I never mentioned anything."
Jeff Louderback covers news and features on the White House and executive agencies for The Epoch Times. He also reports on Senate and House elections. A professional journalist since 1990, Jeff has a versatile background that includes covering news and politics, business, professional and college sports, and lifestyle topics for regional and national media outlets.