Bud Light To Lay Off Hundreds Of Employees
In Wake Of Disastrous Pro-Trans Marketing
Tyler Durden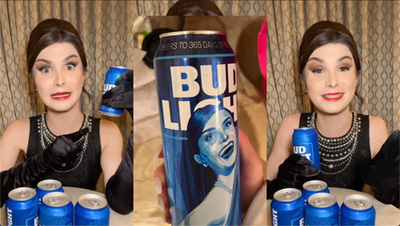 Bud Light's self-destruction after its botched TikTok promotion with clownish, male-to-female trans influencer Dylan Mulvaney, resulting in what Deutsche Bank analyst Mitch Collett recently said is a permanent loss of nearly 25% of its business and Mexican lager Modelo Especial securing the spot as America's top-selling beer, has likely forced Anheuser-Busch InBev to lay off hundreds of workers. 
The Wall Street Journal reported Wednesday night that Anheuser-Busch, which sells Budweiser and Stella Artois, will slash 2% of its 18,000 US workforce. The company said the layoffs wouldn't impact front-line workers such as brewery and warehouse staff. 
"While we never take these decisions lightly, we want to ensure that our organization continues to be set for future long-term success," Anheuser-Busch Chief Executive Brendan Whitworth said in a statement. 
Whitworth continued, "These corporate structure changes will enable our teams to focus on what we do best—brewing great beer for everyone."
The restructuring will affect corporate and marketing roles at New York, St. Louis, and Los Angeles offices. Two percent of the total workforce is roughly 380 positions. 
At the start of July, Ardagh Group, a glass bottle producer who contracts with Anheuser-Busch, said it was closing plants in North Carolina and Louisiana. The closures will result in the firing of 645 employees -- all because Bud Light's Harvard-educated marketing director (now fired) thought it would be a great idea to celebrate Mulvaney's "365 Days of Girlhood."
From blue-collar workers at bottle plants to white-collar workers at corporate and marketing offices of Anheuser-Busch, there are hundreds of innocent folks, if not many more, who are unemployed because of 'wokeness' backfiring.

 

our mission:

to widen the scope of financial, economic and political information available to the professional investing public.
to skeptically examine and, where necessary, attack the flaccid institution that financial journalism has become.
to liberate oppressed knowledge.
to provide analysis uninhibited by political constraint.
to facilitate information's unending quest for freedom.
our method: pseudonymous speech...
Anonymity is a shield from the tyranny of the majority. it thus exemplifies the purpose behind the bill of rights, and of the first amendment in particular: to protect unpopular individuals from retaliation-- and their ideas from suppression-- at the hand of an intolerant society.

...responsibly used.

The right to remain anonymous may be abused when it shields fraudulent conduct. but political speech by its nature will sometimes have unpalatable consequences, and, in general, our society accords greater weight to the value of free speech than to the dangers of its misuse.

Though often maligned (typically by those frustrated by an inability to engage in ad hominem attacks) anonymous speech has a long and storied history in the united states. used by the likes of mark twain (aka samuel langhorne clemens) to criticize common ignorance, and perhaps most famously by alexander hamilton, james madison and john jay (aka publius) to write the federalist papers, we think ourselves in good company in using one or another nom de plume. particularly in light of an emerging trend against vocalizing public dissent in the united states, we believe in the critical importance of anonymity and its role in dissident speech. like the economist magazine, we also believe that keeping authorship anonymous moves the focus of discussion to the content of speech and away from the speaker- as it should be. we believe not only that you should be comfortable with anonymous speech in such an environment, but that you should be suspicious of any speech that isn't.