Oil Plunges To Post-Putin Lows, Breaks Key Technical Support
Tyler Durden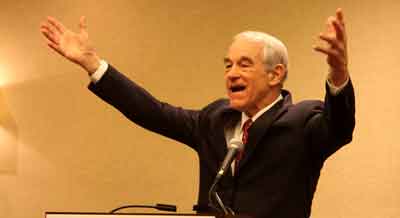 As Fed-induced recessionary fears soar, so oil prices are reversing their recent gains fast.
"The price action in crude oil continues to be dictated by the battle between traders looking for an economic slowdown and the physical market which continues to signal tightness. Demand, however, has started to show signs of weakness with the EIA reporting a counter-seasonal drop in US gasoline consumption to the lowest on a seasonal basis since 2000," Saxo Bank said in a note.
WTI is trading back to its lowest since April...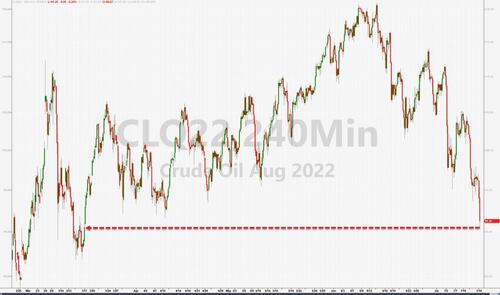 And has broken below the key 200-day moving-average...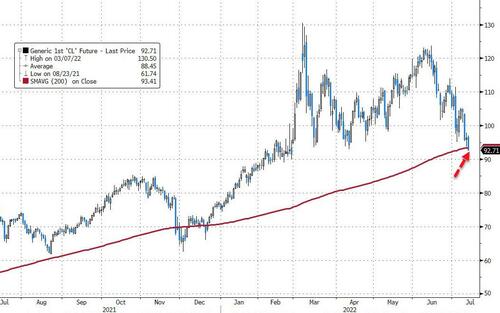 But Brent crude is trading back to Feb levels - erasing all of the post-invasion premium in the international oil benchmark...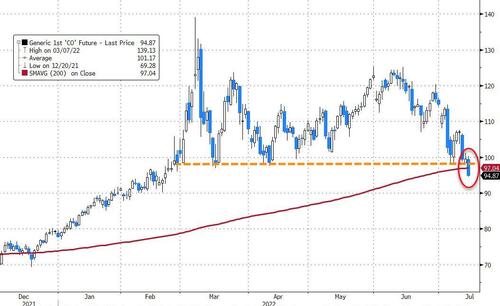 However, as Bloomberg reports, OPEC producers will need to pump crude at the fastest pace in five years in 2023 if they are to balance oil supply and demand. Capacity constraints suggest they may struggle.
The latest forecasts from the International Energy Agency, the US Energy Information Administration and the Organization of Petroleum Exporting Countries all show global oil demand rising strongly again in 2023, despite growing fears over mounting inflation and weakening economic growth. A lack of investment in new crude production capacity means that the OPEC group of producers will need to pump more to meet that demand. 
All three forecasters see global oil demand increasing by at least 2 million barrels a day next year, taking it back above the 2019 level for the first time since the Covid-19 pandemic struck in early 2020.
So it may not be over yet.
 

our mission:

to widen the scope of financial, economic and political information available to the professional investing public.
to skeptically examine and, where necessary, attack the flaccid institution that financial journalism has become.
to liberate oppressed knowledge.
to provide analysis uninhibited by political constraint.
to facilitate information's unending quest for freedom.
our method: pseudonymous speech...
Anonymity is a shield from the tyranny of the majority. it thus exemplifies the purpose behind the bill of rights, and of the first amendment in particular: to protect unpopular individuals from retaliation-- and their ideas from suppression-- at the hand of an intolerant society.

...responsibly used.

The right to remain anonymous may be abused when it shields fraudulent conduct. but political speech by its nature will sometimes have unpalatable consequences, and, in general, our society accords greater weight to the value of free speech than to the dangers of its misuse.

Though often maligned (typically by those frustrated by an inability to engage in ad hominem attacks) anonymous speech has a long and storied history in the united states. used by the likes of mark twain (aka samuel langhorne clemens) to criticize common ignorance, and perhaps most famously by alexander hamilton, james madison and john jay (aka publius) to write the federalist papers, we think ourselves in good company in using one or another nom de plume. particularly in light of an emerging trend against vocalizing public dissent in the united states, we believe in the critical importance of anonymity and its role in dissident speech. like the economist magazine, we also believe that keeping authorship anonymous moves the focus of discussion to the content of speech and away from the speaker- as it should be. we believe not only that you should be comfortable with anonymous speech in such an environment, but that you should be suspicious of any speech that isn't.