Silver outshines gold with better short-term performance
Gary Wagner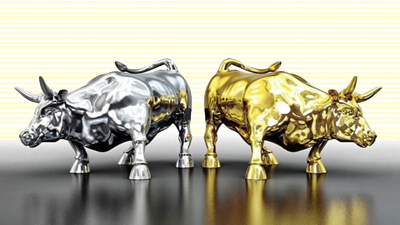 Both gold and silver investors have focused on the recent decision by the Federal Reserve that was revealed at this month's FOMC meeting on Wednesday. The Federal Reserve decided not to raise its benchmark Fed funds rate this month after raising rates for the last 10 consecutive FOMC meetings beginning in March 2022. However, both the statement and press conference by Chairman Powell laid out a monetary policy that would incorporate two additional rate hikes this year, and maintain these elevated rates for the remainder of the year. The Federal Reserve's "dot plot" forecast indicated that the Fed funds rates would likely increase to between 5 ½% and 5 ¾%. 
Gold and silver pricing were mixed today with silver futures closing higher and gold futures closing unchanged. As of 5:37 PM EDT, gold futures basis the most active August contract is unchanged on the day and fixed at $1970.70. Silver futures basis the most active July contract gained 1.35% or $0.32 in trading today and is currently fixed at $24.27. Although both gold and silver futures declined on the week, silver's short-term performance has outperformed recent gains in gold. 
When we look at recent activity from the last week in May to current pricing both metals recovered from the strong price declines that began during the first week of May. The percentage gain in silver has been almost 3 times of that seen in gold since May 26th.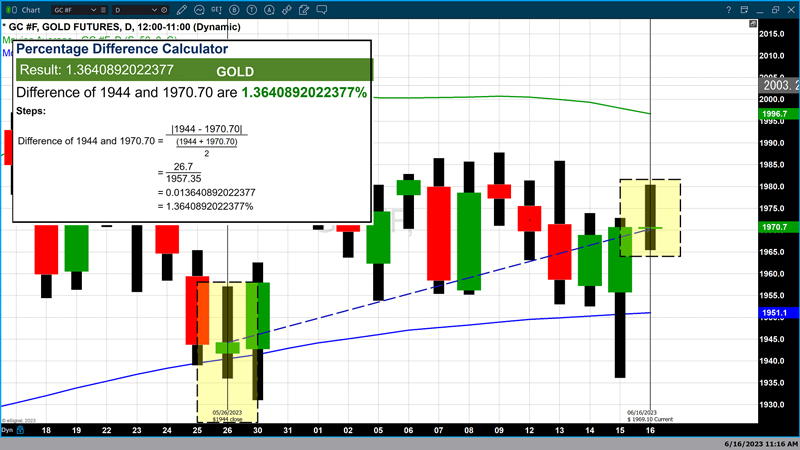 On May 26, gold futures were priced at $1944 per ounce $26 below today's closing price of $1970. this means that over the last three weeks, gold has gained approximately 1.36%. Silver was fixed at $23.36 on May 26 and has gained approximately $1.34. Which is a percentage gain of 3.82% almost triple the return of gold.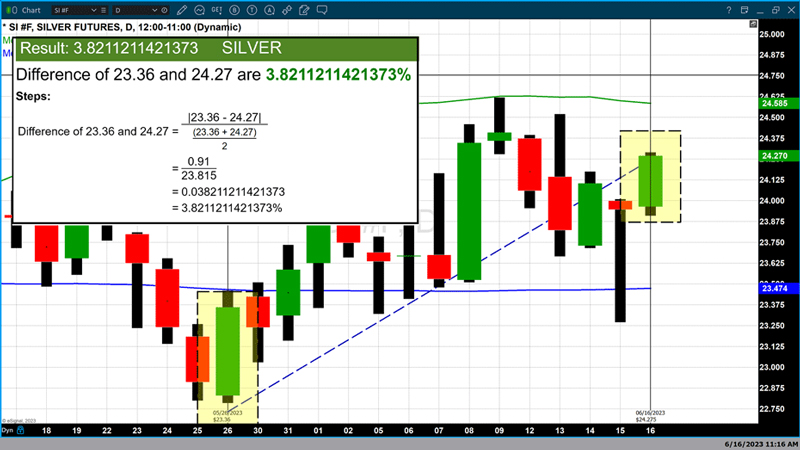 There are several reasons that silver is outperforming gold in the short-term. However, in this article, I will name what I believe are the two obvious variables at play. First, silver has an industrial component that does not exist in gold. Recent gains in US equities especially the tech-heavy NASDAQ composite have fueled greater demand for silver. Secondly, although both are considered to be haven assets, gold is the front-running precious metal utilized 
as a haven investment. Because of that gold is more susceptible to rising interest rates. 
Whether or not silver will continue to outperform gold is unknown. However, looking at both precious metals on a short-term basis it is clear that silver has outshined gold in terms of percentage gains and returns. 
For those who would like more information simply use this link.
Wishing you as always good trading,




 

Gary S. Wagner has been a technical market analyst for 25 years. A frequent contributor to STOCKS & COMMODITIES Magazine, he has also written for Futures Magazine as well as Barrons. He is the executive producer of "The Gold Forecast," a daily video newsletter. 

He has been a speaker for financial seminars including Futures West and the Dow Jones Financial Symposium which travels throughout the world.. Coauthor of "Trading Applications Of Japanese Candlestick Charting" a John Wiley publication.