Precious Metals Investor Sentiment Deteriorates As Sweet Silver Setup Ripens
GoldFinger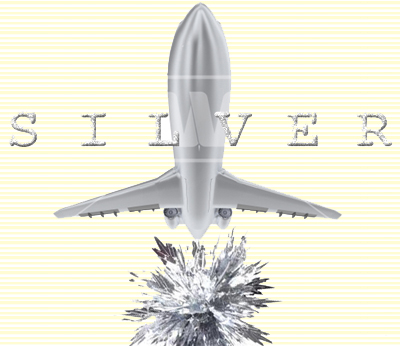 "The mood swings of the securities markets resemble the movement of a pendulum. Although the midpoint of its arc best describes the location of the pendulum "on average," it actually spends very little of its time there. Instead, it is almost always swinging toward or away from the extremes of its arc. But whenever the pendulum is near either extreme, it is inevitable that it will move back toward the midpoint sooner or later. In fact, it is the movement toward the extreme itself that supplies the energy for the swing back."  ~ Howard Marks
This quote from Howard Marks, which likens the financial market to a pendulum, is perhaps my most treasured analogy for financial markets. It should resonate especially well with investors in precious metals, given their apt understanding of the concept of market 'mood swings.' After all, few asset classes are as susceptible to the emotional swings of investors as gold and silver.
Specifically, silver is incredibly susceptible to the volatile moods of investors. Despite gold maintaining a roughly 5% gain for the year to date, the so-called 'poor man's gold' has unfortunately found itself deeply in the red for 2023, with a decline of 7%:
Silver (Daily)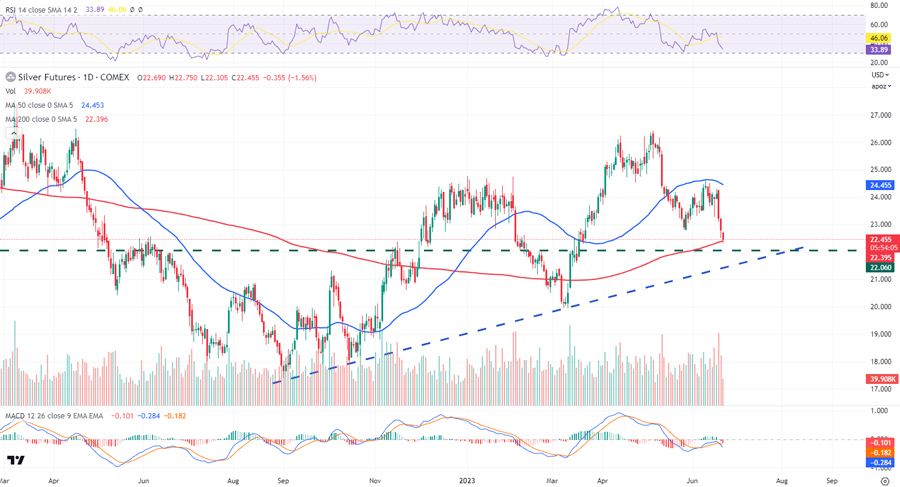 Silver is testing its rising 200-day moving average, with major support at $22.00 just below.  The $22.00 level has proven to be major support/resistance on numerous occasions in the last several years, and I anticipate it won't be different this time. 
As would be expected following such a drastic reversal of fortune for gold and silver in recent weeks, investor sentiment towards these metals has deteriorated dramatically. According to the Hulbert Gold Newsletter Sentiment Index (HGNSI), the consensus among precious metals newsletters is to currently recommend shorting gold and silver. Furthermore, as of Wednesday's market close, the Daily Sentiment Index (DSI) for silver reached a reading of 12.

Historically, it has been a very good time to buy gold and silver when the following conditions line up simultaneously:
The 2nd and 3rd conditions have been reached, and the first one could be achieved today or tomorrow. Adding a nice touch to an already sweet setup, historical data from the past twenty years reveals that July has typically been the best month of the year for silver with an average gain of nearly 4% for the month: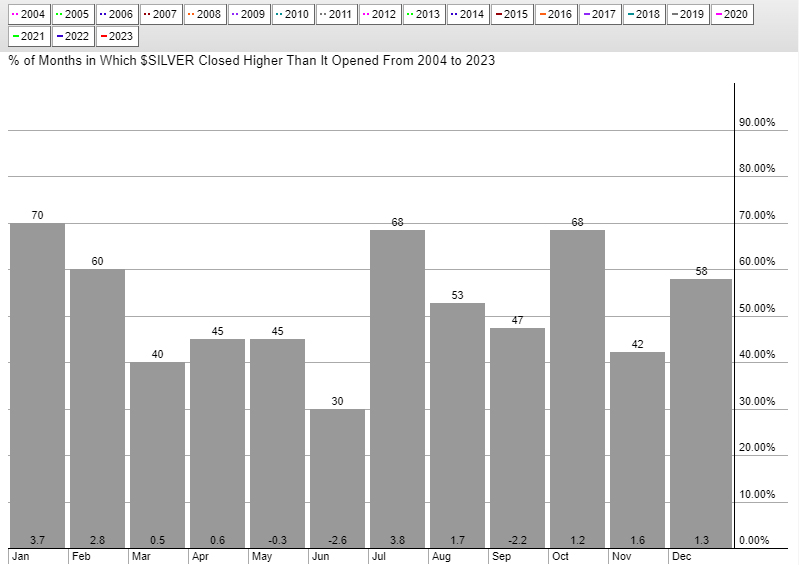 There is no doubt that June has been a tough month to be a junior mining investor, and frankly May wasn't any better. However, through all of the illiquidity and painful share price declines I find myself being unusually optimistic. Many of the companies that I own and follow closely are out in the field conducting drilling programs, and we have already heard from a number of them. So far it's been relatively good news and my spidey sense tells me that there will be more good news coming throughout the summer. 
Discovery is the lifeblood of junior mining, and there could be no better time for companies to announce a number of new discoveries. My shopping list begins and ends with junior miners that meet the following set of criteria:

Enough cash in the treasury to make it into early 2024
Ongoing drill program(s), or drilling about to commence within weeks
Share price unfairly punished along with the rest of the sector in recent weeks
Quality management team with track record of success
The list of companies that meet this criteria today is a very long one, however, I will offer a handful of names that I own today and in which I have added to my positions in recent weeks:
Kodiak Copper (TSX-V:KDK)
Endurance Gold (TSX-V:EDG)
Banyan Gold (TSX-V:BYN)
American Eagle Gold (TSX-V:AE)
Eagle Plains Resources (TSX-V:EPL)
As always please do your own due diligence, junior mining stocks are extremely high risk and there are no guarantees of exploration success.
Disclosure: Author has been compensated for marketing services by Eagle Plains Resources and Endurance Gold Corp.  Author may buy or sell shares of companies mentioned in this article without notice. 




 

20 year veteran trader & portfolio manager. Focused on equity futures, commodities, junior resource stocks, and biotech https://www.medicalgold.ca/. I actively trade futures/ETFS, and hold longer term positions in many junior resources companies. 

I employ both fundamental and technical analysis to inform my market decisions. The strongest setups occur when the technicals confirm the fundamentals. 

Sentiment follows price, only all the time.