The Competence Crisis, Or, Why Society Will Collapse For A Silly Reason
John Wilder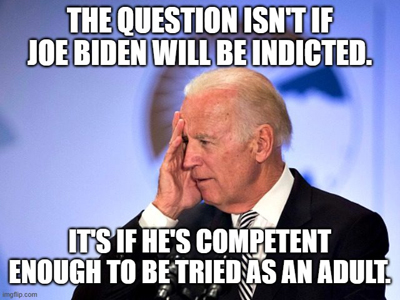 "As the 21st century began, human evolution was at a turning point. Natural selection, the process by which the strongest, the smartest, the fastest, reproduced in greater numbers than the rest, a process which had once favored the noblest traits of man, now began to favor different traits. Most science fiction of the day predicted a future that was more civilized and more intelligent. But as time went on, things seemed to be heading in the opposite direction. A dumbing down. How did this happen? Evolution does not necessarily reward intelligence. With no natural predators to thin the herd, it began to simply reward those who reproduced the most, and left the intelligent to become an endangered species." – Idiocracy
Biden was in three states today – confusion, unconsciousness, and disorientation.
I've written about Idiocracy before. It's a good movie, and Mike Judge has a great sense of humor and timing. I would probably pay money to listen to him to read his phone list in Butthead's voice. Unless Disney® got the money.
Anyway, Idiocracy was a funny movie. Unfortunately, it has proven to be prophetic in more ways than one. Recently, and article is making the rounds on /places/ about the topic of Idiocracy titled Complex Systems Won't Survive the Competence Crisis (LINK). It's by Harold Robertson, who I assume is not related to Robert Haroldson.
His bio on Palladium lists him as an "asset class head and institutional investor at a multi-billion dollar pool of capital". That makes me think he's totally using a made up name or has all the money he can eat, since the thing he says in the article are so against The Narrative.
There are some difficult truths there. First, no matter how much everyone would like unexceptional people to be able to perform at exceptional levels, it's simply not the case that that can happen. One of my favorite stories of Lee Iacocca was about his first day leading Chrysler®. Like most folks, on their first day, he was shown his office. Unlike most folks on their first day, he was informed that he had a personal chef, and he should request what he'd like to have for lunch.
Lee said, "Oh, I dunno. How about a hamburger?"
When you're the boss, you can have a hamburger.
The hamburger was delivered, right on time. Iacocca took a bite. It was the very best hamburger that he had ever had in his life. He requested to talk to the chef. "This was the best hamburger that I've ever had. How did you do it?" The chef smiled, pulled a ribeye out of the fridge, and put it into the meat grinder.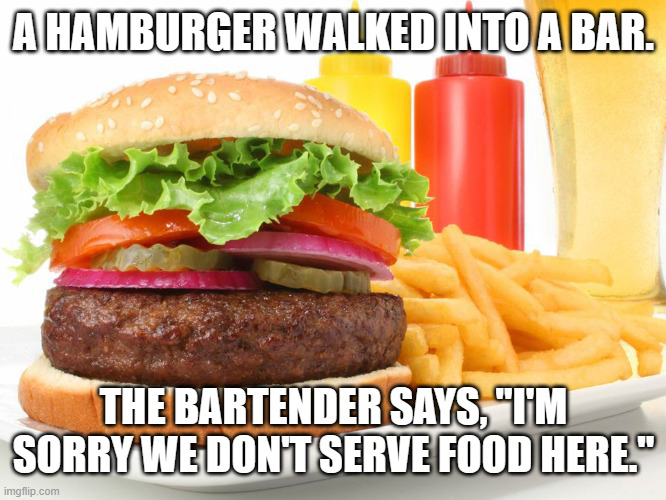 It's silly that people have been turning plants into burgers. Cows have been doing that forever.
I love that story. What you get depends on what you start with. Sure, you could grind up an old catcher's mitt or that opossum that roots around in the garbage and cook it into a burger, but it wouldn't be great chow.
The material that you start with determines the end results.
In that article by Harold Robertson, he discusses a point I've been trying to make for years here – complex systems and societies are exceptionally fragile things – the more complex, the more fragile. Civilization is a house of cards – it takes millions of people doing their jobs exceptionally well every day just to keep it going.
It's like the Red Queen and Alice from Through the Looking Glass.
"Well, in our country," said Alice, still panting a little, "you'd generally get to somewhere else—if you run very fast for a long time, as we've been doing."

"A slow sort of country!" said the Queen. "Now, here, you see, it takes all the running you can do, to keep in the same place. If you want to get somewhere else, you must run at least twice as fast as that!"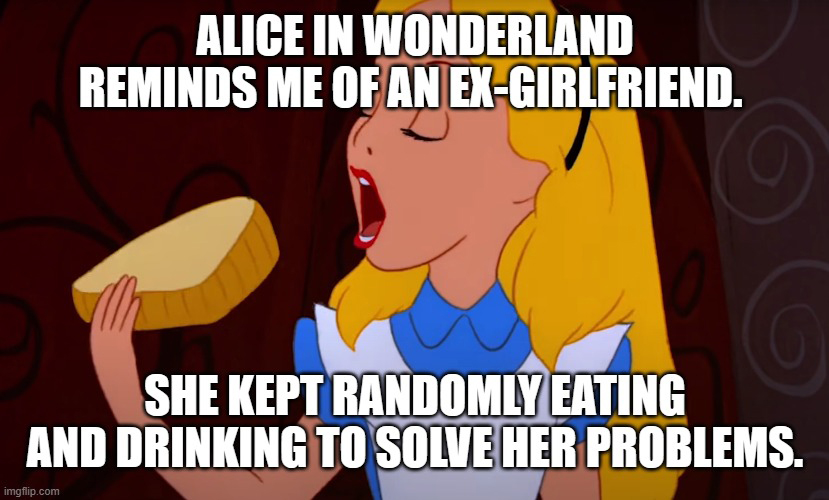 Someone told me I should stop drinking, but then realized I shouldn't listen to some drunk who talks to himself.
The people running the complex systems we depend upon every day have to run, looking out and maintaining just what we have installed to make it work. Miss a scheduled maintenance? An entire city can have a power outage.
An example in real time is South Africa. Currently, many locations have no electricity for sixteen hours a day, and regular supplies of fresh, clean water are a dream of a distant past.
Can't happen here? What about California with the nearly annual cascading power outages? What about the city of Jackson, Mississippi being mis-managed to the point of collapse? What about Flint, Michigan, making the water acidic and leaching the lead out of the pipes? Or the toxic train derailment in East Palestine, Ohio?
None of these technologies are under 100 years old. Sure, there have been advances in the way that they are done, but trains have been around longer than your mom, and clean drinking water has been around every since we figured out that we should keep the lepers with typhoid away from the wells.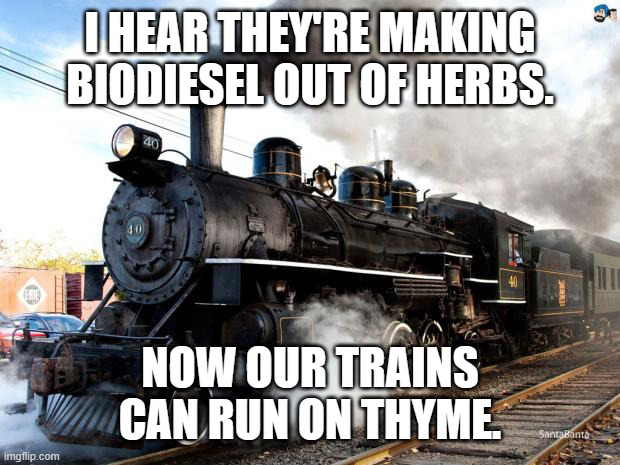 I started growing herbs because I heard that thyme is money.
As the article notes, for a long time in the 20th century there was a relatively ruthless winnowing process in life for competence and intelligence. The young men who ran NASA in the 1960s were young, sure, but also amazingly competent. Gene Kranz, the "failure is not an option" guy, was only 35 when he was the Chief Flight Director for Apollo 11. The "Kranz Dictum" is simple: Tough and competent.
That was another time. Tough is replaced with Trigger Warnings and Competent is replaced with Diversity, Equity, and Inclusion.
Now we find ourselves in Idiocracy. Promotions aren't based on competence, they're based on . . . other factors. The armed forces of the United States, for instance, is top-heavy in white men. That is, people who were actually born men.
Since there are too many of them, regardless of competence, the new officers that will be promoted will be promoted by criteria other than competence. This is why I advised both The Boy and Pugsley to avoid .mil. Incompetence at a Pizza Hut® ends up with really crappy pizza delivered poorly. Incompetence in the military results in everyone being killed. The use of low IQ troops in Vietnam (at the time called the "Moron Corps") resulted in triple the death rate, despite what Forrest Gump might indicate.
We're now doing the very same thing. We're pulling the spark plugs from the engine, and wondering why it doesn't run. Don't believe me?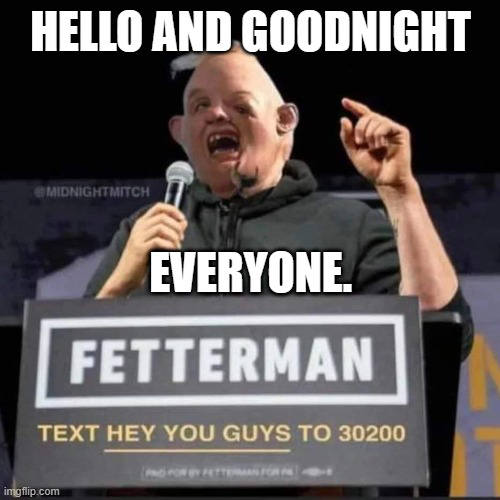 Looks like there's no IQ test to get into Congress.
Look at Fetterman or Feinstein, who have the mental function of a three- or four-year-old. Yet? They're Senators. Look at AOC, who thinks that, if Congress passes a law that defies the law of physics, like making electric cars mandatory, that water will run uphill, dropped plates will unbreak themselves, and everyone will have prosperity.
Competence is crucial to our way of life, and it is, sadly, not evenly distributed. I won't opine as to why, because I don't know why. But to doom civilization because the idea that competence and intelligence can be created because we really, really, really, want competence to be there?
That's Idiocracy in action.




 

Creating havoc since 2006. Fair use is claimed for images on this site, but they will be removed (if owned) on request out of politeness. [email protected]

Nobel-Prize Winning, MacArthur Genius Grant Near Recipient writing to you regularly about Fitness, Wealth, and Wisdom - How to be happy and how to be healthy. Oh, and rich.