CIA Officer: How the Establishment Makes War Seem to Be Fun,
to Get Young People to Fight
Jeffrey Bennett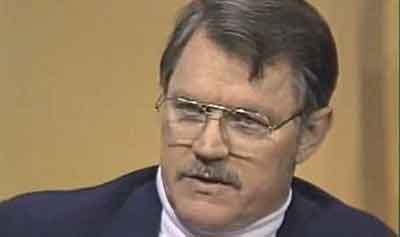 John R. Stockwell (born 1937) is a former CIA officer who became a critic of United States government policies after serving seven tours of duty over thirteen years. Having managed American involvement in the Angolan Civil War as Chief of the Angola Task Force during its 1975 covert operations, he resigned and wrote In Search of Enemies.
The West and the Soviet Union both used propaganda extensively during the Cold War. Both sides used film, television, and radio programming to influence their own citizens, each other, and Third World nations. Through a front organization called the Bedford Publishing Company, the CIA through a covert department called the Office of Policy Coordination disseminated over 1 million books to Soviet readers over the span of 15 years, including novels by George Orwell, Albert Camus, Vladimir Nabakov, James Joyce, and Pasternak in an attempt to promote anti-communist sentiment and sympathy of Western values. George Orwell's contemporaneous novels Animal Farm and Nineteen Eighty-Four portray the use of propaganda in fictional dystopian societies. During the Cuban Revolution, Fidel Castro stressed the importance of propaganda. Propaganda was used extensively by Communist forces in the Vietnam War as means of controlling people's opinions.
The following lecture was given by Stockwell in 1983.
In the mid-1990s, the CIA named Chase Brandon, an operations officer who was assigned to South America, as liaison to Hollywood. Brandon's film credits include The Recruit, The Sum of All Fears, Enemy of the State, Bad Company and In the Company of Spies. He has consulted for television programs including The Agency and Alias. He has appeared on Discovery, Learning Channel, History Channel, PBS, A&E, and has been interviewed on E! Entertainment, Access Hollywood, and Entertainment Tonight.
The Guardian journalist John Patterson criticizes the CIA assistance as being only to complimentary productions, including not running material, such as "the original pilot episode of The Agency, which was pulled. It featured the spymasters preventing a plot by a Bin Laden-backed terrorist cell to blow up a fictionalized Harrods. The airing of such an episode might have pointed up the real CIA's corresponding lack of success in foiling the World Trade Center attacks."
According to Brandon, the agency would not endorse Spy Game, starring Robert Redford and Brad Pitt. The final rewrite "showed our senior management in an insensitive light and we just wouldn't want to be a part of that kind of project", said Brandon, who also withheld approval from 24, a Fox series about a fictional intelligence agency, CTU, that "also suggests all is not hunky-dory in the company's upper echelons." And The Bourne Identity, based on the 1984 novel by Robert Ludlum, was "so awful that I tossed it in the burn bag after page 25".
Patterson observed:
It used to be the case that if a movie explicitly condemned CIA actions – such as Under Fire – the studios could be counted on to bury it. That was no longer true after Costa-Gavras's Missing won Jack Lemmon an Oscar in 1982, and Iran-Contra slimed the CIA in the late 1980s. Since then, "CIA renegade" has become a dependable staple not just of big-budget movies like Enemy of the State, but also of a million straight-to-cable action-schlockfests starring Chuck Norris or Steven Seagal.
Other films that the CIA has provided assistance to include the 1992 film version of the Tom Clancy novel Patriot Games, and the 2003 movie, The Recruit. According to director Roger Donaldson When the Agency commits to providing their support to a project, that can include letting a photographer shoot stills to help in designing sets, or, in certain instances, having the actors spend time in the building. By visiting Langley, the director says, he came to "understand how the space worked and looked. I needed a real sense of how a new person would feel when they saw the place for the first time."
In 2012, Tricia Jenkins released a book, The CIA in Hollywood: How the Agency Shapes Film and Television, which further documented the CIA's efforts at manipulating its public image through entertainment media since the 1990s. The book explains that the CIA has used motion pictures to boost recruitment, mitigate public affairs disasters (like Aldrich Ames), bolster its own image, and even intimidate terrorists through disinformation campaigns.




 

 

 

A veteran of Viet Nam, student of history (both American and film), Jeffrey Bennett has broadcast for over 24 years years as host of various programs and has been considered the voice of reason on the alternative media – providing a unique and distinctive broadcast style, including topics such as health and wellness, news, financial well-being, political satire (with a twist), education and editorial commentary on current events through the teaching of history. In addition, he is the CEO of Kettle Moraine, Ltd. For more information on Jeff's educational background and love of the Southern history and heritage, please read Introduction to 'Words'on Metropolis Café.