The Family Of Influence Peddlers
Al Benson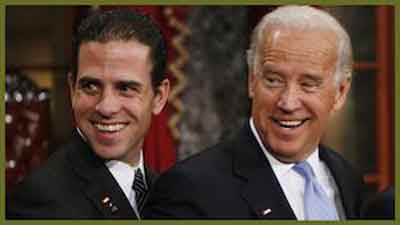 An article on the Epoch Times recently noted that "Biden has received $10 million in payments from China, foreign interests… President Biden is being accused of money laundering and influence peddling. This is the latest chapter in the Hunter Biden saga, where the president's son was suspected of selling his father's influence to foreign governments and businesses." Needless to say, what pretends to be our "news" media has zero interest in this. After all, their assigned task is to bury this as deep as possible, not to report it. So they run interference for the Deep State by reporting instead some Republican congressman from New York who has done something wrong – a crime that pales in comparison to what Joe the influence peddler and his son and brother are doing–and have been doing for decades now. 
It was reported on News Max that: "House Oversight Committee member James Comer on Wednesday outlined what he called 'a pattern of influence peddling by President Joe Biden's family, revealing information the committee obtained showing that the family, their associates, and their companies received over $10 million from foreign nationals and their companies. Some of that came from a Chinese company and went to Hunter Biden's company.' Comer said in a press conference, referring to the president's son, other transfers occurred with money from foreign entities to the Biden family, with many of the payments occurring while Joe Biden was vice-president and leading the US efforts in these countries! While much of the information centered around connections with China other countries were also involved, Comer said."
While in Romania one time, Biden gave a lecture about how corruption is a cancer that eats away at peoples liberty! He should know. It would seem, with all his family has been involved in that he's an authority on the subject of corruption. And if he did some of this nefarious activity while he was vice-president, that means there was corruption in the Obama administration, supposedly the most transparent regime in our history – at least until the Biden administration, which now claims the most transparency. Interesting that those regimes with the most to hide are the ones that shout about their "transparency."
The fact that the major media ignores most of this displays the fact that they are little more that government toadies. They are easily as corrupt as the Biden Regime and are wiling accomplices in concealing his graft. The FBI (fib) won't give Congress the file that alleges Biden's corruption. Why? Did Biden sell out the country for personal profit??? What can you say of a government that refuses to admit its own perfidy?


Al Benson Jr. is the editor and publisher of "The Copperhead Chronicle", a quarterly newsletter that presents history from a pro-Southern and Christian perspective. He has written for several publications over the years. His articles have appeared in "The National Educator," "The Free Magnolia," and the "Southern Patriot." I addition he was the editor of, and wrote for, "The Christian Educator" for several years. In addition to The Copperhead Chronicles, Al also maintains Revised History.

He is currently a member of the Confederate Society of America and the Sons of Confederate Veterans, and has, in the past, been a member of the John Birch Society. He is the co-author, along with Walter D. Kennedy, of the book "Lincoln's Marxists" and he has written for several Internet sites as well as authoring a series of booklets, with tests, dealing with the War of Northern Aggression, for home school students.

Mr. Benson is a highly respected scholar and writer and has graciously allowed the family of Kettle Moraine Publications to publish his works. We are proud to have his involvement with each of our projects.

He and his wife now live in northern Louisiana.