Gold gets lifeline from renewed banking jitters, Powell comments
Deep Kaushik Vakil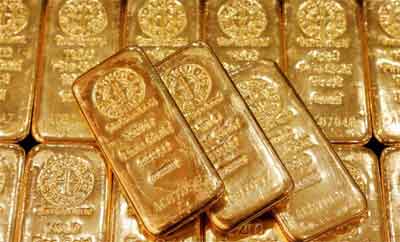 (Reuters) - Gold rallied 1% on Friday, recouping some losses from earlier this week, on renewed worries about the stability of the banking sector, while traders slashed bets for another interest rate hike following remarks from the U.S. Federal Reserve chairman.
Spot gold gained 1.2% to $1,981.79 per ounce by 12:30 p.m. ET (1830 GMT). U.S. gold futures settled 1.1% higher at $1,981.60.
"Gold is up more on Yellen than a cautious Powell which still suggests that June will be a 'skip' meeting unless data over the next few weeks is especially troublesome," Tai Wong, a New York-based independent metals trader, said.
Shares of U.S. regional lenders fell after CNN reported that U.S. Treasury Secretary Janet Yellen told bank chief executives that more mergers may be necessary following a series of bank failures.
"Nothing makes the market reflexively grab for an airsick bag more than bank jitters ahead of a weekend," Tai Wong added.
Fed Chair Jerome Powell said it was still unclear if U.S. interest rates will need to rise further, as central bank officials balance uncertainty about the impact of past hikes on borrowing costs.
Markets now see an 82% chance of the Fed holding rates until July.
Gold was on course for its worst week since February, down about 1.5% so far, after a series of robust economic data.
"This is the week that gold really got crushed because there's been a steady flow of that debt ceiling optimism and, in addition to that, some hawkish pushback from the Fed," said Edward Moya, senior market analyst at OANDA.
Meanwhile, U.S. House Republicans and President Joe Biden's Democratic administration paused talks on raising the debt ceiling.
Silver rose 1.7% to $23.90 per ounce, platinum gained 1.4% to $1,064.09, and palladium jumped 3.8% to $1,508.57.




Reports on global commodities and energy markets, with a special focus on oil and gas infrastructure and the power sector. Alongside agriculture, metals, and dry bulk, his coverage also spans U.S. energy regulations, extreme weather events, and the transition to renewables. Contact: 917483271897