Platinum price hits $1,100 as it outperforms gold and silver,
driven by improving fundamentals
Neils Christensen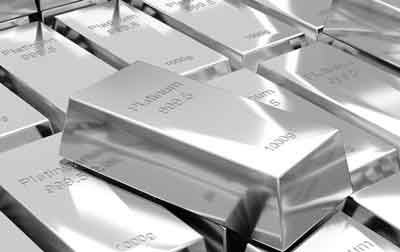 Investors are starting to wake up to platinum's value play as momentum drives the price to its highest level since the start of the year. 
Platinum prices are looking to end Wednesday above $1,100 an ounce, up more than 4% this week. Meanwhile, prices are up 10% since testing support in late April at $1,000 an ounce. 
The precious metal is outperforming gold and silver, which are currently treading water in neutral territory this week. Gold is up more than 9% from its lows in late April. 
According to the World Platinum Investment Council, platinum is an attractive asset for investors looking for value in the precious metals sector. 
"Platinum remains under-owned but also still undervalued compared to gold and to its one-to-one substitute, palladium," said Trevor Raymond, CEO of the WPIC, in a comment to Kitco News. 
According to some analysts, while technical momentum is driving platinum prices, the market also has strong fundamentals, supporting what could be a sustainable rally in the precious metal. Analysts note that improving economic data in China came in stronger than expected, supporting robust platinum jewelry demand. 
At the same time, further power disruptions in South Africa continue to impact platinum production. 
"Even if producer ounces are not affected in the short-term (they have proven to manage load curtailment), it's a supply/fundamental story that fits the bullish story – like anything in markets, it will matter when it does," said Nicky Shiels, head of metals strategy at MKS PAMP. 
Analysts note that platinum's latest rally shows the precious metal's explosive potential. Ole Hansen, head of commodity strategy at Saxo Bank, described the precious metal as the market's Sleeping Beauty, "due to its troubled supply origins and given its participation in the green transformation." 
"What has been missing to push the market into a supply deficit is investor demand through ETFs. That demand seems to be returning now and with the price outrunning gold by 100 dollars in a matter of days tells a story about the easiness of moving this metal when the drivers start to align," he said in a comment to Kitco. 
Platinum has struggled to attract sustainable investor interest in recent years because of a struggling auto sector. Platinum is primarily used in the auto sector and is a critical component in catalytic converters, which are used to reduce harmful emissions from gasoline and diesel-powered vehicles. 
However, analysts note that platinum is also coming into its own as part of the global green energy transition. It is used as a catalyst to separate water into oxygen and hydrogen; the hydrogen is then used as a power source. 
Phillip Streible, chief market strategist at Blue Line Futures, said that looking at platinum's fundamental backdrop, it's only a matter of time before prices push above their 2023 highs established in January. 
"If gold prices are going to $2,500, then  platinum has to at least move back above $1,200," he said. "Platinum, while a precious metal, is an important industrial metal and it checks a lot of boxes for some. It is one of those metals you should have in your portfolio because of its potential."




 

 

Neils Christensen has a diploma in journalism from Lethbridge College and has more than a decade of reporting experience working for news organizations throughout Canada. His experiences include covering territorial and federal politics in Nunavut, Canada. He has worked exclusively within the financial sector since 2007, when he started with the Canadian Economic Press. Neils can be contacted at: 1 866 925 4826 ext. 1526 nchristensen at kitco.com @Neils_c