"Joe Biden Is A Criminal" Says Ex-Obama Whistleblower
Alleging Family "Kickback Scheme"
Jacob G. Hornberger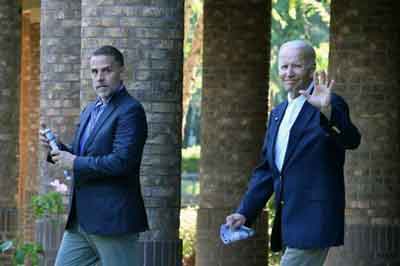 A former staffer who worked in the Obama administration is blowing the whistle on the Bidens - and has accused President Biden of being involved in a "kickback scheme" directly related to his son Hunter's overseas business dealings.
Mike McCormick, a stenographer in the White House for 15 years who worked with Biden from 2011 to 2017, told Fox & Friends First that the FBI has completely ignored him despite his willingness to testify under oath before the grand jury investigating Hunter.
"In February, I went to the FBI and filed one of their tips on their website. If you do that, and you're lying to them, you go to jail. I'm not lying. I'm telling the truth, and I'm not going to jail," McCormick said on Thursday. "Joe Biden is a criminal. He was conducting malfeasance in office to enrich his family. Jake Sullivan is a conspirator in that, and there's more... Obama officials involved in it, I believe."
McCormick specifically noted a key dialogue involving then-VP Biden, aide Jake Sullivan and the press on Air Force Two before an April 21, 2014 trip to Kyiv, Ukraine, in which Sullivan - now Biden's national security adviser - outlined a US investment in the Ukrainian energy sector just days after Hunter joined the board of Burisma.
Months after the trip, Congress allocated $50 million to Ukraine's energy market.
"I'm sitting back there with a tape recorder. Jake Sullivan comes back and somebody asks about fracking. His answer is, well, we're bringing a lot of American assistance over for fracking. Burisma was the direct beneficiary of that fracking, and that's what I recorded, and that's in a White House transcript," said McCormick, adding: "In the transcript, you don't know who Jake Sullivan is. It's a senior administration official. I'm the witness that says Jake Sullivan is the guy who said it and he should be investigated because at the time Hunter Biden was on the board of Burisma and Joe Biden is bringing American taxpayer money to enrich that company and himself and his family."
Hunter joined the board of the Ukrainian natural gas firm on April 18, just three days before Biden and his team traveled to Kyiv. But that critical piece of the puzzle was not made public until May 12. 

McCormick argued the timeline of the events suggests that Biden funneled American money overseas to "enrich" himself and his family, and used his own influence to aid his son's rookie energy career.  

The former stenographer made it clear he wants to present the information under oath before the grand jury in Delaware probing Hunter's business dealings, which is led by U.S. Attorney David Weiss. -Fox News
A federal probe into Hunter Biden's suspected tax and foreign lobbying violations began in 2018, after banks filed dozens of suspicious activity reports (SARs) regarding foreign transactions that were flagged. Some of the SARs involved money funneled from "China and other foreign nations," sources close to the probe tell Fox.
"If David Weiss can't have me in front of his grand jury explaining what I know as a witness, that's a fraudulent grand jury," said McCormick. "It's a fraudulent use of the American judicial system to cover for Barack Obama and Joe Biden's crimes in office."
McCormick says the information he has incriminates Biden - and likely other officials, in connection with the alleged influence peddling scandal.
"If I went in there, I would tell them to have Barack Obama called in as a witness because he's part of the conspiracy. He's an ex-president. He has to answer who was in charge of this, putting Joe Biden into this role? Did Barack Obama know about it?" he continued.
"There's evidence I've seen and put in my Substack on April 16th, so two days before Hunter joins Joe Biden is with Hunter in the West Wing. They have a meeting, and then later that day in the evening, Joe Biden spends a day in the limousine in the back of Barack Obama's limousine in western Pennsylvania."


our mission:

to widen the scope of financial, economic and political information available to the professional investing public.
to skeptically examine and, where necessary, attack the flaccid institution that financial journalism has become.
to liberate oppressed knowledge.
to provide analysis uninhibited by political constraint.
to facilitate information's unending quest for freedom.
our method: pseudonymous speech...
Anonymity is a shield from the tyranny of the majority. it thus exemplifies the purpose behind the bill of rights, and of the first amendment in particular: to protect unpopular individuals from retaliation-- and their ideas from suppression-- at the hand of an intolerant society.

...responsibly used.

The right to remain anonymous may be abused when it shields fraudulent conduct. but political speech by its nature will sometimes have unpalatable consequences, and, in general, our society accords greater weight to the value of free speech than to the dangers of its misuse.

Though often maligned (typically by those frustrated by an inability to engage in ad hominem attacks) anonymous speech has a long and storied history in the united states. used by the likes of mark twain (aka samuel langhorne clemens) to criticize common ignorance, and perhaps most famously by alexander hamilton, james madison and john jay (aka publius) to write the federalist papers, we think ourselves in good company in using one or another nom de plume. particularly in light of an emerging trend against vocalizing public dissent in the united states, we believe in the critical importance of anonymity and its role in dissident speech. like the economist magazine, we also believe that keeping authorship anonymous moves the focus of discussion to the content of speech and away from the speaker- as it should be. we believe not only that you should be comfortable with anonymous speech in such an environment, but that you should be suspicious of any speech that isn't.