Why Is China Reversing On Crypto And Investing In Ethereum Development?
Tyler Durden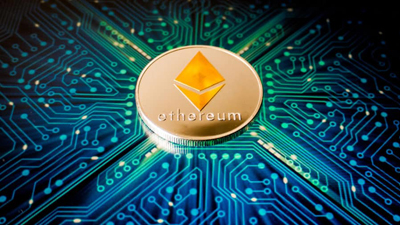 A curious development unfolded last week as news of ConsenSys's latest fundraising round spread throughout crypto and corporate media alike. Although it wasn't buried deep in the $65 million in capital raise announcement – which came from a consortium of multinational investors, including UBS, JPMorgan, and Mastercard – the participation of China's Greater Bay Area Homeland Development Fund could've raised some more eyebrows.
ConsenSys, a blockchain infrastructure and software development firm run by Joseph Lubin, an Ethereum co-founder, has been at the forefront of many pioneering projects within this blockchain's ecosystem. This latest funding announcement also heightens speculation about ConsenSys's aims and ambitions, especially in the realm of mass adoption, which explains the participation from major legacy financial institutions.
According to Mastercard Head of Blockchain Raj Dhamodharan, the deal with ConsenSys will help Mastercard's "work supporting central banks as they explore CBDCs," or central bank digital currencies, an area of active research by world governments that notably includes China.
China has already made some serious strides in this respect, with the Digital Yuan already tested extensively and ready for rollout. However, the investment in ConsenSys from the government-based Greater Bay Area Homeland Development Fund is curious, especially given China's past comments on cryptocurrency and subsequent crackdowns. 
Still, recent announcements show that this sentiment is rapidly changing.
Shifting From The Ethereum Of China To Actual Ethereum
When NEO, a Chinese-based alternative to Ethereum, was first unveiled, the blessing from the government helped spark its popularity to an extent, especially given the government's focus on building alternatives to Western organizations.
The move to support Ethereum is curious to an extent but surprisingly mirrors other interesting public comments from Chinese officials. After years of cracking down Bitcoin, Li Bo, a People's Bank of China Deputy Governor, made the following surprising remarks at the Boao Forum for Asia. "We regard Bitcoin and stablecoin as crypto assets," he said. "These are investment alternatives." 
Besides signaling a shifting stance, the timing coincidentally corresponds with the ConsenSys investment, raising concerns about the government's motives. China's foray into these areas has also spawned theories about the country's ambitions to leverage cryptocurrencies as an economic weapon.
One outspoken critic hammering this point home is entrepreneur and crypto enthusiast Peter Thiel, who believes that China could conceivably weaponize Bitcoin to fight back against the US Dollar's reserve status or displace fiat currency altogether. 
Another theory that has arisen is that the Communist Party views these cryptocurrencies as a threat to its control and accordingly wants to stay ahead of the curve to avoid being powerless in the face of a major technological shift. This surveillance state motive and ideology could be a potent rationale for the Ethereum investment and softer tone on Bitcoin, but as usual, the government's intentions are shrouded in mystery.
For now, the Communist Party is attempting to tamp down speculation that the Digital Yuan is set to displace the dollar, which could be part of the strategy. In the meantime, the theories will continue to swirl, and China's notoriously tight lips aren't helping telegraph its intentions by any means, especially in light of its growing interest in Ethereum.

our mission:

to widen the scope of financial, economic and political information available to the professional investing public.
to skeptically examine and, where necessary, attack the flaccid institution that financial journalism has become.
to liberate oppressed knowledge.
to provide analysis uninhibited by political constraint.
to facilitate information's unending quest for freedom.
our method: pseudonymous speech...
Anonymity is a shield from the tyranny of the majority. it thus exemplifies the purpose behind the bill of rights, and of the first amendment in particular: to protect unpopular individuals from retaliation-- and their ideas from suppression-- at the hand of an intolerant society.

...responsibly used.

The right to remain anonymous may be abused when it shields fraudulent conduct. but political speech by its nature will sometimes have unpalatable consequences, and, in general, our society accords greater weight to the value of free speech than to the dangers of its misuse.

Though often maligned (typically by those frustrated by an inability to engage in ad hominem attacks) anonymous speech has a long and storied history in the united states. used by the likes of mark twain (aka samuel langhorne clemens) to criticize common ignorance, and perhaps most famously by alexander hamilton, james madison and john jay (aka publius) to write the federalist papers, we think ourselves in good company in using one or another nom de plume. particularly in light of an emerging trend against vocalizing public dissent in the united states, we believe in the critical importance of anonymity and its role in dissident speech. like the economist magazine, we also believe that keeping authorship anonymous moves the focus of discussion to the content of speech and away from the speaker- as it should be. we believe not only that you should be comfortable with anonymous speech in such an environment, but that you should be suspicious of any speech that isn't.