Brace Yourself For Extreme Economic Turbulence
Michael Snyder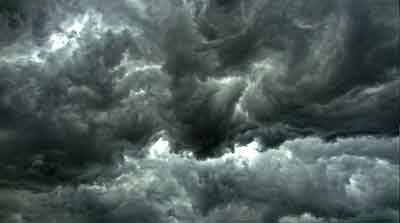 Why is the U.S. economy suddenly deteriorating so rapidly all around us?  Well, the short answer is that this downturn is way overdue.  For years, our leaders tried to cheat the laws of economics.  The Federal Reserve pushed interest rates all the way to the floor, which is something that never would happen in a true free market economy, and they pumped trillions of fresh dollars that they literally created out of thin air into the financial system.  Meanwhile, our politicians in Washington were engaging in the greatest debt binge that the world has ever seen.  All of this reckless manipulation seemed to work for a while, but many of us warned that it would inevitably create a major inflation crisis, and that is precisely what happened.  So now the Fed is aggressively hiking interest rates in a desperate attempt to tame the inflation monster that they helped to create, and higher rates are absolutely crushing economic activity.
At this point, most Americans understand that something has seriously gone wrong, and this is pushing consumer confidence lower.
On Tuesday, we learned that consumer confidence has now fallen for two straight months to start 2023…
U.S. consumer confidence unexpectedly fell for the second straight month in February as Americans' outlook on the economy tumbled further, showing how persistent inflation is weighing on shoppers amid looming recession fears.

The Conference Board's latest Consumer Confidence Index released Tuesday declined to 102.9 for this month, slipping from 106.0 in January — which was revised lower. Economists polled by Refinitiv had expected February's index to tick up to 108.5.
Even more troubling is the fact that Americans seem to be bracing themselves for more economic turbulence as 2023 rolls along.
The Conference Board's senior director of economics, Ataman Ozyildirim, is warning that U.S. consumers are planning to do far less spending in the months ahead…
"Expectations for where jobs, incomes, and business conditions are headed over the next six months all fell sharply in February," Ozyildirim reported, noting that "consumers may be showing early signs of pulling back spending in the face of high prices and rising interest rates."

"Fewer consumers are planning to purchase homes or autos and they also appear to be scaling back plans to buy major appliances," the economist added. "Vacation intentions also declined in February."
So home sales could go down even more?
That is really bad news, because home sales in southern California have already fallen to the lowest level ever recorded…
When Christmas lights go up, home sales typically go down as buyers and sellers take a break.

But this past Christmas, Santa delivered a giant lump of coal to Southern California's housing market, as well as to real estate agents, lenders, escrow officers and anyone else who gets paid by the transaction.

Closed sales this past January — which reflect deals signed during the holiday season — fell to 9,938, the lowest number of transactions in records dating back 35 years, real estate data firm CoreLogic reported Tuesday, Feb. 28.
As I keep telling my readers, a new housing crash has begun.
In fact, U.S. home prices have now declined for sixth months in a row…
US home prices fell for the sixth month in a row in December, as rising mortgage rates pushed prospective buyers out of the housing market, according to the latest S&P CoreLogic Case-Shiller US National Home Price Index, released Tuesday.
Sadly, home prices will likely fall quite a bit more in many areas if the Federal Reserve keeps raising rates.
Higher rates are also really hurting the auto industry, and Zero Hedge is reporting that one of the most prominent subprime auto lenders in the entire country has just collapsed…
Well, after a lengthy period in which nothing seemed to happen, suddenly the dominoes are starting to fall, and as Bloomberg reports, used car retailer and subprime auto loan lender, American Car Center, told employees the business was closing its doors, just one day after the company had hoped to pull off a funding Hail Mary by selling a $222 million bond (it failed).

According to Bloomberg, the used car retailer, which targets consumers regardless of their credit history (and thus targets almost entirely subprime borrowers who can't get a loan elsewhere), said in an email to employees on Friday the firm was ceasing all operations, closing its headquarters in Memphis, Tennessee, and that all employees would be terminated by the end of the business day, the people said. It employed about 288 people at its headquarters.
Yes, the dominoes are certainly starting to tumble.
But at least things in the U.S. are still better than they are over in Europe.
Right now, consumers in the UK are literally fighting over cucumbers as the nationwide rationing of fruits and vegetables starts to become extremely painful…
A supermarket shopper has described 'customers fighting over the last box of cucumbers' on the first day that Aldi and Tesco imposed rationing on some of its fresh produce. The two retailers announced limits on purchases of certain fruit and vegetables on Thursday.

It followed similar moves from Morrisons and Asda, with four major supermarkets now limiting the number of items people can buy across items such as peppers, cucumbers and tomatoes. The temporary measures are in response to a nationwide shortage of some fruit and veg.
And food prices in the UK continue to spiral completely out of control…
A measure of UK grocery price inflation soared to a record high this month — that's more bad news for consumers already facing a shortage of fruit and vegetables that has led to rationing at major supermarkets.

Grocery prices rose 17.1% in the four weeks to February 19, compared with the same period a year ago, according to data published by Kantar Tuesday. That's the highest rate of inflation since the data company started tracking it in 2008, and is equivalent to adding an extra £811 ($980) to a household's average yearly grocery bill.
Unfortunately, what we are facing is a global crisis.
Economic conditions all over the planet will deteriorate in the months ahead, and so I would encourage you to brace yourself for a tremendous amount of economic turbulence.
Because it is coming, and at this point there is nothing that our leaders can do to stop it.
For such a long time, central banks and politicians all over the world tried to cheat the system.
But in the process they made our long-term problems even worse.
Now a moment of reckoning is here, and every man, woman and child on the entire planet will feel the pain.
***It is finally here! Michael's new book entitled "End Times" is now available in paperback and for the Kindle on Amazon.***



 

 

My name is Michael Snyder and my brand new book entitled "7 Year Apocalypse" is now available on Amazon.com.  During this season, I would like to encourage you to send digital copies of my new book to your family and friends as gifts.  That will help to support the work that I am doing, and it will help to multiply the impact of the book.  In addition to my new book I have written five other books that are available on Amazon.com including  "Lost Prophecies Of The Future Of America", "The Beginning Of The End", "Get Prepared Now", and "Living A Life That Really Matters". (#CommissionsEarned)  By purchasing the books you help to support the work that my wife and I are doing, and by giving it to others you help to multiply the impact that we are having on people all over the globe.  I have published thousands of articles on The Economic Collapse Blog, End Of The American Dream and The Most Important News, and the articles that I publish on those sites are republished on dozens of other prominent websites all over the globe.  I always freely and happily allow others to republish my articles on their own websites, but I also ask that they include this "About the Author" section with each article.  The material contained in this article is for general information purposes only, and readers should consult licensed professionals before making any legal, business, financial or health decisions.  I encourage you to follow me on social media on Facebook and Twitter, and any way that you can share these articles with others is a great help.  During these very challenging times, people will need hope more than ever before, and it is our goal to share the gospel of Jesus Christ with as many people as we possibly can.