What Happens Next in the Conflict With Russia
Doug Casey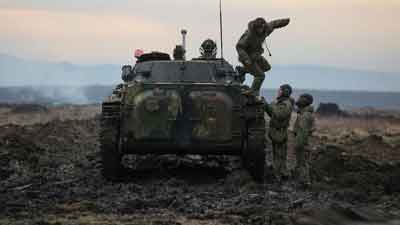 International Man: Prior to the Russian invasion of Ukraine, we discussed the rising tensions between the US and Russia over Ukraine.
What is your take on what has transpired since then?
Doug Casey: I think it makes sense first to recount the genesis of this war.
It started when an American-backed coup overthrew the Ukrainian government in 2014. A US-backed thug replaced a Russian-backed thug— nothing unusual, except that Ukraine shares a long border with Russia. The Russians viewed that much as the Americans would if the Russians had put a puppet government in Ottawa.
Next, the two Russian majority provinces in Ukraine, Donetsk and Luhansk (Donbas) seceded from Ukraine. Secession is usually the best way of solving a political problem between groups with radically differing religions, ethnicities, cultures, or what-have-you. It's much better than staying "united," with one group dominating the other. The Russians simultaneously took back Crimea, which Nikita Kruschev had arbitrarily transferred to the Ukrainian SSR from the Russian SSR in 1954.
Of course, these two new breakaway republics were not recognized by the West. They're similar to Transnistria, South Ossetia, Abkhazia, and Nagorno-Karabakh. Or, for that matter, Northern Cyprus or Taiwan. There are plenty of other regions in the world (everyone seems to have forgotten Kurdistan, for instance) anxious to do the same thing.
Look at Kosovo, a breakaway province of Serbia. The Donbas versus Ukraine situation is exactly analogous to that of Kosovo versus Serbia (roughly 1990 and following years). The US and some NATO countries supported that secession with an active bombing campaign, killing something like 15,000 people.
The secession of Kosovo, supported by the US, is viewed as "good," but that of Donbas, supported by Russia, is supposed to be "bad." So there's no confusion; I support both secessions.
The US has minted a new foreign enemy, once again proving how right Randolph Bourne was when he said, "War is the health of the State." The hoi polloi are hooting and panting like chimpanzees, pouring vodka with Russian-sounding names like Smirnoff and Stoli down the drain—even though they don't come from Russia—and refusing to put Russian dressing on their salads. The same fools were re-christening French Fries as Freedom Fries when France declined to Iraq as the enemy du jour.
Putin has now been officially designated a madman like Gaddafi, Saddam, and Assad before him. And once somebody is designated as the new Hitler, Washington can do anything. Putin committed a criminal act by invading Ukraine, and he's no friend of personal liberty either. But was it any different than what the US did when it bombed Serbia in 1999? Or invaded Panama in 1989? Or Grenada in 1983? Or Afghanistan. Or Iraq. Of course, Putin's a dangerous sociopath—show me a major world leader who's not. But that doesn't mean he's much more insane than any of our recent presidents.
Morality aside, Putin made a strategic error to invade Ukraine, regardless of how much the Russians were provoked. But it should be viewed as just another border war in a region that's had nothing but border wars for the last thousand years. It's absolutely none of our business.
If the borders realign due to this Russian incursion, it's really nothing new. And as a matter of fact, Putin has said that the war will come to an immediate end if the Ukrainians cede Crimea to Russia, recognize the two breakaway provinces, and remain neutral. These are, certainly in the context of history, entirely reasonable requests.
Again, the US provoked all this with the coup they fomented in 2014 and their attempts to get Ukraine into NATO. But that's all history at this point. The world's political and economic structure is being reset.
International Man: The US government and its European allies are waging economic warfare against Russia.
They have imposed sanctions, confiscated assets of the Russian government and private citizens, and kicked Russian banks out of SWIFT. They've also made moves to target Russia's gold reserves.
How seriously is this impacting Russia, and will they capitulate?
Doug Casey: In some ways, it's actually helping Russia because their major exports are commodities. Oil has doubled, as has wheat. Nickel has about quadrupled, as has European natural gas. Palladium is at an all-time high. Russia exports only commodities, and the West's response and embargoes have doubled their prices. Russia will make more money than ever before.
There are lots of channels for exporting their commodities, albeit with costs. The sanctions will be inconvenient for the Russians in many ways, of course—no more Apple I-phones or Intel chips. They'll just buy Chinese Lenovos and Huaweis. The Russians can get everything they need and want from China and other non-Western countries. They won't really be denied that much; it'll just be inconvenient. The international black markets work extremely well.
In the meantime, Starbucks, McDonald's, Pizza Hut, KFC, Facebook, and scores—hundreds—of other Western corporations are shooting themselves in the foot by closing down their outlets in Russia. The net result will probably be an improvement in the general health of the Russian population.
Sure, the sanctions will hurt Russia; trade war hurts everybody. But sanctions will be about as successful as the embargo against Cuba that started 60 years ago. It's very much as if because you don't like the guy who lives next door, you burn down your house because you think it'll reduce the market value of his house.
I understand that saying these things will antagonize jingoists and even a certain segment of our readership. Some will probably accuse me of shilling for the Russians since any non-interventionist who doesn't want to get involved in a border dispute between two shithole countries on the other side of the world is obviously anti-American. But while I'm making non-PC observations, it may be worth mentioning that most of the multi-billionaire Russian oligarchs are Jews. Does anybody think that this might seem anti-Semitic on the part of the West to confiscate these guys' yachts and planes?
It's just one of the many ironies of this whole episode. Perhaps that may only become apparent if foreign countries start confiscating the possessions of the US megarich who profited from being pals with Biden, Trump, Obama, Bush, or the like.
International Man: In response to this, Russia has implemented alternatives to the US-dominated financial system.
What does this mean for the power of the US dollar and US dominance in the world?
Doug Casey: Once again, the US government is shooting America in the foot. It may come as a shock to hear this, but the greatest danger America faces isn't Moscow; it's Washington.
For decades, the major US export hasn't been IBMs, Boeings, or wheat. It's been dollars. We now run a trade deficit of about a trillion dollars a year, shipping fiat dollars to nice foreigners in trade for Mercedes, Sonys, and cocaine. There is probably something like $20 trillion US dollars outside the US. Dollars will soon become hot potatoes, now that they're manifestly losing value at 20% per year.
But it's worse than that. Electronic dollars have to be traded through New York. People have seen what's happened to places like Iraq, Syria, Libya, and now Russia when they're designated as enemy nations. At some point, dollars will be dumped, wholesale. By stupidly using the dollar as a weapon, the US Government is greatly speeding up America's destruction.
For example, just last week, the Nigerian government cut a deal with the Chinese government to accept Yuan for oil. The US dollar has been cut out of the loop. Why should anyone use the fiat currency of a government that's not only an adversary but bankrupt? I don't doubt that the Chinese, in cooperation with the Russians, will put together an anti-SWIFT system. Soon billions of people will carry a Chinese credit card in addition to their Visa and Amex.
Will it be successful? Success is only relative in the era of The Greater Depression, where trade will diminish everywhere. The nations of the West have about a billion people. The West is still wealthy and productive, although it's in radical decline on all fronts. The rest of the world, however, has about seven billion people. India, Iran, Russia, and scores of other countries might prefer to use a Chinese answer to the SWIFT system and the dollar.
International Man: The Canadian government infamously froze the bank accounts of Canadians associated with the trucker protests.
Similarly, Western governments are now targeting anything to do with Russia.
It seems that using money and the banking system has become the weapon of choice for Western governments against their perceived foreign and domestic foes.
In this environment where political risk—the risk coming from governments—is exploding in the West, what could happen next?
Doug Casey: One extremely dangerous megatrend is the rise of central bank digital currencies, CBDCs. They'll be a total disaster from the point of view of individual freedom and privacy, but a boom for governments.
The US government will certainly try to turn the US dollar into a completely digital currency, eliminating paper money and giving everybody an account with the Fed. It will be sold as a benefit, something that's convenient and "patriotic."
The only practical defense for the average guy is to accumulate gold and silver in his personal possession; the price of those two metals is going way up. That's because the only financial asset that's not simultaneously somebody else's liability is gold. Unfortunately, the average American neither understands gold nor has any. Will that change in the future? Watch these highly amusing videos by Mark Dice, and you tell me (here and here).
What is really scary is that Western governments have found they can lock down their societies with impunity. And cut off citizens from their financial accounts. And get away with it. The West is closing the "freedom gap" with China and Russia. There's less and less difference every day between Oceania, Eurasia, and Eastasia—the three megastates Orwell predicted in 1984.
International Man: The propaganda emanating from all sides is aggressive and pervasive. How does one tell what is really happening?
Doug Casey: You absolutely can't know what's happening because all the news is basically directly or indirectly controlled and propagandized. It's been said that the first casualty in war is the truth.
I have subscriptions to the London Times, The Wall Street Journal, and the South China Morning Post. The opinions and the snippets about what's happening are sometimes interesting, but I don't trust any of them. As Mark Twain said, if you don't read the papers, you're uninformed, and if you do, you're misinformed.
Most older people in the US still rely on things like CNN, MSNBC, and Fox, even though they're collapsing in popularity and credibility. People assume that no really big lies could be sold on public media. That's completely untrue. A perfect recent example is The Ghost of Kiev. There are lots of youtube videos explaining how he shot down six Russian fighters in a day. There are thousands of loving comments on the impossible feat from gullible newly-minted Ukraine lovers. I just hope that nobody running a Nigerian prince scam gets their addresses.
The fact is that you can't really know what's happening in the Ukraine. We can only parse American propaganda because Russian propaganda is cancelled in the West. I've heard it said that the Russians have taken 30,000 casualties, they're bombing maternity hospitals, and their troops are deserting in mass. Is it true? I doubt it. In a way, this is a good thing because it's training the public not to believe anything. Perhaps an increasing number will start thinking critically as opposed to just inhaling whatever they're told wholesale.
International Man: Commodities have soared amid the conflict. How is this all going to end, and how should investors and speculators be positioned?
Doug Casey: When I look at what the price of a commodity "should be," the most central, basic factor is the cost of production. Commodities always revert to the mean, which is their cost of production.
Right now, just about every commodity in the world is selling for significantly more than its cost of production. The higher they go, the more will be produced, and the less will be consumed. Prices will revert to the mean. Therefore the higher they go, the less bullish I am on commodities. But on the other hand, all the production costs are going up radically. For instance, the prices of the three major fertilizers—phosphorus, potassium, and nitrogen—have approximately tripled in the last year. Farmers are making good money on grains, but margins will drop next season when you add in the cost of fertilizers, as well as the doubled price of gasoline and diesel. The bottom line is that all commodities are now establishing new and higher baseline prices.
Building the bullish case for commodities is easy, even from these levels. Trillions of newly printed currency units guarantee that. In addition, there's tremendous supply destruction because building a new mine for copper, nickel, uranium, or any mineral is hard to impossible. It can take ten years to even get approvals. Permitting, obstructions from Greens and NGOs, shakedowns from native groups, ESG rules, government royalties, taxes, and a dozen other things are onerous. Lots of supply is being destroyed.
But at the same time, demand is being destroyed. People who were happy to buy a pickup truck when gas was $2.00 will simply stop driving, except for emergencies, when it costs $200 to fill the tank.
This is creating lots of distortions concerning where people live, what they do, and where they can work. That's part of what an economic depression is about. A depression is both necessary and inevitable to return the economy to sustainable—that's a popular word I hate to use—patterns of production and consumption.
To fight the effects of their currency inflation, governments will likely return to wage and price controls to show that they are "doing something." Capital controls will be for everybody, not just the Russians. Governments will make up all kinds of excuses why you can't transfer your money abroad without prior approval and permission. The Greater Depression is going to get much worse as currencies are destroyed, and businesses fail.
The next three years in the US are guaranteed to be bad because the regime in Washington DC has exactly the same philosophical and psychological views as the Jacobins and Bolsheviks; they're spiritual twins. The situation will likely persist for not just the next three years but for the rest of the decade or more. Why? Because several generations have been indoctrinated to believe what the authorities are doing is morally correct. And people like to do what they think is right, even if it causes a disaster.
Things will get even worse when some "strong man" presents himself in the US, promising to kiss everything and make it better. He'll need near-dictatorial powers to set things aright, of course, and Boobus americanus will clamor to hand them over.




As the impetus behind the International Man project, Doug Casey is an American-born free market economist, best-selling financial author, and international investor and entrepreneur. He is the founder and chairman of Casey Research, a provider of subscription financial analysis about specific market verticals that he has focused his investing career around, including natural resources/metals/mining, energy, commodities, and technology.

Since 1979, he has written, and later co-written, the monthly metals and mining focused investment newsletter, The International Speculator. He also contributes to other newsletters, including The Casey Report, a geopolitically oriented publication.

Doug Casey is a highly respected author, publisher and professional investor who graduated from Georgetown University in 1968.

Doug literally wrote the book on profiting from periods of economic turmoil: his book, Crisis Investing, spent multiple weeks as #1 on the New York Times bestseller list and became the best-selling financial book of 1980 with 438,640 copies sold; surpassing big-caliber names, like Free to Choose by Milton Friedman, The Real War by Richard Nixon, and Cosmos by Carl Sagan.

Then Doug broke the record with his next book, Strategic Investing, by receiving the largest advance ever paid for a financial book at the time. Interestingly enough, Doug's book, The International Man, was the most sold book in the history of Rhodesia.

He has been a featured guest on hundreds of radio and TV shows, including David Letterman, Merv Griffin, Charlie Rose, Phil Donahue, Regis Philbin, Maury Povich, NBC News and CNN; and has been the topic of numerous features in periodicals such as Time, Forbes, People, and the Washington Post.

Doug, who divides his time between homes in Aspen, Colorado; Auckland, New Zealand; and Salta, Argentina, has written newsletters and alert services for sophisticated investors for over 28 years. Doug has lived in 10 countries and visited over 175.

In addition to having served as a trustee on the Board of Governors of Washington College and Northwoods University, Doug has been a director and advisor to nine different financial corporations.

Doug is widely respected as one of the preeminent authorities on "rational speculation," especially in the high-potential natural resource sector.