The Hole Is Already Too Deep
Brian Maher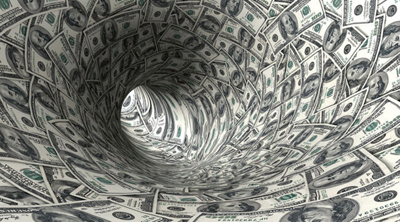 A man shovels himself deep into a hole. He then wishes to climb out. What must he do first?
He must stop the digging.
Yet the United States government has shoveled itself into a $28 trillion hole. How does it plan to rise out of it?
By digging deeper… and deeper… and deeper.
Within one year… the United States government has shoveled up nearly $6 trillion of "pandemic relief."
$6 trillion is plenty fantastic — nearly one-third 2019 GDP. And consider:
The inflation-adjusted cost of America's overseas jousts — 1917 through 2021 — runs to $7.9 trillion… combined.
Thus we find:
The latest year of butter-buying approximates one entire century of gun-buying. Bloomberg:
In inflation-adjusted dollars, the U.S. spent about $4.1 trillion waging World War II. It also spent more than $300 billion each on World War I and the Korean War, and $738 billion on the Vietnam War. The bill for the wars the U.S. has waged in Iraq, Afghanistan and elsewhere since the terrorist attacks of Sept. 11, 2001, is $2.3 trillion and counting. All told, the U.S. has spent about $7.9 trillion on warfare since World War I.
At Least War Costs Crushed the Axis
But last year's spending did not put boots on feet. It did not put rifles in hands. It did not put workers in factories.
It did not scotch Hitler… Mussolini… Tojo.
The prior year's spending instead put feet up on furniture and channel changers in hands. It put workers not in factories but on couches.
That is, the last year's spending paid men not to produce — but to lounge — and loaf.
Does a nation grow in wealth by producing less? We are unaware of any historical example.
Professional men insisted the idleness was necessary to "stop the spread."
Men of action may have been required to knock off a Hitler, they allowed. But men of inaction are required to rout the virus.
Government needed to support these heroic couch-loungers in their idleness. Hence the multiple issuances of "stimulus" cheques.
But how much stimulation was necessary? Our former colleague David Stockman had a run at the numbers…
$6 Trillion to Fill a $274 Billion Hole
Mr. Stockman found that:
Through December 2020… incomes dropped merely 3.4% from their pre-pandemic (February 2020) heights — $276 billion in all.
Yet the steam shovels swung into fevered action…
The federal government has undertaken a mighty $6 trillion excavation project to fill a $274 billion hole. Mr. Stockman:
The Washington politicians are [throwing] nigh onto $6 trillion at a $274 billion hole in the nation's wage bucket. That's a solution 22X bigger than the putative problem!
22 times!
Meantime, our agents report worrying whispers…
Small businesses cannot attract labor. That is because prospective candidates are hauling in more from loafing than from the hard toil of work.
Who can fault them? Who would plunge himself into drudgery for $8 the hour when his government will hand him $12 to loaf?
Nearly 8 Times the Size of the Hole
GDP, meantime, absorbed a 3.6% blow across the same 10-month space (February-December 2020).
But Q4 2020 GDP jumped 4.1%. Q4 2019 GDP exceeded it by only $270 billion.
Add lost wages to lost GDP. Mr. Stockman finds the $6 trillion dig fills all the holes — several times over:
Even if you want to count everything, including losses from the $2.5 trillion of imputed activity in the GDP, the pending $6 trillion of Everything Bailouts is 7.7Xthe size of the problem!
And so the fellow asks — as we ask:
Why does Washington have the right to burden future taxpayers with permanent debt service payments in order to make whole a $276 billion loss of income and 3.4% inconvenience among taxpayers today?
Mr. Stockman knows the answer, of course. In two words, it is special interests. In one word, it is politics.
Gimme, Gimme!
Teachers, corporations, unions, Amtrak, governments state and local… the list runs yet…
All are angling to get a bucket in the stream, to get a snout in the trough, to catch a penny… to pick a taxpayer's pocket or two.
And the party presently directing the show is eager to grant them access. There is the next election to consider — after all — and the election after that.
We believe Politico hooks onto something when it claims:
A radical change in the social fabric of the United States has become a reality – and with it, an opportunity for the Democratic Party no one could have imagined 50 days ago.
And so the shoveling continues at a rate truly astonishing.
In reminder: The federal government shoveled out more money this past year than to wage the entire Second World War.
Will the digging lift the gross domestic product… as the diggers claim?
That is, will a deeper hole bring the nation up higher?
You know the answer, of course…
Nonproductive Debt
The economy may take an initial step up. But we hazard it will prove transient and fleeting.
Each borrowed dollar packs less and less wallop than the last. That is especially true when that debt funds consumption.
That is, debt digs holes when it is nonproductive — which much of today's debt is.
Nonproductive debt impoverishes the future to gratify the present. Mr. Michael Lebowitz of Real Investment Advice:
When debt is used productively, the interest and principal are covered with higher profits and sustained economic activity. Even better, income beyond the cost of the debt makes the nation more prosperous.

Conversely, unproductive debt may provide a one-time spark of economic activity, but it yields little to no residual income to service it going forward. Ultimately it creates an economic headwind as servicing the debt in the future replaces productive investment and or consumption…

The U.S. economy is overly dependent on unproductive debt. Not surprisingly, secular growth rates have been trending lower for three decades. The massive amount of unproductive debt added in the last year will only further reduce future growth rates.
But aren't the crackerjacks of the Federal Reserve aware of the central dilemma?
The Fed is keenly aware of this weakness but refuses to acknowledge the problem or incentivize productive debt. Instead, they tout the temporary economic benefits of more debt with exceedingly low interest rates. In doing so, they egg on speculation and consumption, not productive debt.
Each economic "recovery" since 2000 has grown progressively weaker… as progressively more debt has gone heaping on.
We discern no reason why the present recovery will break the evil trend — and every reason why the evils will continue.
Meantime, the authorities continue digging us deeper and deeper into the impossible depths… with no end in prospect…
Until they dig clear through to China…
Regards,

Brian Maher
Managing Editor, The Daily Reckoning
 

 

Brian Maher is the Daily Reckoning's Managing Editor. Before signing on to Agora Financial, he was an independent researcher and writer who covered economics, politics and international affairs. His work has appeared in the Asia Times and other news outlets around the world. He holds a Master's degree in Defense & Strategic Studies.