Tidal Energy To See Major Expansion This Decade

Felicity Bradstock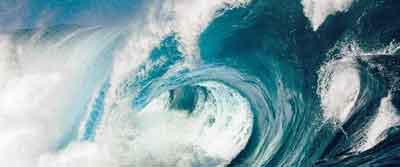 Energy companies and governments are picking up the pace of the development of tidal energy operations in 2023, as countries worldwide look to diversify the renewables mix in a response to growing energy insecurity. Tidal power, a long-neglected green energy option, has finally gained greater traction in recent years, as governments look for innovative ways to meet their climate targets over the coming decades. This year, several countries have big plans for new tidal power projects, which will see the world's tidal energy capacity grow significantly. 
The global wave and tidal energy market is expected to grow from $0.58 billion in 2021 to $4.41 billion by 2028, at a CAGR of 33.2 percent. This will be spurred by greater investment in new wave and tidal energy-related power projects across several countries. This forms part of a larger aim globally to transition away from fossil fuels to renewable alternatives. Some analysts believe that tidal and wave energy could provide up to 10 percent of the world's energy needs thanks to the world's abundant water sources. However, the International Energy Agency's (IEA) Ocean Tracking Report suggests tidal and wave power technology must be deployed at a faster rate if countries around the world hope to achieve net-zero carbon emissions by 2050. 
Several countries are launching tidal energy operations and expanding on previous projects in the hope of boosting their renewable energy capacity and diversifying the mix of green energy sources. In the Philippines, the San Bernardino Ocean Power Corporation (SBOPC) has launched a request for proposals for the engineering, procurement, and construction (EPC) contract for its Capul Island Ocean Power Project, the first project of its kind. The aim is to produce 1MW of tidal energy using tidal instream energy conversion technology. Over the last nine years, SBOPC has carried out multiple surveys of the ocean to assess the suitability of the San Bernardino Strait between the Luzon and Visayas island groups.
Meanwhile, in the U.K., well-known for its tidal energy operations, greater development is planned for 2023, as Orbital Marine Power commercialises its tidal stream technology. The company's O2 project, in partnership with Horizon 2020, provided the world's most powerful tidal turbine in 2021, and now the firm wants to go even further. Orbital was awarded 7.2MW of contracts for difference (CfDs) by the U.K. government in 2022. This will allow it to deliver a multi-turbine project in Orkney, Scotland, providing power to the U.K. grid for around 10,000 homes. 
The U.K. continues to compete with the EU over tidal power dominance, with the EU having installed around half of the world's new wave energy capacity in 2021. Europe's tidal and wave energy installations increased to pre-pandemic levels in 2021 and 2022 as the EU drove forward its renewable energy policy to meet its ambitious climate targets. Across the region, 1.38 MW of wave energy came online, and 3.12 MW of tidal stream capacity was installed. This brings the figure to 11.5 MW of tidal stream installations in European waters. 
And in the U.S., several tidal projects are already underway, with more expected to follow this year. The Department of Energy (DoE) announced in October that it would be making $10 million of funding available for tidal and current energy systems, as part of President Biden's Bipartisan Infrastructure Law. This makes a total of $45 million available for tidal projects. The DoE is encouraging community-based organisations to apply for the funding, to develop a tidal or current energy planning and execution project. 
As several countries around the globe put tidal energy on the political agenda, adding another renewable source of power to the green energy mix, we can expect several more projects to be developed over the next few years. While some governments, particularly in Asia, are still in the policy stage of tidal power development, other regions, such as Europe and North America, already have several tidal energy operations in full swing, with more expected to come online this year. 
By Felicity Bradstock for Oilprice.com




 

 

Felicity Bradstock is a freelance writer specialising in Energy and Finance. She has a Master's in International Development from the University of Birmingham, UK.