Treasury Traders Know Fed Has Missed The Boat On A Bigger Move
Tyler Durden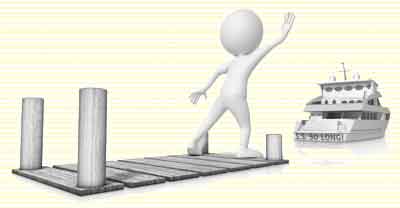 On Thursday afternoon, Federal Reserve Bank of Cleveland President Loretta Mester remarked that she saw a compelling case for a bigger increase earlier this month when policymakers met. Not much later in the day, her colleague James Bullard commented that he would not rule out supporting a 50-basis point hike at the March meeting.
Whatever their comments, the Fed's February move of 25 basis points will remain a missed opportunity to hike more, and it would seem that there is now little chance of reviving such a possibility.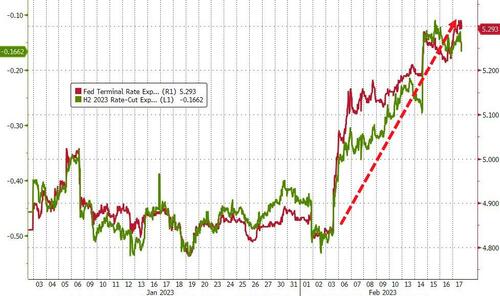 By the middle of January, it was clear from Fed officials' steer that the monetary authority was only considering a 25-basis point increase - an end-of-season folly that is coming to haunt it two weeks after the decision.
After all, if an overwhelming majority of policymakers have already penciled in a rate of 5.25%, and all economic participants are working on that assumption, why drag your feet without good reason and prolong getting to the destination?
There is little doubt that if the Fed were to have met in the aftermath of January's non-farm payrolls expansion, resurgent inflation data and stand-out retail sales, it would have probably raised rates by a bigger margin.
[ZH: Inflation swaps signal the market's recent renewed expectation for a rise in CPI...]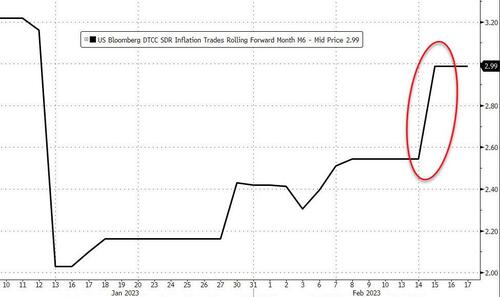 But having dialed down the pace, it's too late for the Fed to accelerate again, for that would:
a) send a message to the markets that policymakers have lost the narrative on inflation; 

b) that the Fed is abandoning its avowed goal of a soft landing; 

c) that there is no policy coherence; and 

d) that the Fed is panicking that inflation is out of control, spurring a negative feedback loop.
None of this is lost on the markets. Even in the wake of comments by both Mester and Bullard - notwithstanding the fact that neither is a voter this year — interest-rate traders see a bigger move next month as just a fractional tail risk.
[ZH: post-Mester/Bullard we have seen only a modest increase to a 12% chance of a 50bps hike in March (conditioned on a 100% chance of a 25bps hike)]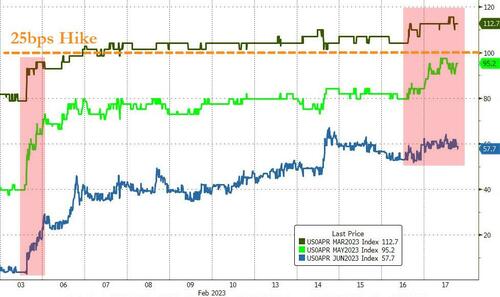 The bout of inflation we have seen in the aftermath of the pandemic is unlikely to settle anytime soon, and prior episodes of resistant price pressures show the Fed has to set its sights higher on its real policy rate. The sooner it gets to higher ground, the less the pain for the economy as a whole.


our mission:

to widen the scope of financial, economic and political information available to the professional investing public.
to skeptically examine and, where necessary, attack the flaccid institution that financial journalism has become.
to liberate oppressed knowledge.
to provide analysis uninhibited by political constraint.
to facilitate information's unending quest for freedom.
our method: pseudonymous speech...
Anonymity is a shield from the tyranny of the majority. it thus exemplifies the purpose behind the bill of rights, and of the first amendment in particular: to protect unpopular individuals from retaliation-- and their ideas from suppression-- at the hand of an intolerant society.

...responsibly used.

The right to remain anonymous may be abused when it shields fraudulent conduct. but political speech by its nature will sometimes have unpalatable consequences, and, in general, our society accords greater weight to the value of free speech than to the dangers of its misuse.

Though often maligned (typically by those frustrated by an inability to engage in ad hominem attacks) anonymous speech has a long and storied history in the united states. used by the likes of mark twain (aka samuel langhorne clemens) to criticize common ignorance, and perhaps most famously by alexander hamilton, james madison and john jay (aka publius) to write the federalist papers, we think ourselves in good company in using one or another nom de plume. particularly in light of an emerging trend against vocalizing public dissent in the united states, we believe in the critical importance of anonymity and its role in dissident speech. like the economist magazine, we also believe that keeping authorship anonymous moves the focus of discussion to the content of speech and away from the speaker- as it should be. we believe not only that you should be comfortable with anonymous speech in such an environment, but that you should be suspicious of any speech that isn't.