Gold gains as dollar rally cools, but rate-hike fears linger
Bharat Gautam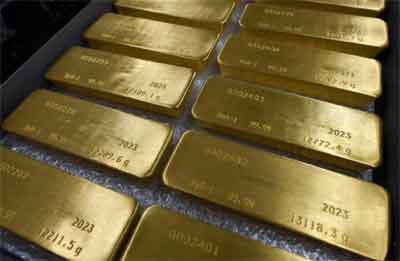 (Reuters) - Gold prices ticked up on Monday on a pullback in the dollar, although worries around further interest rate hikes from the U.S. Federal Reserve kept bullion near a two-month low.
Spot gold rose 0.5% to $1,818.89 an ounce by 10:08 a.m. ET (1508 GMT). U.S. gold futures were also up 0.5% at $1,825.70.
The dollar index fell 0.4% after hitting a seven-week peak, making bullion less expensive for overseas buyers. [USD/]
Gold has support around $1,806 but it has been sliding on higher-than-expected inflation and economic data continues to be quite firm, said Bart Melek, head of commodity markets strategy at TD Securities.
Gold prices hit their highest since April 2022 this month, but have since fallen by more than 7% after a slew of U.S. data pointed to a resilient economy.
Data on Friday showed U.S. consumer spending increased by the most in nearly two years in January, while inflation accelerated, adding to market fears that the Fed could continue raising interest rates into summer.
"Given how the Fed's favoured measure of inflation accelerated in January, appetite for zero-yielding gold may be soured by rate-hike bets in the near term – ultimately dragging prices lower," said Lukman Otunuga, senior research analyst at FXTM.
"Gold (will) remain highly sensitive to chatter by Fed officials, key economic data and any topic relating to inflation as we head into the new month."
Rising interest rates dull gold's appeal as they increase the opportunity cost of holding the non-yielding asset.
Spot silver was flat at $20.77 per ounce. Platinum climbed 3.7% to $942.81, and palladium gained 3.7% to $1,455.76.
Although there could still potentially be a recession, at this point there is some significant physical buying for platinum and palladium out of Asia, and supply issues from Russia and South Africa, which are helping the metals rally, Malek said.




 

 

Commodities and Energy Correspondent, Reuters