What Crappy Beer Demand Tells Us About The Economy
Rachel Premack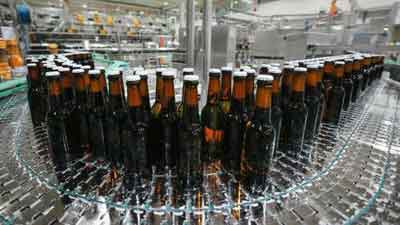 U.S. beer shipment to wholesalers declined 14.1% in December 2022 compared to the year prior, according to a Wells Fargo note published on Jan. 27. Compared to 2020, shipping volume is down 19.4%. We saw the lowest volume since 2012 in December. 
It's not as clear as saying that people simply don't want beer, or that consumers are becoming more budget-conscious. There are a few factors afoot here.
Inflation is changing consumer decisions, even around beer
Beer became suddenly pricey at the end of last year. Beer prices at retail, which doesn't include bars or restaurants, popped 7% during the last 13 weeks of 2022, according to industry data provider Bump Williams Consulting. This is an unusually high increase, the consulting firm said. 
That price increase is showing up in how people are buying brews, said Dave Williams, vice president of Bump Williams Consulting. People are increasingly buying, say, 12-packs over 30-packs or even single servings of beer. 
They're trading down too — snagging the more economic Keystone over comparatively pricey Coors. That explains why the "below premium" segment was the only one to see an increase in demand in January compared to January 2022, according to the National Beer Wholesalers Association's Beer Purchasers' Index.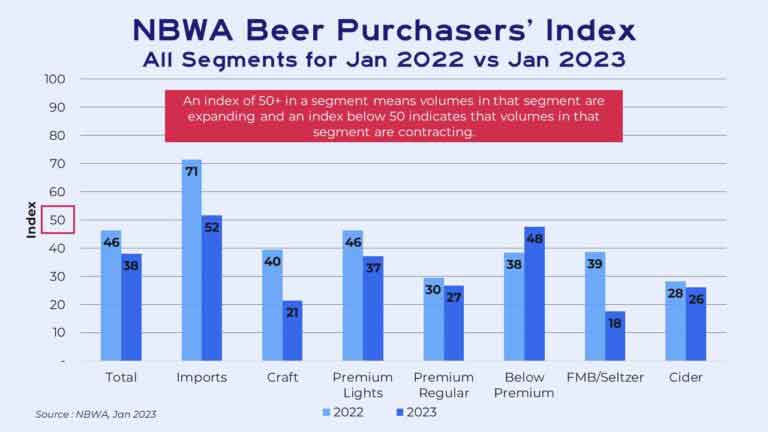 Demand for almost every segment of beer declined in January — except for the "below premium" market. That includes sumptuous nectars like Miller High Life.
(Source: National Beer Wholesalers Association)
"We have seen that beer drinkers are relatively loyal to the category," Williams said in an interview. "They are resilient, they find different ways to maintain their consumption, but as prices go up they are faced with different decisions."
Let's hear it for the resilient American beer drinker! 
However, loyal beer enjoyers, as a category, isn't what it used to be.
People are spending top dollar on other types of alcohol
There's a decades-long move away from beer as folks buy more hard liquor. The Distilled Spirits Council of the United States, a trade group, announced on Thursday that spirits officially edged out beer in market share in 2022. (By a fifth of a percentage point, but a victory is a victory!) 
"There was a point in time when beer owned the landscape," said Lester Jones, who is the chief economist at the National Beer Wholesalers Association, in an interview. "It was the primary beverage of choice for people; it was the ultimate beverage of choice for the majority of Americans."
Despite your Dry January pledge, Jones said the volume of people's alcohol consumption doesn't change much over time. However, what exactly people drink does change. 
In the last few decades, Americans have experienced new types of imported alcohol and new beverages altogether. Prosecco, for instance, practically didn't exist in the U.S. in the early 2000s; by 2021, the U.S. imported some 25 million gallons of the sparkling stuff.
Then there are new offerings like hard seltzers and canned cocktails, the latter of which saw purchases increase 35.8% from 2021 to 2022. 
What's more, as these new innovations come to the scene, people who are trying alcohol for the first time (at the legal age of 21, of course) might enjoy a canned margarita instead of, say, a good ol' fashioned keg stand. That could get them accustomed to enjoying hard liquor instead of beer. 
Beer discounts are a-comin'
Executives have known for months that the price of beer is too darn high and that consumers are sick of it. The CEO of Constellation Brands, which makes Corona, admitted last fall that the company needs to balance these price bumps going forward. 
We got an early indicator last week that such declines are coming. Ball Corp., a leading beverage packaging producer, says its beer customers are pursuing "aggressive" promotions after suds were the most "distressed" beverage category of 2022. That doesn't mean slashed prices, but promotions instead.
Of course, it's not unusual for brewers and grocers to promote beer ahead of Super Bowl Sunday, which is essentially Christmas for the beer industry. However, Williams said these promotions will likely go further than in previous years.  
The bizarro economy continues on
You might be wondering why a trucking reporter is writing about beer sales. It's not because I like beer. I don't. (I really hope the two guys I interviewed above who clearly have a passion for beer do not read this part.)
However, the state of alcohol purchasing says something larger about the American consumer. We're seeing folks once again organize into two camps – haves and have nots.
Consumer demand for singular "sub-premium" beers is rising at the same time as high-end mezcal. It's yet another indicator of our bizarro economy, where frivolous goods like air fryers are cheap but staples like eggs and meat are increasingly unaffordable. 
This consumer demand is baked into what retailers and transporters alike must value. Retailers increasingly prioritize those products with quick turnaround, both Williams and Jones told FreightWaves. That means stocking up on Natural Light (and preferably those single cans) and $50 bottles of George Clooney's Casamigos tequila. 




Rachel Premack is the editorial director at FreightWaves. She writes the newsletter MODES. Her reporting on the logistics industry has been featured in the New York Times, the Wall Street Journal, Bloomberg, Vox, and additional digital and print media. She's also spoken about her work on ABC News, NBC News, NPR, and other major outlets. If you'd like to get in touch with Rachel, please email her at [email protected] or [email protected].