Venezuela Launches First Nuke In Currency Wars,
Devalues Currency By 46%
Tyler Durden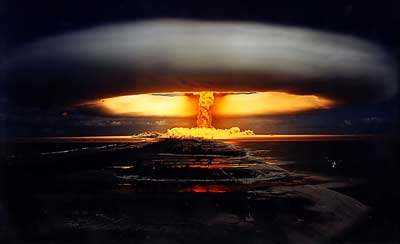 (Editor's Note: For those of you (or your friends that just don't get it) that believe that this couldn't happen here, get ready, 'cause here it comes. - JSB)
While the rest of the developed world is scrambling here and there, politely prodding its central bankers to destroy their relative currencies, all the while naming said devaluation assorted names, "quantitative easing" being the most popular, here comes Venezuela and shows the banana republics of the developed world what lobbing a nuclear bomb into a currency war knife fight looks like:
VENEZUELA DEVALUES FROM 4.30 TO 6.30 BOLIVARS
VENEZUELA NEW CURRENCY BODY TO MANAGE DOLLAR INFLOWS
CARACAS CONSUMER PRICES ROSE 3.3% IN JAN.
And that, ladies and gents of Caracas, is how you just lost 46% of your purchasing power, unless of course your fiat was in gold and silver, which just jumped by about 46%. And, in case there is confusion, this is in process, and coming soon to every "developed world" banana republic near you.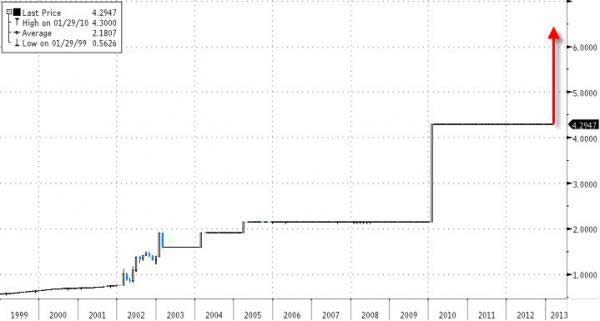 And just as we (and Kyle Bass) have warned - this is what happens to the nominal price of a stock market as currency wars escalate... how do those US investors who flooded Venezuela with cash feel now? bringing back those VEF gains is going to hurt...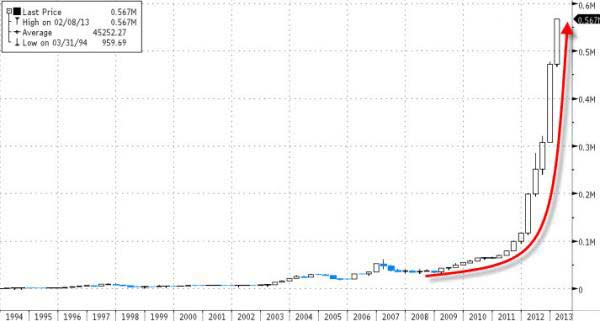 The chart above is a free lesson in nominal vs real: the hardest lesson for some 99.9% of the world's population to grasp. One person who certainly knows how to devalue a currency in real terms FDR, whose 70% devaluation of the USD courtesy of executive order 6102, is merely an appetizer of what is about to be unleashed upon the US.
From Bloomberg:
Venezuela devalued its currency for the fifth time in nine years as ailing President Hugo Chavez seeks to narrow a widening fiscal gap and reduce a shortage of dollars in the economy.

The government will weaken the exchange rate by 32 percent to 6.3 bolivars per dollar, Finance Minister Jorge Giordani told reporters today in Caracas. The government will keep the currency at 4.3 per dollar for some products, he said.

A spending spree that almost tripled the government's fiscal deficit last year helped Chavez win his third term. Chavez ordered the devaluation from Cuba, where he is recovering from cancer surgery, Giordani said. Venezuela's fiscal deficit widened to 11 percent of gross domestic product last year from 4 percent in 2011, according to Moody's Investors Service.

The move can help narrow the budget deficit by increasing the amount of bolivars the government gets from taxes on oil exports. While a weaker currency may fuel annual inflation of 22 percent, it may ease shortages of goods ranging from toilet papers to cars.

In the black market, the bolivar is trading at 18.4 per dollar, according to Lechuga Verde, a website that tracks the rate. Venezuelans use the unregulated credit market because the central bank doesn't supply enough dollar at the official rates to meet demand.