Poszar Was Right: Saudis Confirm Non-Dollar Oil Trade Plans In Davos
Tyler Durden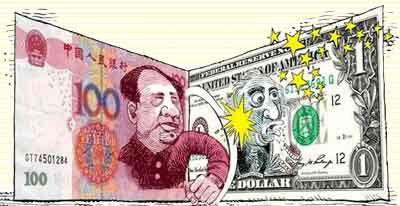 Earlier this month, former NY Fed repo guru Zoltan Pozsar wrote one of his most important reports of 2022, in which he described how Putin could unleash hell on the Western financial system by demanding that instead of dollars, Russian oil exporters are paid in gold, effectively pegging oil to gold and launching Petrogold.
Then, China's President Xi visit with Saudi and GCC leaders marked the birth of the petroyuan and a leap in China's growing encumbrance of OPEC+'s oil and gas reserves: that's because with the China-GCC Summit, "China can now claim to have built a 'special relationship' not only with the '+' sign in OPEC+ (Russia), but with Iran and all of OPEC+."
At the time, Zoltan urged the reader to think of the timing of this statement in a diplomatic sense:
"President Xi communicated his message on "renminbi invoicing" not during the first day of his visit – when he met only the Saudi leadership – but during the second day of his visit – when he met the leadership of all the GCC countries – to signal the following:

GCC oil flowing East + renminbi invoicing = the dawn of the petroyuan."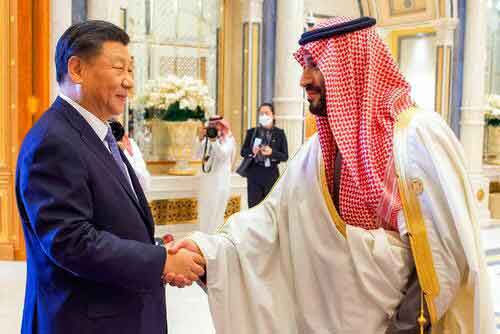 And now, according to Bloomberg, Saudi Arabia is open to discussions about trade in currencies other than the US dollar, according to the kingdom's finance minister.
"There are no issues with discussing how we settle our trade arrangements, whether it is in the US dollar, whether it is the euro, whether it is the Saudi riyal," Mohammed Al-Jadaan told Bloomberg TV on Tuesday in an interview in Davos.

"I don't think we are waving away or ruling out any discussion that will help improve the trade around the world," Al-Jadaan said.
And echoing Poszar's comments above, Al-Jadaan appeared to confirm The Kingdom's goal seeking to strengthen its relationship with crucial trade partners, most notably China:
"We enjoy a very strategic relationship with China and we enjoy that same strategic relationship with other nations including the US and we want to develop that with Europe and other countries who are willing and able to work with us,"Al-Jadaan said.
Saudi Arabia is also working with multilateral institutions to provide support to Pakistan, Turkey and Egypt, as part of the kingdom's largesse to nations it deems "vulnerable," Al-Jadaan said.
"We are providing even oil and derivatives to support their energy needs," Al Jadaan said. 

"So there is a lot of efforts, but we wanted this to be conducted."
Watch the full interview below:
It doesn't sound like the Biden administration is high up in The Kingdom's strategic planning; and given the comments from The Kingdom's FinMin, Zoltan's ominous warning appears ever closer to reality: "dusk for the petrodollar… and dawn for the petroyuan."


our mission:

to widen the scope of financial, economic and political information available to the professional investing public.
to skeptically examine and, where necessary, attack the flaccid institution that financial journalism has become.
to liberate oppressed knowledge.
to provide analysis uninhibited by political constraint.
to facilitate information's unending quest for freedom.
our method: pseudonymous speech...
Anonymity is a shield from the tyranny of the majority. it thus exemplifies the purpose behind the bill of rights, and of the first amendment in particular: to protect unpopular individuals from retaliation-- and their ideas from suppression-- at the hand of an intolerant society.

...responsibly used.

The right to remain anonymous may be abused when it shields fraudulent conduct. but political speech by its nature will sometimes have unpalatable consequences, and, in general, our society accords greater weight to the value of free speech than to the dangers of its misuse.

Though often maligned (typically by those frustrated by an inability to engage in ad hominem attacks) anonymous speech has a long and storied history in the united states. used by the likes of mark twain (aka samuel langhorne clemens) to criticize common ignorance, and perhaps most famously by alexander hamilton, james madison and john jay (aka publius) to write the federalist papers, we think ourselves in good company in using one or another nom de plume. particularly in light of an emerging trend against vocalizing public dissent in the united states, we believe in the critical importance of anonymity and its role in dissident speech. like the economist magazine, we also believe that keeping authorship anonymous moves the focus of discussion to the content of speech and away from the speaker- as it should be. we believe not only that you should be comfortable with anonymous speech in such an environment, but that you should be suspicious of any speech that isn't.