Air Force General Tells His Officers 'War With China' Only 2 Years Away
Tyler Durden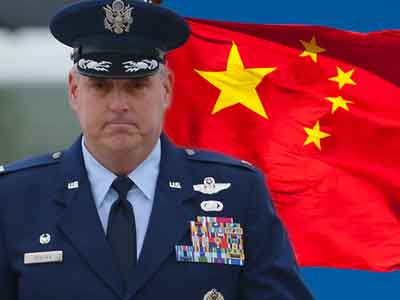 In recent years there have been at least a handful of high-ranking US military commanders which in some form or fashion have sounded the alarm over a "coming war with China"... with the latest warning being the most unusual, issued in the form of a memo by an active four-star general and circulated with an official order.
This case is particularly significant given he took the rare step of passing it down through military command and to the chief officers he oversees, giving a greater urgency to the warning: 
A four-star Air Force general sent a memo on Friday to the officers he commands that predicts the U.S. will be at war with China in two years and tells them to get ready to prep by firing "a clip" at a target, and "aim for the head."

In the memo sent Friday and obtained by NBC News, Gen. Mike Minihan, head of Air Mobility Command, said, "I hope I am wrong. My gut tells me will fight in 2025."
General Mike Minihan, a four-star officer, sent the memo Friday. Getty Images
Various reports have counted some 50,000 service members and nearly 500 planes total under Gen. Minihan's command.
The message is particularly alarming given it instructed commanders under him to "consider their personal affairs and whether a visit should be scheduled with their servicing base legal office to ensure they are legally ready and prepared."
He explained that he sees Beijing as desirous of moving against the self-ruled island of Taiwan within that time period, and that it would trigger a large US military response. 
The Air Force general further urged "a fortified, ready, integrated, and agile Joint Force Maneuver Team ready to fight and win inside the first island chain." And in the memo Gen. Minihan issued an order, requiring that all major efforts in preparation for a coming China fight to be reported to him directly by Feb. 28.
As for why he thinks China will invade Taiwan within the next two years, NBC described the following:
Minihan said in the memo that because both Taiwan and the U.S. will have presidential elections in 2024, the U.S. will be "distracted," and Chinese President Xi Jinping will have an opportunity to move on Taiwan. 
As for Beijing, it has long claimed it is only interested in pursuing peaceful reunification with Taiwan based on political means. China has further laid blame on Washington for militarizing the island and thus creating current tensions, and by stoking independence forces through high-level visits, such as Nancy Pelosi's ultra-provocative August trip to Taipei.
It should be noted that Gen. Minihan has a reputation for being among the Pentagon's most outspoken and hawkish top generals. In this latest memo, he directed all Air Mobility Command personnel to "fire a clip into a 7-meter target with the full understanding that unrepentant lethality matters most. Aim for the head."
 

our mission:

to widen the scope of financial, economic and political information available to the professional investing public.
to skeptically examine and, where necessary, attack the flaccid institution that financial journalism has become.
to liberate oppressed knowledge.
to provide analysis uninhibited by political constraint.
to facilitate information's unending quest for freedom.
our method: pseudonymous speech...
Anonymity is a shield from the tyranny of the majority. it thus exemplifies the purpose behind the bill of rights, and of the first amendment in particular: to protect unpopular individuals from retaliation-- and their ideas from suppression-- at the hand of an intolerant society.

...responsibly used.

The right to remain anonymous may be abused when it shields fraudulent conduct. but political speech by its nature will sometimes have unpalatable consequences, and, in general, our society accords greater weight to the value of free speech than to the dangers of its misuse.

Though often maligned (typically by those frustrated by an inability to engage in ad hominem attacks) anonymous speech has a long and storied history in the united states. used by the likes of mark twain (aka samuel langhorne clemens) to criticize common ignorance, and perhaps most famously by alexander hamilton, james madison and john jay (aka publius) to write the federalist papers, we think ourselves in good company in using one or another nom de plume. particularly in light of an emerging trend against vocalizing public dissent in the united states, we believe in the critical importance of anonymity and its role in dissident speech. like the economist magazine, we also believe that keeping authorship anonymous moves the focus of discussion to the content of speech and away from the speaker- as it should be. we believe not only that you should be comfortable with anonymous speech in such an environment, but that you should be suspicious of any speech that isn't.