The LNG Boom Could End With Billions In Stranded Assets
Irina Slav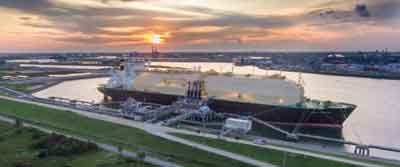 A few years ago, the notion that the United States could become the largest LNG exporter in the world would have sounded fantastical. And yet last year, it did just that: the U.S. exported as much liquefied natural gas as Qatar in 2022, at over 81 billion cu m. And it's going to export more this year. But the boom may end sooner than many expect. Most of the gas liquefied at Gulf of Mexico terminals last year went to Europe, which was blown off its course towards a fossil fuel-free future by the war in Ukraine and its own reaction to the Russian invasion, which took the form of sanctions that prompted an unsurprising response from Moscow in the form of lower gas deliveries.
Few expected that U.S. LNG producers would be able to fill the gap left by Russian gas, especially after Freeport LNG went offline following an explosion, remaining offline until the end of the year. Yet mild weather for most of the time since the start of heating season in Europe helped, and it ended 2022 with sufficient gas supply.
This year is expected to be even tougher on European countries, with a lot less Russian gas coming in than last year. Even with higher imports from the United States, there might be a supply gap, which will, in all likelihood, push LNG prices even higher and destroy more demand. And this could ultimately be the undoing of the latest U.S. LNG boom.
The Institute for Energy Economics and Financial Analysis, an energy NGO, wrote in a recent piece on the LNG export boom that there were several important lessons to be drawn from it—and these lessons could have significant implications for the future of the U.S. LNG industry.
One was that the Biden administration played on role in the surge of exports. A second one was that even with all the U.S. LNG it received, Europe is still short on energy. A third lesson was that the increase in U.S. LNG deliveries was possible without a major increase in production capacity.
Another lesson was that Europe's comfortable LNG supply levels came at the expense of Asia. The last lesson that the IEEFA said one could draw from LNG export patterns is perhaps the most important: U.S. producers shouldn't rely on long-term demand from Europe.
The European Union has been open about this, too. Virtually every EU and member state government official with anything to say about energy has stuck to the transition scenario that sees the EU reducing its dependence on fossil fuels in the long run.
Last year has shown that there could be obstacles that might temporarily increase the use of fossil fuels—coal demand from the EU also surged last year—but this does not appear to have shaken the EU's resolve to continue reducing its dependence on oil and gas.
Many would argue that this reduction is physically impossible because, like every other region, the EU needs reliable energy, and wind and solar cannot supply it. Yet high LNG prices could do the trick and deter major demand growth, perhaps even leading to a demand decline as the IEEFA projects.
Reuters' Gavin Maguire noted in a recent column that U.S. LNG imports into the EU have been "both a lifeline and a drain" for the bloc. On the one hand, he noted, these increased imports secured sufficient gas in storage for the winter. On the other, it rather emptied European pockets.
While last year, prices were the last thing European gas buyers were thinking about, too preoccupied with just finding enough gas to fill storage caverns, this year, prices may draw more attention. Signals of this came last year when 15 EU member states forced the Commission to come up with a proposal for a price cap on imported gas—something all exporters said is not the best idea in the world.
U.S. LNG exporters generated revenues of $35 billion over the first nine months of 2022, Reuters' Maguire noted in his column. This compared with $8.3 billion in the year-earlier nine-month period. Most of this is essentially the LNG import bill of Europe, and it comes with many other bills for national governments that struggled to cushion the energy price blow for businesses and households.
Over the short term, the U.S. will remain Europe's top LNG supplier. U.S. companies will continue building new LNG export terminals amid a bright demand outlook for the commodity, including in Asia.
But Asian countries starved of LNG in favor of Europe will be looking for alternatives—any alternatives—while Europe itself doubles down on its renewable energy plans as it comes to realize it has simply switched one gas dependence for another.
Over the long run, the ramp-up in U.S. LNG export capacity could end up as stranded assets unless Europe's renewable energy dream fails, which, based on the fundamental realities of critical metal supply, is quite likely.

By Irina Slav for Oilprice.com




 

 

  

Irina is a writer for the U.S.-based Divergente LLC consulting firm with over a decade of experience writing on the oil and gas industry.