Retirement Worries are Escalating (and the "Solutions" Don't Look that Good)
Birch Gold Group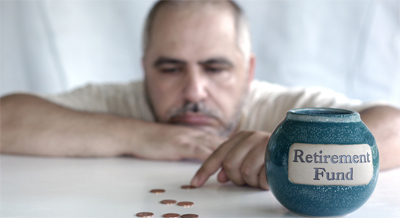 If you want a stress-free and secure retirement, the odds are stacked against you. Especially when Congress tries to offer their "reheated" solutions to the problem.
And worries are continuing to mount among Generation X, according to one MarketWatch piece:
The Bank of America 2020 Workplace Benefits Report, which surveyed 996 full-time and part-time employees participating in 401(k) plans, found that just 23% of GenXers feel a sense of progress saving for retirement; only 22% feel progress about growing their savings to pay for unexpected expenses and a mere 14% feel progress paying for current and future health care expenses.
When less than one quarter of an entire generation of Americans has any semblance of hope about their retirement prospects, that isn't good.
And state governments that locked down their economies in 2020 probably didn't help Gen X or any future generation of retirement savers, either.
In fact, thanks to those seemingly failed attempts to mitigate COVID-19, retirement could be a pipe dream for some savers: "Half of all American workers living paycheck to paycheck now expect to delay retirement… according to a survey from the insurance brokerage and advisory company Willis Towers Watson."
Here's the "delay" the same survey reported, broken down by age group:
Among workers ages 50 and older, 25% said they now expect to retire later than planned, with 35% expecting to retire at 70 or older. In addition, 31% of older workers acknowledged that they will need to save more for retirement.
So according to that survey, the solution seems to boil down to "work longer" or "save more." Not much to go on for the average person.
Retirement Stop-Gap "Fixes" that Appear More Like Band-Aids
Biden doesn't appear to bring much more to the table in terms of longer-term retirement solutions, and Biden's advisors proposing to lock down America again could prove catastrophic for savers. But even leading experts don't seem to be proposing anything more than the "same old, same old" retirement security improvements that have been discussed time and time again, according to Forbes.
Some of these "solutions" include:
Sarah Newcomb from MorningStar says, "the retirement system we have now asks too much of most people." She goes on further to suggest: "Teach them how to organize their finances and save for retirement." She also suggested strengthening Social Security.


Catherine Collinson, referring to Social Security, suggested: "There needs to be a very thoughtful eye toward the vulnerable and those at risk of falling into poverty."


Access to IRAs, auto enrollment (with one expert suggesting 10% default contribution) and raising maximum IRA contribution levels were also suggested.
Finally, developing a saving habit, getting better financial education, while saving for emergencies and vacations are what rounded out the solutions offered by the experts.
None of them are particularly bad ideas. But they don't appear to be addressing the root of the worries expressed by Gen X, and likely felt by most savers during uncertain economic times like these. Furthermore, "solutions" that rely on strengthening Social Security don't seem particularly feasible (just ask the Social Security employees who don't think the organization can save itself).
Don't Rely on Warmed-Over Solutions: Cultivate Self-Reliance
According to the same Forbes piece: "Social Security doesn't provide enough to live on for most people, providing only about 40%of their pre-retirement income when it's estimated many will need about 70%."
But as Ralph Waldo Emerson suggested, it's a good idea to focus on and take control of your own situation. That can include taking back control of your retirement.
It's a good idea to reduce your time listening to politicians who package and promote quick-and-easy "solutions" just so they can get elected.
Take a break from worries over inflation and stock market volatility. Instead, consider adding protection to your retirement through diversifying your savings. Precious metals such as gold and silver can fit well in a comprehensive retirement plan. Not only do precious metals gain value in times of high inflation and economic uncertainty, they have a track record of preserving value for over 4,000 years.
 




As a leading dealer of precious metals in the United States, Birch Gold Group is committed to helping our customers discover how gold, silver and other precious metals can help protect their lifestyles in the face of current and coming economic instabilities. This commitment is one of numerous factors that separates us from other precious metals dealers and enables us to consistently help our customers achieve their goals.